Anime Weekend Atlanta is one of the top ten most-attended anime conventions in North America. In 2016 alone, it had over 28,000 guests. More commonly abbreviated as AWA by its attendees, this con is a four-day event centered on anime and Japanese culture and held annually at the Cobb Galleria and Renaissance Waverly Hotel at the end of September/beginning of October. I've heard of this convention since attending Dragon Con for the first time in 2012, but I haven't gotten the chance to attend until this year. And I'm so glad I did!
Friday
The con was only a thirty-minute drive from my house and conveniently located in a large shopping mall and adjoining hotel with over 2,000 complimentary parking spaces. I didn't have to pay a cent for parking and the parking garage was right next to the convention, so my friends and I didn't have to walk far. As soon as I entered, I was elated to see so many decorations. I could tell the hotel and shopping mall were totally into the convention spirit. For example: the local salon offered wig-styling services, and anime girls plastered on banners, walls, doors, indoor elevators, and windows smiled at passersby from around every corner.
Registration was held at the Renaisaance Waverly Hotel, making it easy to find and a breeze to complete. Adding to the convenience, colored-coded registration booths made it simple to determine which staff member was open to register an attendee. The ticketing system was also very versatile, allowing con-goers to choose tickets based on how many days they planned to attend. Unlike many other conventions, my friends and I were able to purchase two-day passes, rather than purchase two separate tickets for Friday and Saturday. This process cut down on the time and tediousness of picking up a new pass each day.
Next, we hit the Artist's Alley and Dealer's Room, which were combined into a single, wide-open area that connected to the autographs and special guests sector as well. With the addition of breaks in-between the booths, there was plenty of space to move along the aisles and switching aisles to get a closer look at the many prints that caught my eye was a breeze. The convention hosted dozens of artists, including Yuumei, evikted.Rei, Apocalyss, and Enchanatriums. Most of the art was anime-themed as per the focus of the convention, though there was a small selection of Western-oriented fanart. A few vendors offered commissions and I got this beautiful watercolor piece done by evikted.Rei.
The Dealer's Room was very diverse and also Japanese-themed. There was a wide variety of wares, from kimonos, to figures, to fuchiko (adorable cup-clinging figures), to J-Pop, to Japanese treats–including dango, mochi, ramune, and pocky. It was equally as spacious and even had a display of itasha ("pain cars") nearby. Several prominent anime companies in the industry also had booths, including Crunchyroll (the con's main sponsor) and Aniplex, who were both giving away free merchandise, such as cinch sacks, lanyards, and exclusive Fate/Grand Order and Blue Exorcist Kyoto Saga posters.
The only downside to the Dealer's Room were the displays of hentai (Japanese erotica), ecchi ("naughty" anime), yaoi and yuri (homosexual anime), and adult doujinshi. These are unfortunately part of the otaku culture, as is scantily-clad comic book characters in Western media. Most of this content was concealed, but even so it was surprising to see entire booths (no matter how small in overall percentage) devoted to hentai and ecchi that required an 18+ ID to peruse.
Next, I hit the autograph lines. Instead of each guest having their own booth, the booths were interchangeable, meaning that on one day an actor may be at Booth A but on another day they may be at Booth E. Attendees would form a line at a certain spot near the autograph lines, and then a staff worker would come by with a sign bearing the guest's name and attendees would file out and follow the worker to the special guest when they arrived at their booth. This process was fairly simple and mostly effective, but a little confusing when we were required to change or shift positions in line. A few people used this opportunity to cut in front of me.
However, the wait was worth it when I got to meet Christine Cabanos (Shiemi from Blue Exorcist, Silica from Sword Art Online). Her first autograph was free! The second guest I saw that day was Jennifer Hale (Avatar Kyoshi from Avatar: The Last Airbender) who charged $30 per autograph. Prices varied by guest, though it was nice that many American guests offered their first autograph free. Most of the Japanese guests also offered free autographs, though in much more limited quantities.
Lastly, I attended an Attack on Titan photoshoot. At AWA, photoshoot organizers are required to reserve a spot in the Renaissance Waverly Atrium and create a Facebook group to upload the pictures to afterwards. Around thirty cosplayers attended, which provided a wide range of character representation: Eren Jaegar, Mikasa Ackerman, Armin Arlert, Captain Levi, Commander Erwin, Annie Leonheart, Hange Zoe, Isabel Magnolia, Krista Lenz, the Colossal Titan, and myself as Ymir. We took many different combinations of shots and some single shots. Though the photoshoot eventually dissolved into non-canon shipping poses and pairings, it was overall a good experience and the photoshoot organizer posted the pics promptly on Monday.
Saturday
Today was the big autograph day. After hitting the vendors, I got in line for Travis Willingham (Jugo from Naruto, Grog from Critical Role, Roy Mustang from Fullmetal Alchemist) and Laura Bailey (Tohru from Fruits Basket, Lust from Fullmetal Alchemist). Since they're married, they had a simultaneous signing. Their line was the longest I stood in at the convention, and it only grew since Willingham and Bailey ran a little behind that session. (When the line finally started moving, five people jumped their section of the winding line to get in front of me. This is a definite convention sin. Don't jump lines. It's rude.) The extended wait was worth it, though, and I got to meet the adorable couple. They were more than happy to sign what I brought them, including my little Tohru tea tin.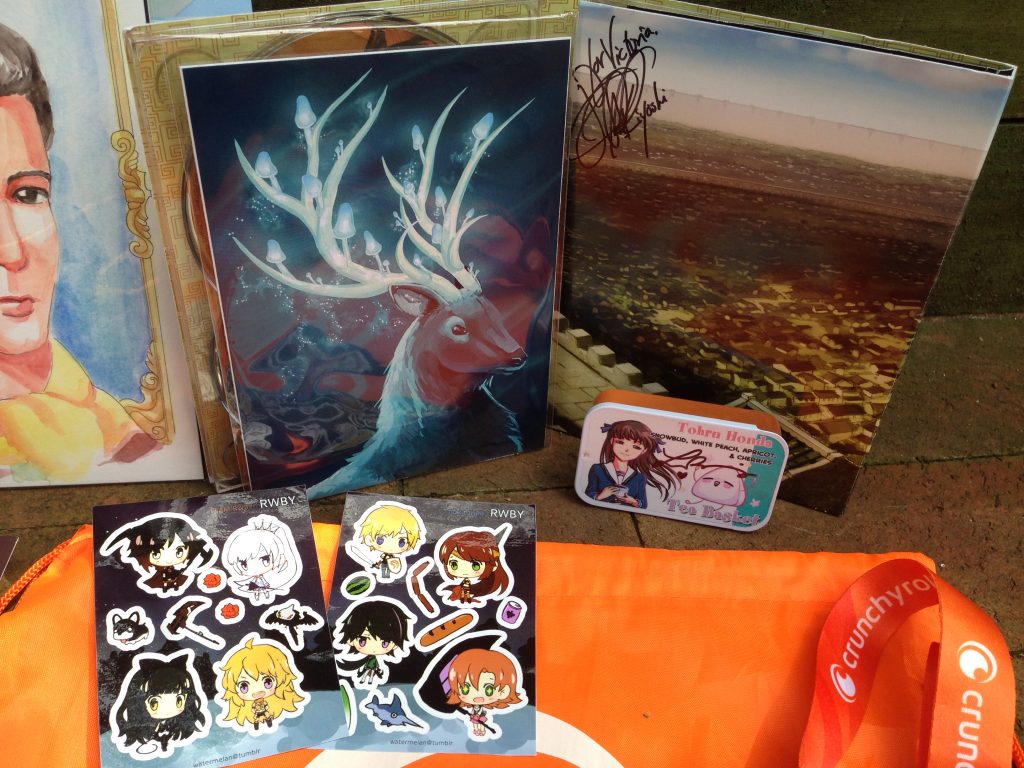 Next, I got in line with my friend to see Chie Nakamura. I didn't have anything to be autographed, but I wanted to go along with the ride and meet Sakura Haruno's Japanese actress. This autograph was free, and the actress was very kind. I even got to speak with her a little, using some of the Japanese I've learned over the course of watching 500+ episodes of subbed anime.
My friends and I spent the rest of the convention looking at the many talented cosplayers. The majority of the cosplays were hand-crafted and top-notch, and I took pictures with many characters that I'd never seen cosplayed before. I found many from Naruto to match my Ino Yamanaka cosplay, including Kushina, Minato, and Killer Bee. All of the best cosplayers gathered in the Renaissance Waverly Atrium, so we spent a good couple hours just people-watching and snapping pictures until we were ready to head home.
Conclusion
Anime Weekend Atlanta is a splendid convention. It's clean, spacious, conveniently located, and features a variety of guests (both local and abroad), cosplayers, vendors, and artists. I'll definitely be attending again next year.
Have you ever been to an anime convention? Have you ever been to Anime Weekend Atlanta? Have you ever done a fan photoshoot? Tell us your experiences in the comments!