It's Comic Book Wednesday! Here is a list of comics from major publishers that are scheduled to be released March 4, 2015.
Releases of note:
Angel and Faith Season 10 #12 is a great jumping off point for those who haven't been following the series. "Though she's returned to London, Faith isn't planning to join up with Team Angel again. But circumstances will throw the Slayer and the vampire together when someone searching for Illyria brings his quest through Magic Town…"
An exciting story a year in the making: a stunning end in Batman Eternal #48. With Gotham in flames, villains free, and Batman knifed in his chest, how will the nightmare end?
Image's new Descender #1 follows the story of a robot boy in a universe where all robots have been outlawed and are hunted down. The previews for Descender have boasted some great art by Dustin Nguyen. This is one of the comics I'm most excited to pick up this week!
With Matt Fraction's Hawkeye series over, All New Hawkeye #1 has some big shoes to fill. With Jeff Lemire and Ramon K Perez at the helm of this new series, we'll see Team Hawkeye (Clint Barton and Kate Bishop) thrown into a challenging new adventure.
In the aftermath of victory against the Death Star, a lingering question remains in Princess Leia #1: What is a princess without a world?
Featuring a costume redesign by Kris Anka, Spider Woman #5, Jessica Drew seeks to make a post-Spider Verse life for herself.
DARK HORSE COMICS
Angel And Faith Season 10 #12 (Cover A Scott Fischer), $3.50

Angel And Faith Season 10 #12 (Cover B Will Conrad), $3.50
Conan Volume 17 Shadows Over Kush HC, $24.99
Dead Rider TP, $14.99
Emily And The Strangers Volume 2 Breaking The Record HC, $12.99
Hellboy And The B.P.R.D. 1952 #4 (Of 5), $3.50
Lady Killer #2 (Of 5)(Joelle Jones 2nd Printing Variant Cover), $3.50
Lady Killer #3 (Of 5), $3.50
Neverboy #1 (Of 6)(Cover A Conor Nolan), $3.99
Neverboy #1 (Of 6)(Cover B Gerard Way), AR
New Lone Wolf And Cub Volume 4 TP, $13.99
Rat God #2 (Of 5), $3.99
Shaolin Cowboy Shemp Buffet HC, $19.99
Terminator Enemy Of My Enemy TP, $19.99
DC COMICS
Aquaman And The Others #11, $2.99
Batman And Robin #38 (Patrick Gleason & Mick Gray 2nd Printing Variant Cover), $2.99
Batman Eternal #48, $2.99
Dead Boy Detectives Volume 2 Ghost Snow TP, $14.99
Deathstroke #2 (Tony S. Daniel 2nd Printing Variant Cover), $2.99
Detective Comics #40 (Brian Stelfreeze Movie Poster Variant Cover), AR
Detective Comics #40 (Francis Manapul Combo Pack Cover), $4.99
Detective Comics #40 (Francis Manapul Regular Cover), $3.99
Detective Comics #40 (Jenny Frison Variant Cover), AR
Earth 2 #32, $2.99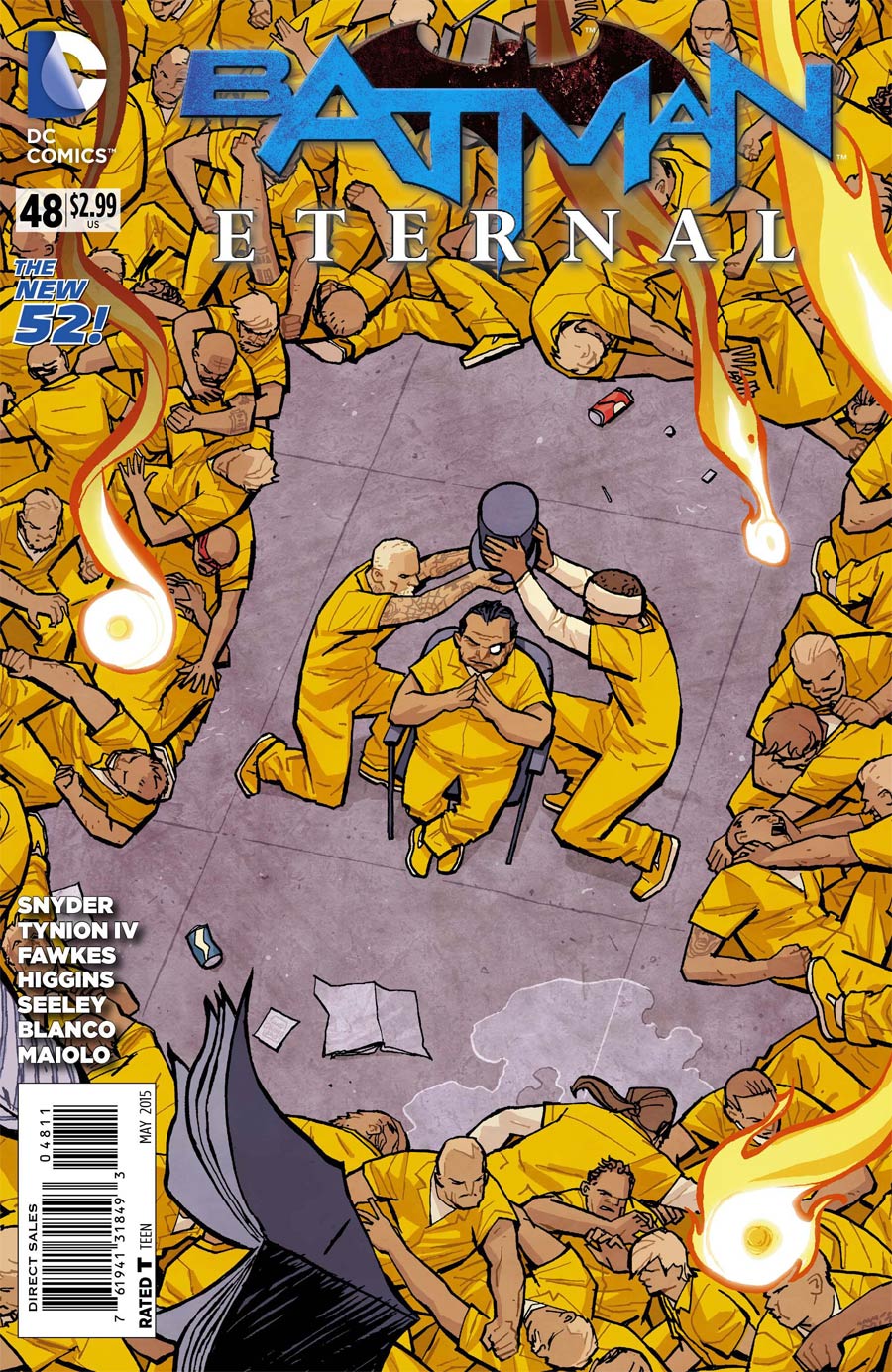 Earth 2 World's End #22, $2.99
Flash Season Zero #6, $2.99
Grayson #8 (Bill Sienkiewicz Movie Poster Variant Cover), AR
Grayson #8 (Mikel Janin Regular Cover), $2.99
Green Arrow #40, $2.99
Green Lantern #40 (Billy Tan Combo Pack Cover), $3.99
Green Lantern #40 (Billy Tan Regular Cover), $2.99
Green Lantern #40 (Tony Harris Movie Poster Variant Cover), AR
Harley Quinn #15 (Amanda Conner Harley Quinn Variant Cover), AR
Harley Quinn #15 (Amanda Conner Regular Cover), $2.99
Harley Quinn #15 (Amanda Conner Variant Cover), AR
Hinterkind #16, $2.99
Infinity Man And The Forever People #8, $2.99
Justice League 3000 #15, $2.99
Justice League United Volume 1 Justice League Canada HC, $24.99
Lobo #6, $2.99
Names #7 (Of 9), $2.99
New 52 Futures End #44, $2.99
Scooby-Doo Team-Up #9, $2.99
Swamp Thing #40, $3.99
Teen Titans Go Volume 1 Party Party TP, $12.99
Wolf Moon #4 (Of 6), $3.99
Wonder Woman #38 (David Finch & Richard Friend 2nd Printing Variant Cover), $2.99
Y The Last Man Volume 2 TP, $19.99
DYNAMITE ENTERTAINMENT
Altered States Vampirella #1 (One Shot)(Billy Tan Black & White Variant Cover), AR
Altered States Vampirella #1 (One Shot)(Cover A Billy Tan), $3.99
Army Of Darkness Volume 4 #4 (Cover A Gabriel Hardman), $3.99
Army Of Darkness Volume 4 #4 (Cover B Tim Seeley), $3.99
Army Of Darkness Volume 4 #4 (Cover C Nacho Tenorio), $3.99
Army Of Darkness Volume 4 #4 (Gabriel Hardman Black & White Variant Cover), AR
Army Of Darkness Volume 4 #4 (Nacho Tenorio Black & White Variant Cover), AR
Army Of Darkness Volume 4 #4 (Tim Seeley Black & White Variant Cover), AR
Battlestar Galactica Death Of Apollo #4 (Of 6)(Ardian Syaf Black & White Variant Cover), AR
Battlestar Galactica Death Of Apollo #4 (Of 6)(Cover A Mike Mayhew), $3.99
Battlestar Galactica Death Of Apollo #4 (Of 6)(Cover B Dietrich Smith), $3.99
Battlestar Galactica Death Of Apollo #4 (Of 6)(Cover C Livio Ramondelli), $3.99
Battlestar Galactica Death Of Apollo #4 (Of 6)(Cover D Ardian Syaf), $3.99
Battlestar Galactica Death Of Apollo #4 (Of 6)(Dietrich Smith Black & White Variant Cover), AR

Battlestar Galactica Death Of Apollo #4 (Of 6)(Dietrich Smith Red Variant Cover), AR
Blackcross #1 (Of 6)(Blank Authentix Variant Cover), AR
Blackcross #1 (Of 6)(Colton Worley Variant Cover), AR
Blackcross #1 (Of 6)(Cover A Jae Lee), $3.99
Blackcross #1 (Of 6)(Cover B Tula Lotay), $3.99
Blackcross #1 (Of 6)(Cover C Declan Shalvey), $3.99
Blackcross #1 (Of 6)(Cover D Jason Howard), $3.99
Blackcross #1 (Of 6)(Declan Shalvey Black & White Variant Cover), AR
Blackcross #1 (Of 6)(Declan Shalvey Virgin Variant Cover), AR
Blackcross #1 (Of 6)(Gabriel Hardman Black & White Variant Cover), AR
Blackcross #1 (Of 6)(Gabriel Hardman Variant Cover), AR
Blackcross #1 (Of 6)(Jae Lee Black & White Variant Cover), AR
Blackcross #1 (Of 6)(Jae Lee Virgin Variant Cover), AR
Blood Queen Vs Dracula #1 (Of 4)(Ardian Syaf Black & White Variant Cover), AR
Blood Queen Vs Dracula #1 (Of 4)(Cover A Jay Anacleto), $3.99
Blood Queen Vs Dracula #1 (Of 4)(Cover B Fabiano Neves), $3.99
Blood Queen Vs Dracula #1 (Of 4)(Cover C Ardian Syaf), $3.99
Blood Queen Vs Dracula #1 (Of 4)(Cover D Lucio Parillo), $3.99
Blood Queen Vs Dracula #1 (Of 4)(Fabiano Neves Black & White Variant Cover), AR
Blood Queen Vs Dracula #1 (Of 4)(Jay Anacleto Black & White Variant Cover), AR
Dawn Vampirella #3 (Of 6)(Joseph Michael Linsner Virgin Variant Cover), AR
Frank Thorne's Red Sonja Art Edition Volume 2 HC (Frank Thorne Signed Edition), $300.00
King Mandrake The Magician #1 (Of 4)(Darwyn Cooke Virgin Variant Cover), AR
Legenderry Green Hornet #1 (Of 5)(Joe Benitez Virgin Variant Cover), AR
Pathfinder Origins #1 (Of 6)(Stjepan Sejic Virgin Variant Cover), AR
IDW PUBLISHING
Cartoon Network Super Secret Crisis War Volume 2 TP, $19.99
Diamond Island TP, $29.99
G.I. JOE #6 (Cover A Jeffrey Veregge), $3.99
G.I. JOE #6 (Cover SUB Dheeraj Verma), $3.99
Godzilla Rulers Of Earth #21 (Cover A Jeff Zornow), $3.99
Godzilla Rulers Of Earth #21 (Cover SUB Matt Frank), $3.99
Monster Motors The Curse Of Minivan Helsing #1 (Of 2)(Cover A Nick Roche), $3.99
My Little Pony Friends Forever #14 (Cover A Amy Mebberson), $3.99
My Little Pony Friends Forever #14 (Cover SUB Agnes Garbowska), $3.99
Powerpuff Girls Super Smash-Up #2 (Of 6)(Cover A Derek Charm), $3.99
Powerpuff Girls Super Smash-Up #2 (Of 6)(Cover SUB Brooke A. Allen), $3.99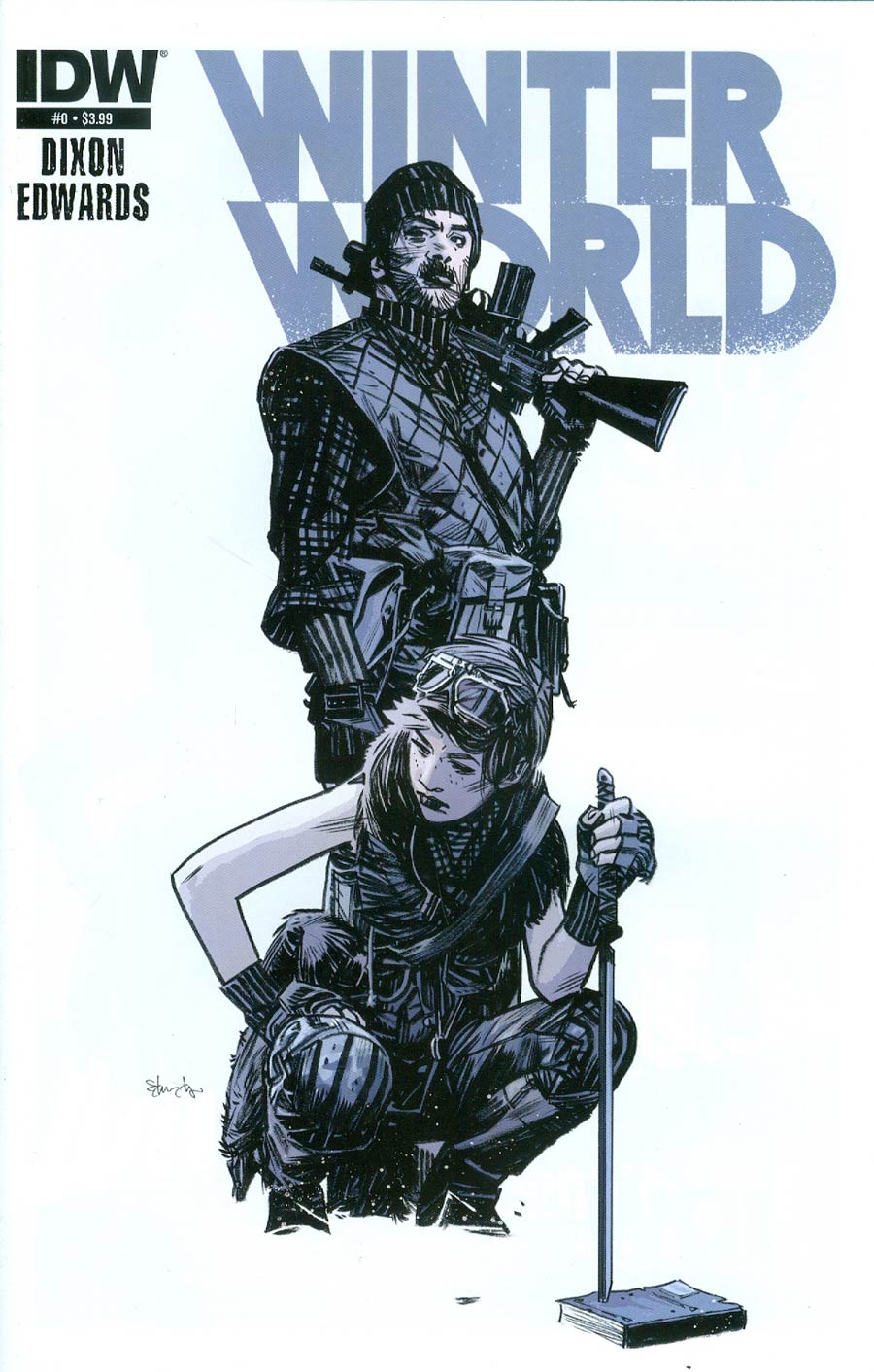 Robert Heinlein's Citizen Of The Galaxy #1 (Of 3)(Cover A Eric Gignac), $3.99
Shadow Show #4 (Of 5)(Cover A Chris Wildgoose), $3.99
Shadow Show #4 (Of 5)(Cover SUB Shane Pierce), $3.99
Silent Hill Downpour Anne's Story TP, $17.99
Star Trek New Visions Volume 5 A Scent Of Ghosts (Cover A John Byrne), $7.99
Star Trek Planet Of The Apes #3 (Of 5)(Cover A Rachael Stott), $3.99
Star Trek Planet Of The Apes #3 (Of 5)(Cover RI Photo), AR
Star Trek Planet Of The Apes #3 (Of 5)(Cover SUB Kevin Wada), $3.99
Transformers #38 (Cover A Andrew Griffith), $3.99
Transformers #38 (Cover RI Jeffrey Veregge), AR
Transformers #38 (Cover SUB Casey W. Coller), $3.99
Transformers Animated The Complete Allspark Almanac TP, $39.99
Transformers More Than Meets The Eye #38 (Cover A Alex Milne), $3.99
Transformers More Than Meets The Eye #38 (Cover RI Jeffrey Veregge), AR
Transformers More Than Meets The Eye #38 (Cover SUB Nick Roche), $3.99
Transformers Primacy TP, $17.99
Winterworld #0 (Cover A Tommy Lee Edwards), $3.99
Winterworld #0 (Cover SUB Butch Guice), $3.99
X-Files Year Zero TP, $19.99
IMAGE COMICS
68 Jungle Jim Guts N Glory #1 (One Shot)(Cover A Nat Jones & Jay Fotos), $3.99
68 Jungle Jim Guts N Glory #1 (One Shot)(Cover B Nate Van Dyke & Jay Fotos), $3.99
Alex + Ada Volume 2 TP, $12.99
Big Man Plans #1 (Of 4)(Cover A Eric Powell), $3.50

Big Man Plans #1 (Of 4)(Cover B Lee Bermejo), AR
Big Man Plans #1 (Of 4)(Cover C Eric Powell), AR
Birthright Volume 1 Homecoming TP, $9.99
Black Science #12 (Cover A Matteo Scalera & Moreno Dinisio), $3.50
Black Science #12 (Cover B Sean Gordon Murphy), $3.50
Dark Engine #5, $3.50
Descender #1 (Cover A Dustin Nguyen), $2.99
Descender #1 (Cover B Jeff Lemire), $2.99
Dying And The Dead #1 (Ryan Bodenheim 2nd Printing Variant Cover), $4.50
Egos #6, $2.99
God Hates Astronauts #6 (Cover A Ryan Browne), $3.50
God Hates Astronauts #6 (Cover B Tradd Moore), $3.50
Nailbiter Hack Slash Hack Slash Nailbiter #1 (One Shot), $4.99
Nailbiter Volume 2 Bloody Hands TP, $14.99
Nameless #1 (Chris Burnham 2nd Printing Variant Cover), $2.99
Nameless #2 (Cover A Chris Burnham), $2.99
Nameless #2 (Cover B James Flames Ghost Variant), AR
Rat Queens #9, $3.50
Revival #28, $3.99
Saga #26, $2.99
Supreme Blue Rose #7, $2.99
Walking Dead #115 (Charlie Adlard NYCC Variant Cover)(Stefano Gaudiano Signed Edition)(Dynamic Forces), AR
MARVEL COMICS
All-New Hawkeye #1 (Blank Variant Cover), AR
All-New Hawkeye #1 (Jeff Lemire Variant Cover), AR
All-New Hawkeye #1 (Ramon K. Perez Regular Cover), $3.99

All-New Hawkeye #1 (Sho Murase Women Of Marvel Variant Cover), AR
All-New Hawkeye #1 (Skottie Young Variant Cover), AR
Angela Asgard's Assassin #4, $3.99
Avengers #42 (Elena Casagrande Woman Of Marvel Variant Cover), AR
Avengers #42 (Scott Kolins Regular Cover), $3.99
Avengers Volume 5 Adapt Or Die TP, $19.99
Avengers World #18, $3.99
Death Of Wolverine The Weapon X Program TP, $19.99
Guardians Team-Up #1 (Arthur Adams Regular Cover), $3.99
Guardians Team-Up #1 (Jose Ladronn Inhumans 50th Anniversary Variant Cover), AR
Guardians Team-Up #1 (Pasqual Ferry Variant Cover), AR
Guardians Team-Up #1 (Skottie Young Variant Cover), AR
Hawkeye Vs Deadpool TP, $16.99
Hulk #12, $3.99
Iron Fist The Living Weapon #10, $3.99
Marvel Masterworks Captain America Volume 1 HC (New Printing), $49.99
Marvel Masterworks Daredevil Volume 1 HC (New Printing), $49.99

Marvel's Ant-Man Prelude #2 (Of 2), $2.99
Marvel's Avengers Age Of Ultron Prelude TP, $16.99
Miracleman #16 (Esteban Maroto Variant Cover), AR
Miracleman #16 (Garry Leach Variant Cover), AR
Miracleman #16 (John Totleben Regular Cover), $5.99
Operation S.I.N. #3 (Of 5), $3.99
Princess Leia #1 (Of 5)(Alex Ross Sketch Variant Cover), AR
Princess Leia #1 (Of 5)(Alex Ross Variant Cover), AR
Princess Leia #1 (Of 5)(Blank Variant Cover), AR
Princess Leia #1 (Of 5)(Butch Guice Variant Cover), AR
Princess Leia #1 (Of 5)(J. Scott Campbell Connecting Variant Cover C), AR
Princess Leia #1 (Of 5)(John Cassaday Teaser Variant Cover), AR
Princess Leia #1 (Of 5)(John Tyler Christopher Action Figure Variant Cover), AR
Princess Leia #1 (Of 5)(Mark Brooks Variant Cover), AR
Princess Leia #1 (Of 5)(Movie Variant Cover), AR
Princess Leia #1 (Of 5)(Skottie Young Variant Cover), AR
Princess Leia #1 (Of 5)(Terry Dodson Regular Cover), $3.99

Return Of The Living Deadpool #2 (Of 4), $3.99
Rocket Raccoon #9 (Janet Lee Women Of Marvel Variant Cover), AR
Rocket Raccoon #9 (Skottie Young Regular Cover), $3.99
Spider-Woman #5 (Javier Rodriguez Regular Cover), AR
Spider-Woman #5 (Kris Anka Design Variant Cover), AR
Spider-Woman #5 (Kris Anka Variant Cover), AR
Spider-Woman #5 (Siya Oum Variant Cover), AR
Star Wars #2 (Sergio Aragones Variant Cover), AR
Super-Villains Unite The Complete Super-Villain Team Up TP, $34.99
Wolverines #9, $3.99
X-Men #25 (Jim Cheung Variant Cover), AR
X-Men #25 (Jorge Molina Regular Cover), $3.99