Guess what day it is?! Hump Day!! It's new comic book day! Marvel is buzzing after their big All-New All-Different announcement last week and some big things shaking elsewhere in the comics world. Oh yeah, and this little shindig called San Diego Comic Con! So let's dive in to the top shelf on this week's Fresh Picks!
Fresh Picks
First up, from Archie Publications comes the reboot almost 75 years in the making. You've seen him hang out with his friends, fight zombies, fight the Predator, and even die; now see him like never before in Archie #1. Mark Waid and Fiona Staples join forces to re-imagine the gang from Riverdale and shake things up a bit. There are over 20 variant covers to choose from, so grab this first issue of Archie's new, ongoing series at your Local Comic Book Store today.

DC Comics is releasing Batman #42. I'm really amped about this new story arc. Some people aren't too happy with robo-bunny-Batman, but I think it's a really compelling story and definitely worth your time to check it out.

IDW is putting out a crossover that sounds. interesting? The crew of the U.S.S. Enterprise meets the Green Lantern Corps in Star Trek / Green Lantern #1. In what IDW is calling the crossover event of 2015, Kirk and Spock discover something unusual on a lost planet, which kicks off The Spectrum War.

Marvel is taking full advantage of their Star Wars comic line by giving a miniseries to none other than Lando Calrissian. In Lando #1, we get to see a younger Lando before his days with the rebellion and running Cloud City. He's planning on stealing a valuable ship, and I'm sure his story will be chock full of charm and swag.

In this week's Marvel Secret Wars round-up, we have some great tie-ins: 1872 #1, Age of Apocalypse #1, Amazing Spider-Man: Renew Your Vows #2, Civil War #1, Ghost Racers #2, Inferno #3, Master of Kung Fu #3, Mrs. Deadpool and the Howling Commandos #2, Runaways #2, Secret Wars 2099 #2, Spider-Island #1, Spider-Verse #3, and Squadron Sinister #2.
What books are you picking up this week? Sound off in the comments below, and if you need to find out where your nearest Local Comic Book Shop is, try using the Comic Shop Locator.
Release List:
Note: Not every release from every publisher is included here. Also, redundant variants are not listed. Cover prices are included, but "AR" means "ask your retailer," as prices on those items may vary. HC = Hard Cover, TP = Trade Paperback, GN = Graphic Novel
ARCHIE COMIC PUBLICATIONS
Archie #1 (Fiona Staples Regular Cover), $3.99
Betty And Veronica Friends Comics Double Digest #244, $4.99
Fox #4 (Dean Haspiel Regular Cover), $3.99
Sonic The Hedgehog #274 (Patrick Spaziante Regular Cover), $3.99
BOOM! STUDIOS
Bill And Ted's Most Triumphant Return #5 (Of 6)(Cover A Felipe Smith), $3.99
Bravest Warriors #34 (Cover A Ian McGinty), $3.99
Broken World #1 (Of 4)(Christopher Peterson 2nd Printing Variant Cover), $3.99
Clarence #2 (Cover A J J Harrison), $3.99
George Perez's Sirens #4 (Of 6)(Cover A George Perez), $3.99
Lantern City #3 (Of 12)(Cover A Benjamin Carre), $3.99
Strange Fruit #1 (Cover A J. G. Jones), $3.99
DC COMICS
All-Star Section 8 #2 (Of 6), $2.99
Aquaman Sub-Diego TP, $16.99
Arrow Season 2.5 #10, $2.99
Batman #42 (Greg Capullo Regular Cover), $3.99
Batman Arkham Knight Volume 1 HC, $19.99
Batman Eternal Volume 2 TP, $39.99
Batman Superman #22 (Ardian Syaf Regular Cover), $3.99
Batman The Jiro Kuwata Batmanga Volume 2 TP, $12.99
Catwoman #42 (Kevin Wada Regular Cover), $2.99
Coffin Hill #20, $3.99
Constantine The Hellblazer #2 (Riley Rossmo Regular Cover), $2.99
Earth 2 Society #2 (Jorge Jimenez Regular Cover), $2.99
Fables The Wolf Among Us #7, $3.99
Gotham Academy #8 (Karl Kerschl Regular Cover), $2.99
Hinterkind Volume 3 The Hot Zone TP, $14.99
Injustice Gods Among Us Year Four #5, $2.99
Justice League Of America #2 (Bryan Hitch Regular Cover), $3.99
Justice League United #11 (Andrew Robinson Regular Cover), $3.99
Justice League Volume 6 Injustice League HC, $24.99
New Suicide Squad #10 (Juan Ferreyra Regular Cover), $2.99
Red Hood Arsenal #2 (Howard Porter Regular Cover), $2.99
Scooby-Doo Where Are You #59, $2.99
Sinestro Volume 2 Sacrifice TP, $16.99
Starfire #2 (Amanda Conner Regular Cover), $2.99
IDW PUBLISHING
Bacchus Omnibus Edition Volume 1 GN, $39.99
Dirk Gently's Holistic Detective Agency #2 (Of 5)(Cover A Tony Atkins), $3.99
Drones #4 (Of 5)(Cover A Anderson Cabral), $3.99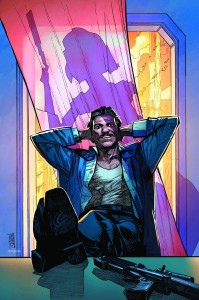 Ghostbusters Mass Hysteria HC, $49.99
Godzilla Rulers Of Earth #25 (Cover A Matt Frank), $7.99
Godzilla The Half Century War HC, $34.99
Little Nemo Return To Slumberland HC, $21.99
Long Distance #2 (Of 4)(Cover A Thomas F. Zahler), $4.99
Maxx Maxximized #21 (Cover A Sam Kieth), $3.99
Popeye Classics #36 (Cover A Bud Sagendorf), $3.99
Shadow Show Stories In Celebration Of Ray Bradbury TP, $19.99
Skylanders Return Of The Dragon King HC, $12.99
Star Trek Green Lantern #1 (Of 6)(Cover A Gabriel Rodriguez), $3.99
Star Trek New Visions Volume 7 1971/4860.2 (Cover A John Byrne), $7.99
Tales Of Teenage Mutant Ninja Turtles Volume 7 TP, $19.99
Teenage Mutant Ninja Turtles Color Classics Volume 3 #7 (Cover A A.C. Farley), $3.99
X-Files Classics Season One Volume 2 HC, $29.99
X-Files Trust No One TP, $19.99
MARVEL COMICS
1872 #1 (Alex Maleev Regular Cover), $3.99
Age Of Apocalypse #1 (Gerardo Sandoval Regular Cover), $4.99
Amazing Spider-Man Renew Your Vows #2 (Adam Kubert Regular Cover), $3.99
Amazing Spider-Man Volume 3 Spider-Verse TP, $24.99
Civil War #1 (Leinil Francis Yu Regular Cover), $4.99
Ghost Racers #2 (Francesco Francavilla Regular Cover), $3.99
Inferno #3 (Javi Garron Regular Cover), $3.99
Iron Fist Epic Collection Volume 1 The Fury Of Iron Fist TP, $39.99
King-Size Kirby Slipcase HC, $200.00
Marvel Universe Avengers Assemble Season Two #9, $2.99
Marvel Universe Guardians Of The Galaxy Galaxy's Most Wanted Digest Volume 1 TP, $9.99
Master Of Kung Fu #3 (Of 4), $3.99
Max Ride First Flight #4 (Of 5), $3.99
Mrs Deadpool And The Howling Commandos #2 (Reilly Brown Regular Cover), $3.99
New Avengers Volume 4 Perfect World TP, $19.99
Runaways #2 (Sanford Greene Regular Cover), $3.99
Secret Wars 2099 #3 (Of 5)(Dave Rapoza Regular Cover), $3.99
Spider-Island #1 (Humberto Ramos Regular Cover), $4.99
Spider-Verse #3 (Nick Bradshaw Regular Cover), $3.99
Squadron Sinister #2 (Carlos Pacheco Regular Cover), $3.99
Star Wars Lando #1 (Of 5)(Alex Maleev Regular Cover), $3.99
Storm Volume 2 Bring The Thunder TP, $17.99
Thor Volume 2 Who Holds The Hammer HC (Premiere Edition), $24.99