This past weekend, I had the privilege of attending

Realm Makers

, a writers conference for Christian speculative writers. Unicorns, Dr. Who, and deep conversations about world building are the norm. While at Realm Makers, I was surprised by an announcement from the creators of

Speculative Faith

and

Splickety.

They introduced

 Lorehaven, 

a quarterly magazine to unite the world of Christian fantastic storytellers with more fans and readers — the people who would love these books.
I had the chance to meet
E. Stephen Burnett
, the editor at Speculative Faith. He was more than happy to spread the word for this upcoming adventure!
For those who are not familiar with you, E. Stephen Burnett, what's the scoop in ten worlds or less (because we have short attention spans)?
I explore and create fantastic stories for God's glory.
What made you pursue Lorehaven?
For more than ten years I've written for
SpeculativeFaith.com
.
Speculative Faith began as a team blog of authors in 2006. We advocated writers who want more books in Christian-written fantasy, science fiction, and other fantastic genres.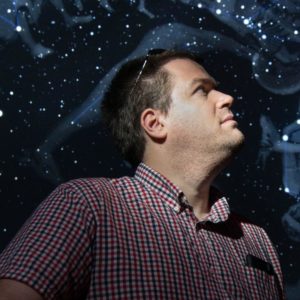 In 2010, Speculative Faith rebooted with a little more structure and a new emphasis. We don't want to talk only about writing; we want to reach fans with these stories!
So along with daily articles, we added reviews, occasional news, and a complete Speculative Faith Library that lists any Christian-made, fantastic, published novel.
Ben Wolf, publisher at Splickety Publishing Group,
approached me with the idea of a new publication. We grew out from the website of Speculative Faith, plus the resources and know-how of Splickety's flash-fiction magazine,s with a new publication. And that new magazine, Lorehaven, will emphasize our central mission: to find and build new fans of Christian-made fantastic stories by offering flash reviews and supporting reading groups.
How long did it take for Lorehaven to make it to fruition?
Ben and I have been planning this since February. We've grown to know one another, brainstormed content, rounded up volunteers. The July 27 announcement at Realm Makers is just the beginning. Now we move toward our first issue's release early next year, launching this fall with our full website and book club assistance, and can't wait to showcase this creation.
What's your superpower?
Superheroes get their gifts from "accidents," or destiny that at times seems providential. I'll take the latter—it's grace all through! I'd say my gift appears to be a passionate embrace of two interests that many people find contradictory: both biblical truth and fantastic imagination. (More below.)
If we're sitting here a year from now celebrating what a great year it's been for you on this new adventure, what will you be happiest about?
I'd love to see dozens of reading groups form in Christian families and churches to share these fantastic-genre stories made by Christian authors, thanks to the new resource of Lorehaven magazine. Some years ago, I led a reading group at my church — an extraordinary experience. Christian fans of all ages, children to grandparents, met to read, discuss, argue about, and explore The Lion, the Witch and the Wardrobe and then The Hobbit. Faith and stories united us.
Tell readers about a time when things didn't go the way you wanted — something that didn't turn out how you had hoped.
At Speculative Faith, some of my articles have done all right. Others have flopped. (For example, one big discussion-starter series a few years ago captured little interest.) Last year, I lost my job and with it, a more-stable career path. That felt crushing. But before long, I could start seeing that what others meant for evil, God means for good. At least, this hard plot twist opened a way to more exploring, not only at Lorehaven, but at publications such as Christ and Pop Culture and Christianity Today.
Tell me why this project is significant for you.
Earlier, I said I want to love both God's real-world truth and humans' fantastic imagination.
By "God's real-world truth," I mean: Jesus and the gospel, Christianity, Jesus's flawed yet beautiful Church, organized local churches of all styles and flavors, earnest evangelism, long sermons, big nonfiction books, and "deep doctrine magic." I want to love these things, even these words, without being self-conscious, while also being aware of how they have been misused to hurt people. (After all, I come from a conservative homeschooling culture — lots of real struggles can go on there.)
By "humans' fantastic imagination," I mean: our flawed yet often amazing stories about fantastic people and worlds. Even before sin entered our story, God created a real world of people to create their own worlds (the "cultural mandate" in Genesis 1:28). Now, even as we fight sin for holiness, we can train one another to "make holy" His good gifts, through the word and prayer (1 Tim. 4:1-5).
That's what I'm eager to do through Lorehaven's flash reviews and book clubs: glorify our Creator. You need not choose between "boring, legalistic" biblical truth and "frivolous, escapist" fantastic imagination. God wants us to embrace both of these good gifts. Without them, we can't live forever.
I want to introduce you to these new worlds. They come not just from the usual authors like C.S. Lewis and J. R. R. Tolkien, but from new authors who love Jesus and story. Let's explore together!
Subscribe and follow Lorehaven: