Author: R.A. Salvatore
Publisher: Wizards of the Coast
Genre: Fantasy Novel
Release date: January 1st, 1990 Second release: 2005-2006
Price: $7.99 each; $19.95 collected edition
Content Warning:
From a Christian perspective, these books are wrought with things to watch for spiritually. There is a lot of dark sorcery and chants that may turn you away from the book if you prefer not to read those types of things. In the dark elf world, there are several rituals where elves summon denizens of the dark world, and one where the novel (pretty vibrantly) alludes to the females having sex with them. Dark elves also use the chants to raise characters from the dead.
One thing that I see no place for in literature is the harm or killing of children. There are a number of other ways to get the point across and add to the story without involving kids like that. These books have quite a few instances where this happens. While the details aren't gory, the book intentionally says that children are killed.
There are some grisly details given about some killings and descriptions of how these killings take place. These are all things to take into consideration before deciding to make the purchase.
Presentation:
R.A. Salvatore does a great job of putting you into the story with Drizzt. I genuinely felt like I understood the perils that Drizzt faced. Each of the events that the dark elf encounters change him noticeably throughout the story. Drizzt's struggle to adjust to a completely different world, filled with people who hate him because of his race, is a detailed, fantastic story.
The most important thing to note in these books is the action. There are numerous, descriptive battles in all three of these books that are very vivid to the reader. Not once did I feel like I didn't understand what was going on, or that the fighting taking place was rushed or not justified by the story. You find yourself not wanting to put the book down because you want to see if the enemy is catching up to Drizzt in the next chapter. The entirety of these books has you wanting to see what happens next.
The chapters are broken up nicely as well. It was very easy to justify picking this book up when I only had a few minutes to read, because I knew that I would reach a breaking point soon enough to not have to stop in the middle of an important sequence. There could have been a little more detail given about the characters' appearances though.
Story:
Since this is a trilogy, I will break this into three very brief summaries in order to give each of the books a fair coverage. As a warning, since this covers three books in a series, it will have spoilers between books.
Homeland

A dark elf prince, Drizzt Do'Urden, is born in the vile city of Menzoberranzan. This is the place that the drow call home. It is a vast cavern in the Underdark where ruthless creatures lurk waiting to prey on any victims that happen into the wilds of the underground world. The wilds almost seem civil in comparison to the dark elf hierarchy in Menzoberranzan though.
The drow are in constant, open turmoil with each other, as all of the noble families ruthlessly slaughter houses that they can best. As long as there is no trace as to what family murdered the other family, they are within the legal bounds of the civilization. Drizzt is born into this world, but soon discovers that he doesn't belong in it, as he constantly catches himself questioning the ways of the drow. He is trained in the Academy as a warrior, and shows great prowess for battle as the best of his class.
Exile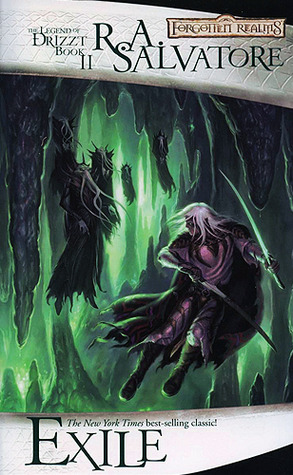 Drizzt has chosen his morals over his upbringing as he leaves his home in favor of living in the wilds of the Underdark. The decades of having to fend for himself, coupled with little intelligent interaction, fosters a primal spirit in the hunter. His relationship with his mystical panther friend, Gwenhwyvar (who he gained control of at the end of the first book), begins to blossom as the two take on the dangerous beasts of the Underdark.
Drizzt's mother raises a weapon's master from the dead to hunt down her estranged son for abandoning their family and putting them in bad standing with their goddess. After finding another unlikely friend, the dark elf and his company get taken to an otherworldly civilization as practically mindless slaves. After escaping from that city, they are met with more dangers until they finally part ways.
Sojourn

After deciding that he can no longer live in the Underdark, Drizzt begins his life in the bright world above. The differences he experiences in this new world make it hard for him to adjust at first. He begins by living in the wilderness, as he has done in the years since he left Menzoberranzan, but finds himself yearning for intelligent contact once more. After finding a family of humans, he tries to ease into their lives, but an unfortunate event separates them.
Torn by the events that have once again left him a loner, the drow takes to the solitude of the uncivilized world. While his time in the upper-world has left him alone due to prejudices that the races of that world have against dark elves, he does meet an old ranger who takes him in. Their friendship flourishes for a while, but Drizzt once again finds himself alone for a time. By the end of his journey, he has found a place uncivilized enough to call home.
Conclusion:
If you can get around the dark parts of the story, these books are a fantastic read! You have a deep connection with the main character, and his life of struggles will pull at your emotions. Drizzt's sense of justice, and the fact that he uses his abilities to defeat those who are doing wrong in the face of judgment, makes him a lovable character. I would recommend this book to anyone that isn't put off by the content warning.
If you would like to purchase the Dark Elf Trilogy from Amazon, you can use the links below:
This is a collected edition that has all of the first three books in it:
[amazon template=iframe image&asin=B00FK8KET4]
These are the books individually:
 [amazon template=iframe image&asin=0786939532][amazon template=iframe image&asin=0786939834][amazon template=iframe image&asin=B00MXG82N6]
+ Great action + Awesome character depth + Engaging story + Lovable main character
- Evil god worship - Dark magic and rituals - Killing and harm to children - Dark world
The Bottom Line
Fans of fantasy that can make it past the overwhelmingly dark overtones of these books will love them. Plenty of action and suspense keeps the reader wanting to read more.