This may be the weirdest time to talk about intentional community and hospitality. But hey – I can't control when and why my personal convictions pop up for consideration.
Thing is: I'm a Christian who believes in the importance of person-to-person, invested ministry – i.e. addressing someone's individual needs as a way to show Christlike love. The other thing is: I'm an introvert who gets physically tired after too much social interaction. I also tend to stay in my head more than I look toward the practical needs of people.
"What are the positive spiritual outcomes of benefiting others materially…?" I ponder deeply to myself while my husband bakes three batches of cookies and delivers them to our neighbors I've only been smiling at and waving to for seven years.
I clearly have confusion in priorities.
Also, I seem to have a problem lasting long in groups. Maybe the seed of this was planted back in my teen years. I recall walking up to our church's youth group girl clique in an attempt to be a part of things. As I got closer, I noticed their circle tightening to ward me off. (I mean, whatever; it was more fun talking PlayStation games with my brother and his friends.) Maybe that moment started a mistrust of groups in me ever since.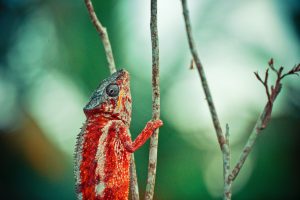 More likely, though, it's the fatigue. In group gatherings, I tend to become the chameleon – adapting to the atmosphere as I observe the interacting personalities. (I've been mistaken for an extrovert because of this technique—when it's successful.) When I'm in groups where the atmosphere is difficult to discern, picture a chameleon flashing through several colors like a rave party until she completely exhausts herself. (Note: I have no idea if this is scientifically possible.) I've struggled to feel comfortable jumping straight into things just being "myself".
This means, as an initiator of social contact, I can be crazy awkward. The chameleon tries to predict the color she needs before entering the environment. If the environment is a soft teal, and she shows up in blazing red…well, it makes me more self-conscious than I like to admit.
And yet, I know if I truly want to follow Christ's example, I need to get earnestly into the presence of other individuals. I need to stop preening my hue-changing scales, blaming them for my shortcomings, and just step out and make those awkward, weird, but soul-stretching mistakes to reach people who are probably just as weird and awkward as I am (though maybe in different ways).
"Above all, love each other deeply, because love covers over a multitude of sins. Offer hospitality to one another without grumbling. Each of you should use whatever gift you have received to serve others, as faithful stewards of God's grace in its various forms." (1 Peter 4:8-10)
Can the point be any clearer? That last phrase, "faithful stewards of God's grace in its various forms", is especially clear that any personality has something of God's love to offer to others.
This makes me think, oddly, of ASMR videos. Yes, I confess a guilty pleasure of letting them play in the background while I work on assorted chores and hobbies. Not the "eating by your ear" or "massaging slime/shaving cream on the microphone" videos (and definitely be careful of the ones that are aiming more toward being sexy than relaxing…); I like finding the ones where the YouTuber prepares a scenario welcoming their viewer as a guest into a comforting place and tending to their needs.
I enjoy these videos, first off, because the relaxed, un-forced conversation of a gentle individual is very calming. Second, they inspire me in a way.
When I look through the comments, I see hundreds of people thanking these content providers for helping them wind down and feel eased during personally or globally anxious times. None of the actions in the video are literally being provided to them. They aren't receiving the foot massage or the skincare session or the basket of goodies for their pretend stay overnight. But these viewers still feel as though they've been given a gift and are appreciated and significant.
That is the blessing of hospitality.
These days, hospitality isn't so easy. You can't take the cookies next door anymore. I feel at a loss to reach out and help when I feel shut away from my neighbors' needs since I hadn't taken the time to know them before now. But I'm thinking more about the power of a subdued person, a chameleon in her true colors, giving a gift of calm and welcome to even a small number of people.
And maybe someday I'll even get past the point of just thinking about it, eh?