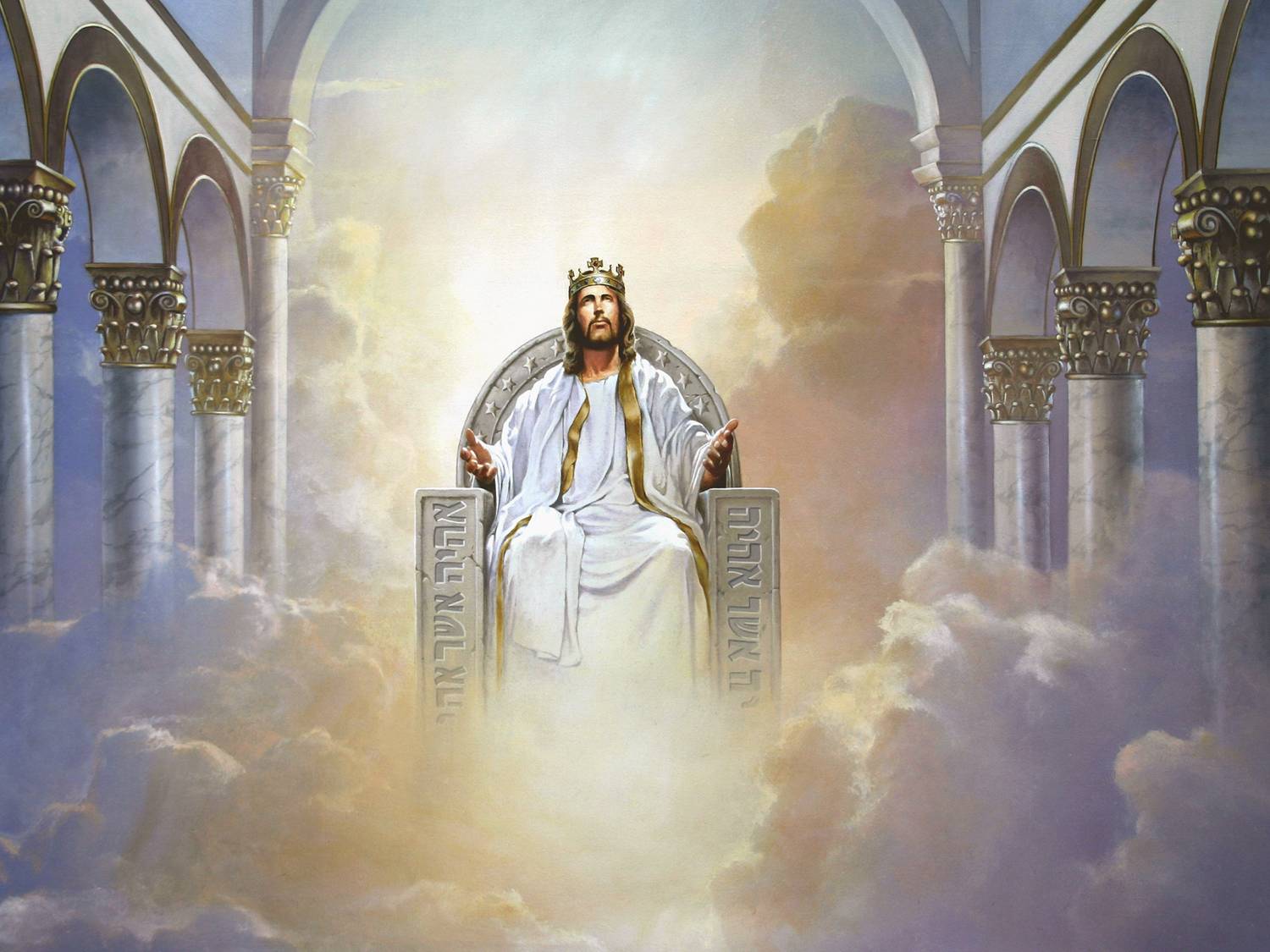 Psalm 2, The Reign of the LORD'S Anointed
1, Why do the nations rage and the peoples plot in vain?

2, The kings of the earth set themselves, and the rulers take counsel together, against the LORD and against His Anointed, saying,

3, "Let us burst their bonds apart and cast away their cords from us."

4, He who sits in the heavens laughs; the Lord holds them in derision.

5, Then He will speak to them in His wrath, and terrify them in His fury, saying,

6, "As for Me, I have set My King on Zion, My holy hill."

7, I will tell of the decree: The LORD said to me, "You are My Son; today I have begotten You.

8, "Ask of Me, and I will make the nations Your heritage, and the ends of the earth Your possession.

9, "You shall break them with a rod of iron and dash them in pieces like a potter's vessel."

10, Now therefore, O kings, be wise; be warned, O rulers of the earth.

11, Serve the LORD with fear, and rejoice with trembling.

12, Kiss the Son, lest He be angry, and you perish in the way, for His wrath is quickly kindled.  Blessed are all who take refuge in Him.
Verses 1-3
This is a Christological psalm, and it is the first. This psalm starts off with a rhetorical question. Resisting God's authority is a futile effort, so why do nations seek to be independent of God, or enemies of Him and His children? The word "anointed" in the text is the Hebrew word that translates to Messiah, which in the Greek translates to Christ, as shown in the image below. The New Testament makes it clear that this psalm was written in application to the coming Christ (Acts 13:32-33), as all the psalms are about Christ (Luke 24:44). This psalm, however, is specifically a Messianic psalm that tells of the coming opposition that will be against Christ. Past nations have set themselves against God and the Anointed One, Jesus Christ the Messiah, as current nations still do today, desiring to "burst their bonds apart and cast away their cords" from them—that is, to be independent of God and Christ so as to not be bound by God's authority.
Verses 4-6
Of course, God laughs at such futility. One may deny God's authority, but denying His authority does not unbind you from it, and neither does it make Him any less real. You are bound by His authority whether you like it or not. So believing one can be released from His authority—the Creator of the entire universe and of all things known and unknown—truly is hysterical. As such futile denial occurs, God will ridicule them with His wrath. In His ridicule, He will pass judgement upon them, be it by oppression, famine, pestilence, war, whatever He finds suitable. Yes, our God is loving and merciful, but He is also just. There seems to be this thinking that God is simply this gentle, merciful, graceful, loving Creator. He is all those things, yes, but He is also just and holy, which is exhibited against His enemies in His wrath. In America, it seems this nation is perhaps being punished by a near economic crisis and raising poor, depraved leaders as it continues to condone and even encourage sins such as homosexuality. If such punishment comes, we should not be surprised.
In Scripture, Zion is often used to signify the city of Jerusalem and the nation of Israel as a whole. Zion was a southern hill upon which a Jebusite stronghold was fortified until David conquered it (2 Samuel 5:6-7). After some time, it became synonymous with Jerusalem. In verse 6, God declares King David as the only king with the representation and authority of His authority. Therefore, as Jesus Christ is made King through God's anointing in the line of David (see a record of the genealogy in Matthew 1), so He is the only King to exercise God's authority over Zion (that is, the church of Christ, which is the entire body of believers). If you recall, I discussed in my article The Importance of Fellowship that we get the word "church" from the Greek word ἐκκλησία (eh-klay-SEE-ah), which literally translated means "the whole body of Christian believers." Furthermore, Since Zion, or Jerusalem, is symbolically representative of all Israel, that includes all Christians of all time (read the following verses in this order Romans 2:28-29; Galatians 6:15-16; and Philippians 3:3). This is because of the promise of the covenant God made to Abraham, Isaac, and Jacob to be passed through all their descendants; and if you remember, God gave Jacob the new name Israel. Israel's descendants started as a family, which eventually grew into a literal nation (the Jews), and continues in all Christians today because of the three aforementioned passages I provided in Romans, Galatians, and Philippians.
Thanks for reading through that long digression, but let's go back to God's laughing in verse 4, which Martin Luther comments:
Let us laugh at raging Satan and the world (yes, even at sin and our conscience in us). Truly, because the punishment of the godless is delayed up to now, it is certain that God is also laughing, God, who is in heaven and cannot be driven from there by impious men. Therefore He rightly laughs at their vain attempts. (Luther's Works American Edition, 12:25.)
Verses 7-9
The sudden change to the first person in verse 7 is an affirmation of the one being anointed—Jesus Christ. Indeed, God the Father gives His only begotten Son the heritage of the nations through the line of David, giving Him also the earth as His precious possession, and therefore ruling over all those who inhabit it.  In Mesopotamian texts, a king's reign was often likened to smashing pottery. So "break" here means "reign" or "rule," and "iron" as "strength," and "potter's vessel" as "weakness." So the Anointed One—Jesus Christ—would reign over the nations with strength and the power to shatter their weaknesses (just cross references this with Isaiah 64:8—God is the potter and we are the clay, so as He has the power to form us, so He has the power to destroy us). This brings me back to God's wrath. Just like with God, we often picture Jesus as this gentle, comforting, utterly merciful man. Yes, He is those things, but He is also King.  A king rules, a king protects his people, and a king wages war against his enemies. In Revelation, we get quite a startling depiction of Jesus' kingship. In Revelation 14, John writes a detailed image of Jesus' kingship, "with a golden crown on His head, and a sharp sickle in His hand" (v. 14). As we read on, we read that this one with the sickle swings His sickle across the earth "and gathered the grape harvest of the earth and threw it into the great winepress of the wrath of God. And the winepress was trodden outside the city, and blood flowed from the winepress, as high as a horse's bridle, for 1,600 stadia" (vv. 19-20). That is Jesus exercising the wrath of God against the wicked (His enemies) as King. This eventual event is likened to a winepress. The image on the right is how ancient Israel would make wine (don't worry about reading the words in the image). They would fill the largest reservoir with grapes, step into the reservoir, and stomp on the grapes as the juices would flow into the lower reservoir. Picture that as God's wrath against the wicked. Yes, our amazing God is loving, merciful, and graceful, but He is also just and holy. Yes, Jesus is our God, but He is also King; and as our King, He will cast His enemies (who are also our enemies) into the winepress of God's wrath, whose wrath will crush them. A horse's bridle is as high as 6 feet, and 1,600 stadia is about 183.93 modern miles. This imagery illustrates the magnitude of God's wrath against the wicked. The wicked—unbelievers—will suffer His wrath, but it will be a victory for God's people.
Verses 10-12
These verses turn back to the kings of the earth, serving as a warning with a therefore. These are the kings (world leaders) who are set against the Anointed One—the one who has power over the earth with the ability to destroy. If they are wise, they will acknowledge God in reverence and piety and honor Him lest His wrath be incurred, for His wrath occurs quickly—no warning is given except the words provided in Scripture. The psalm ends with a concise gospel message—that God's allies have His protection and will be blessed. Blessed how? Refer back to Psalm 1:3, "He is like a tree planted by streams of water that yields its fruit in its season, and its leaf does not wither.  In all that he does, he prospers."
This second psalm can be applied to our nations today. Nation after nation is setting itself into a contemptuous disposition against God and His Anointed One, Jesus Christ, to whom dominion over the entire earth (and Heaven) has been given. If the rulers of today's nations continue in their disposition against the King of the earth, the wrath of the Almighty will come down upon them without warning. Those nations who are God's allies, however, will remain protected; and ultimately, God's people as a whole will be protected. As a Christian, if this reality of God's wrath frightens you, you shouldn't be. Read carefully 2 Corinthians 5:17-19, "Therefore, if anyone is in Christ [these people are Christians], he is a new creation. The old has passed away; behold, the new has come. All this is from God, who through Christ reconciled us to Himself and gave us the ministry of reconciliation; that is, in Christ God was reconciling the world to Himself, not counting their trespasses against them, and entrusting to us the message of reconciliation." Not only did Christ reconcile us to God (which means He restored friendly relations between us and God), but we are also entrusted with this message of reconciliation, hence our duty of spreading the Gospel.  "Since, therefore, we have now been justified by His blood, much more shall we be saved by Him from the wrath of God" (Romans 5:9). I hope these words excite you! How awesome is it that Christ has saved us from the wrath of God! Therefore, you have no reason to be afraid. As God's child, you will never experience His wrath.
Psalm 2 Prayer
Feel free to pray the following prayer or use it as a guide:
Father, I pray for my nation.  Every day that passes, she becomes more godless. You know that the governmental actions of my nation do not reflect the true actions and desires of Your children. I ask that You not forget Your people who live in godless nations, those who have not forgotten Your great name. We seek to serve and honor You with our whole heart, in spite of our government's godless actions. But if it be Your will, I pray for our government. Give them wisdom in their governance so that we may live peaceably with one another, and please help to turn them from their godless ways — to refocus their attention on You and Your Word rather than the words of men, for they fear men more than they fear You, O Lord. If it be Your will that our government should perish in due time, save Your people who take refuge in You from our government's godless actions. Thank You for Jesus. Thank You for mercifully sending Him to save us from Your wrath.  Father, Your love for us is ineffable. Anything I do will never be enough to express my gratitude for You. In the name of Jesus I pray, amen.