From the moment I saw the trailer for The Greatest Showman, I knew I wanted to write about it. I could see it was going to have a great message. Unfortunately, I missed the opportunity to write one of our official Bible studies about it, and didn't get to watch it until long after it came to retail and digital stores. After finally watching the movie, I discovered how much I was able to relate to it.
SPOILERS INCOMING!!!
At the beginning of the movie, we see what life was like for P.T. Barnum at a young age. His father was a lowly tailor who was employed by the Hallett family and clearly made it a point to teach his son that their social status will be nothing more. It is in this way that he relates to the oddities he eventually hires for his show.
Personally, I relate to both Barnum and his crew. I don't share it much, but I've struggled with low self esteem since I was a kid. Not only was I(and still am) overweight, I have a vision disability and wore glasses for most of my childhood. Sadly, these characters and myself live in a world that looks down upon those who they believe are lesser in some way. However, the Bible provides some encouraging words we can carry with us as Christ explains in John 15:18-19 that he was once in our shoes.
"If the world hates you, keep in mind that it hated me first. If you belonged to the world, it would love you as its own. As it is, you do not belong to the world, but I have chosen you out of the world. That is why the world hates you." (NIV)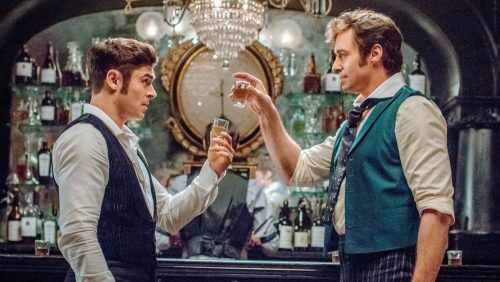 Barnum learned a lesson, almost too late, and was betrayed when he finally made a decision for himself. He realized the true love, adoration, and approval he was always chasing was coming from his family. My low self esteem was the root of why I experimented with drugs and alcohol in my high school years. I didn't think being me was enough, so I sought to fit in wherever I could so people would like me. It wasn't until I found out somebody loved me more than anyone on this world was capable of – my very own creator – that I found the fulfillment I was seeking. In that same way, Scripture explains this love very clearly in John 3:16-17.
"For God so loved the world that he gave his one and only Son, that whoever believes in him shall not perish but have eternal life. For God did not send his Son into the world to condemn the world, but to save the world through him." (NIV)
If you're reading this right now and didn't know it, God loves us despite our imperfections, faults, and setbacks. It took the sending of his own Son to teach us his ways and eventually sacrificing him on the cross—this moment in time is the greatest show of love to ever be recorded in history. Like me, Barnum's crew had never heard the words of someone recognizing them for their skills, talents, and who they truly are. 1 Peter 2:9  explains we were chosen in a much similar fashion.
"But you are a chosen people, a royal priesthood, a holy nation, God's special possession, that you may declare the praises of him who called you out of darkness into his wonderful light" (NIV)
Though they rightfully had their reservations at first, there was a moment at the start of "This is Me" where the performers finally became unashamed and kept performing. Geeks Under Grace exists because we heard about God's love and accepted him into our lives, but then discovered our love for geek culture was also seen as an oddity in the eyes of the church, the same way Christianity is seen by the world. We hope to bridge the gap between the two, and it wouldn't have gotten this far if we were a bunch of believers hiding in the shadows ashamed of their geekdom. 1 Peter 4:16  commands us to not be ashamed of the "Christian" label.
"However, if you suffer as a Christian, do not be ashamed, but praise God that you bear that name." (NIV)
I personally carry the labels of both "Geek" and "Christian". Sometimes the world understands my favorite fandoms, but they probably don't understand my faith. I've personally experienced that the Church (also my place of work) understands my faith but doesn't quite understand my hobbies or interests. What they have understood though, is those hobbies and interests can be used to lead people to Christ. As a result, I have served as an online moderator for their live streams every other Sunday for almost a year now.