Developer: Telltale Games
Publisher: Telltale Games, Warner Bros. Interactive Entertainment
Genre: Adventure
Platforms: PC, PS4, Xbox One
Rating: M for Mature
Price: $24.99 (Season), $4.99 (Episode)
Coming out almost exactly a year after Batman: The Telltale Series, the second season of Telltale's exciting take on the Dark Knight's harrowing adventures, Batman: The Enemy Within has arrived. While the first season started off rather lackluster but eventually built its way up to a satisfying and exciting conclusion, this new season sets an exhilarating pace right from the start. While trying to remain as spoiler-free as possible, I will say that decisions from the first season have already been implemented in a massive way in just the first episode of The Enemy Within.
Content Guide
Much like in Season 1, there is coarse language, violence, smoking, drinking, and just a little bit of gore. The Batman universe, whether in games, TV, movies, or comics has always been much darker and grittier than most of the rest of the DC universe and things are no different here. Episodes 4 & 5 both contain surprising amounts of blood, gore, and some genuinely brutal fight sequences. There is a scene that shows a torso ripped in half, a woman's throat is slit and a man is stabbed through the chin. There is also stronger language here than in previous episodes as both Waller and Bruce Wayne have quite the sharp tongue it seems.
Review
All I could say after finishing The Enemy Within was "Wow, what a season!" Just when I thought Telltale wouldn't be able to top last season's finale episodes they totally did and I didn't see it coming at all. Episode 4, entitled "What Ails You?," picks up right where "Broken Mask" left off as Bruce Wayne is in dire straights and the Pact has made off with what they need to set their plan in motion to attack Gotham City. In a race against time, Bruce has to find out what they're up to and find the virus that has been part of their master plan all along.
As this episode ties into the finale more so than any of the other episodes have led into one another, I have decided to review both of them together. Episode 5, entitled "Same Stitch," is directly influenced by choices made throughout the entirety of The Enemy Within, but especially the closing events of Episode 4. Players will see how their choices made when interacting with John Doe truly have an effect on what type of character he becomes. Treat him well enough and players may see team ups they never thought possible. By the end, I was sympathetic to John, and on my first playthrough of the finale, I did everything I could to keep him on the straight and narrow. How everything plays out before ultimately coming to a head is up to the player to decide.
These two episodes are perhaps the most combat intensive we have seen so far. There are vast amounts of blood and even some gore as the combat is fast and brutal and the QTE's seem smaller and require less time for successful completion. I actually enjoyed this as it made the game seem more like a spin-off of Rocksteady's excellent Arkham series at times despite there being no real-time combat.
By the end of it all, players will have one of two different outcomes based on decisions made throughout the season. John Doe is a ticking time bomb and despite player's best efforts it appears his role in the finale ultimately plays out the same. However, this is not as bad as it seems thanks to excellent writing and character development. Depending on how players treat John in these two episodes, he will become one of two wildly different Jokers. I really enjoyed seeing a different side of this immensely popular and iconic villain as some of his one-liners are legitimately funny. Overall, it is more about his journey as a character than the overall destination.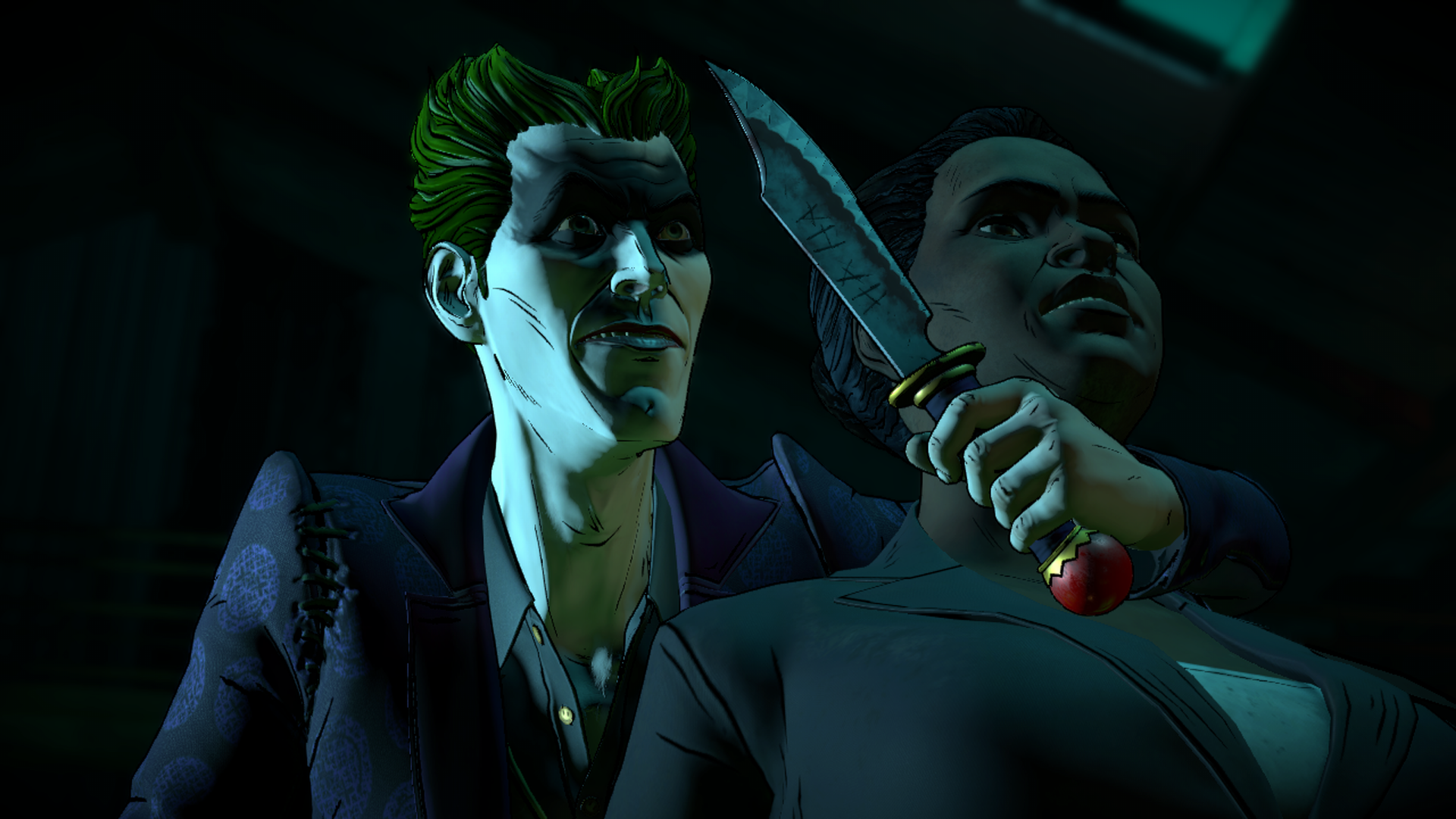 Also new to these two episodes are some allies for Bruce Wayne and Batman that we haven't really seen before. The standout character of the season is Tiffany Fox, Lucius Fox's daughter and protege who desperately wants to help Batman in his Crusade now that she knows his true identity. She takes on an almost Oracle-type role as the season ends and depending on what choices players make, Batman may even become a mentor to her. A shocking revelation about her role in the events of Season 2 also lends some interesting depth to her character.
The other character that really gets the spotlight in these episodes is Agent Iman Avesta. As one of Waller's top agents, Avesta has proven herself to be a valuable asset to The Agency but events in these episodes test her loyalty to Waller and depending on player choices she could become a key ally by the end of the season.
I really like the direction that Telltale Games is taking this series and there is definitely a lot of set up for a potential Season 3 but nothing has been confirmed at this time. However, key decisions from Episodes 4 and 5 are too important and they don't really get resolved in the finale. This can only mean that Telltale intends to see these plot threads unravel in another action packed season of Batman: The Telltale Series.
[amazon template=iframe image&asin=B074BV39XJ,B077SCS5WW]
The Bottom Line
If you are a Batman fan haven't yet picked up either season of Batman: The Telltale Series, then what are you waiting for? If you are looking for a truly unique Batman story that turns established character backstories and Batman lore on its head then you owe it to yourself to try these games.