Developer: Nintendo EAD
Publisher: Nintndo
Platform(s): Gamecube
Price: $80.00 (new), $10.00 (used)
Release date: September 15, 2002
Originally released exclusively in Japan for the Nintendo 64, Animal Crossing has since been transferred to the Gamecube in America, where it has become one of the most adored, popular games for the console–or so the gaming media seems to claim.
With its realistic life simulation, but lack of story, does this cute little game appeal to fans of all types? Does Animal Crossing's cartoony look limit its enjoyment to younger gamers only, or is it a game that all ages can enjoy? Keep on reading!
Storyline
You have just moved away from home to start a life in a town inhabited by delightful, talking animals. After a long train ride, you enter the town and are given a place to stay by a friendly raccoon salesman named Tom Nook. Unfortunately, you have very little money, and you owe a debt on your new home. Tom Nook agrees to let you work part-time at his store for awhile to pay off some of your debt, but after that, you're on your own. As you strive to pay off your debt and improve your house, you must also become friends with the village animals and take responsibility for keeping the town clean. Will you successfully make friends and have a comfortable home? Only you can decide.
Content Guide
Positive Elements

Whether your character is respectful or not really depends upon the player. When asked a question by another character, the player can choose to answer politely or snobbishly. Generally speaking, though, a polite answer gains rewards while a negative one doesn't.
Throughout the game, players are encouraged to befriend and help their neighbors with common errands. By completing these errands, they will receive rewards, such as new furniture for their house. Players are also encouraged to send gifts to other animal residents via the mail.
Sometimes, when a player converses with an animal character, the animal will ask, "Hey, I found this [name of item]. Does it belong to you?" You can choose to lie and say "yes" or be honest and say "no." When you honestly reply "no," the character says, "I don't meet many honest people. That item was actually mine. I'll tell you what, for being so honest, I'll let you have it!"
In a similar incident, when a character realizes you have an item that they've been looking for for years, they'll offer to buy it from you. When you told them they can have it for free, they start crying, "That's the nicest thing that anyone's ever done for me! Tell you what, I'll pay for it anyway!"
Spiritual Content
As seemingly innocent as Animal Crossing is, I was disappointed to find a fortune teller in the game. Her name is Katrina, and she comes around every once in awhile in the game so that people can pay money to have their fortunes told. The good news is, the entire thing is optional. If you don't want to get your fortune told, just don't go to Katrina's tent and it won't happen.
On October 31st, the player can celebrate Halloween with the other animal characters in the game. There are no occult ties during this event, however, and characters merely walk around in pumpkin-headed costumes and play tricks on you if you don't feed them candy. Again, it's completely optional.
Occasionally, animals will ask what your Zodiac sign is.
Violence
Cutscene Violence. There are very few cutscenes in Animal Crossing and most of them occur at the beginning of the game. None of them are violent, however.
Gameplay Violence. You have the ability to whack other characters on the head with a bug net. Characters will wince and eventually fly into a tantrum when this happens. If a player accidentally knocks down a bee hive, the bees will sting them and leave them with a swollen eye. If you don't play your game for a long time, roaches will invade your house and you will have to step on them to get rid of them. Little white ghost roaches float upwards after you step on them. In Animal Crossing, several of the items in the game are actually old Super Nintendo/NES games such as The Legend of Zelda, Super Mario Brothers, Wario's Woods (etc.). Along with these games comes some old-school, cartoony violence.
Language/Crude Humor
Animal Crossing contains no swear words, but a few minor ones are scattered around. Animals will sometimes use words like "heck," "dang," "darn," and "crud." One statue you can buy in the game is a (very un-detailed) fountain of a boy… er… going to the bathroom. The statue is suggestively named "manikin PIS." While nothing inappropriate is shown on the statue, it feels unnecessary.
Sexual Content
Sometimes, animals will talk about going on a picnic with their boy/girlfriends. There's nothing more severe than this.
Drug/Alcohol Reference
Animal Crossing is squeaky-clean in this area.
Other Negative Content
A majority of the characters in the Animal Crossing world, while not hatefully cruel, are rather mean to your character. Some will say things like, "Ugh! How long have you been wearing that ugly shirt!? or "I get so much low-quality furniture from my fans. I'll give you one just to get rid of some of it. I know it will go well with your homely place."
Sometimes, characters will run away from you because they believe a bad rumor that someone has said about you. Some animal characters are rather prideful or grumpy.
When the player enters the Lost and Found building, they have the option of taking whatever they want. When they find something they like, the dog in charge will ask, "Oh, is that item yours…?" Unfortunately, you are given no choice but to lie and say "yes" if you want the item. Though I felt pretty guilty about this at first, I soon realized that none of the other animal characters claim anything at the Lost and Found. It's basically there for your benefit alone. If you don't take an item in the Lost and Found, it will stay there until the Lost and Found gets too full and the item is replaced by another.
hen you donate a fossil to the museum, the museum-keeper, Blathers, will sometimes say a thing or two about evolution (i.e.–"millions of years ago," etc.).
Gameplay
Animal Crossing is a life-simulation game, meaning that the gameplay is parallel to the real life events of the world. If your Gamecube clock is set to the correct time, everything in the game will happen at the same time as it does in the real world. For example, if you play at night, the game will also be experiencing nighttime. If you play on the 4th of July, you will be able to watch a fireworks show at a certain time that night. Since I brought up holidays, allow me to say that they're one of the coolest features of Animal Crossing. Christmas, Halloween, Thanksgiving, April Fools (etc).–they're all there. In addition, there are other festivals that occur throughout the year, such as the Harvest Moon viewing, the Mushroom gathering, and the Sport's Day. This also means that whether you play Animal Crossing or not, time still flows in the game. If you haven't played for three days, the game will realize that, and the date will be set for three days later when you get on next time.
Animal Crossing has plenty of activities available to ensure that the player doesn't get bored from the lack of a storyline. A player can fish, hunt bugs, and dig up fossils to donate to the museum and expand its collection, or merely sell the stuff at Tom Nook's store for profit. As the player pays off their house debts, they can slowly increase the size of their home. As a result, the player will have to keep a constant flow of money going toward their house. The final payment is so large that it will likely take the player many months (if not a year) to finally pay off. In addition to all this, there are always errands that you can run for the village animals, and (my personal favorite) K.K. Slider's concerts to enjoy on Saturday nights.
Animal Crossing can only be played by one player at a time; however, up to four different people can live in one village, meaning that your siblings, friends, and even parents, will be able to live in your town and communicate with you. In addition, another memory card can be placed into the Gamecube with a pre-existing town on it and players can travel from one town to the other. This is particularly fun if you and your friend have separate towns on separate memory cards that you can travel between.
Controls work quite well. All of the buttons are generally easy to use and kept simple. The single press of a button will work most elements of the game. There are no complex button combinations involved–at all. Due to this, Animal Crossing is a great family game that just about anyone can pick up. Perhaps the hardest part is figuring out where things are located the first couple of days. Get a map as soon as possible. It helps.
For some players (like me) who place storyline above all else, this game may not be as enjoyable as it could be. Animal Crossing can't be beaten. In fact, you could play it for the next 100 years and never beat it. Though there is plenty of stuff to keep the more storyline-strict gamers occupied, this "stuff" will eventually become boring and almost non-existent in their thinking. Because of this, those who enjoy fun gameplay will probably get more out of Animal Crossing than those who prefer a game with a strong story.
I didn't notice any glitches in Animal Crossing. It is a very stable game.
Presentation
For the style of game that Animal Crossing is, the cartoony, almost blocky look, is perfect. Though the game's graphics really look like nothing more than an N64 game, they suit the tone well.
The game's more impressive effects are its weather conditions, such as falling snow, rainstorms, lightening, and the flash of fireworks on the 4th (that's not really a "weather condition" but you get my point…).
Animal characters generally share the same model per species, and the player has several different randomized looks depending on what they name themselves.
As is to be expected, Animal Crossing doesn't have an orchestrated score. However, the soundtrack is very impressive. All of the music is set perfectly for the style of the game. It's light-hearted, yet not corny. K.K. Slider's list of fifty songs are all well-written and could easily get away as real songs if words were simply added to them.
The sounds in the game are just as amazing as the music. All of the sounds maintain a cartoony aura and yet don't come across as overly goofy. In fact, they're a lot more realistic than a lot of sound effects I've heard in more story-driven games. Everything from digging a hole, to walking, to the sound of rain pattering, is all rather realistic. Kudos to Nintendo!
Perhaps Animal Crossing's greatest trademark is the way in which the animals talk, however. Though there aren't any true vocals attached to this game, all of the animals' lines are read by a very cute, or very deep, computerized voice that talks rapidly. The result is some truly unique-sounding, gibberish language, but you really can't make out any of the words that are being said.
Final Word
Once again, Nintendo has done America proud. Animal Crossing is an amazing little game because it can be played by everyone from age 7 to 177, and yet still be fully enjoyable. Though some may grow bored because there is no true storyline present, I (and I am big on storyline, I assure you) found myself playing this game all summer before I even started to feel bored. Still, others may be a little stricter than me about this.
With its practically violent-free and generally clean atmosphere, Animal Crossing is a wise entertainment choice, particularly for those looking for a game without a lot of junk in it. Be warned, however, that this game is very addicting! Players will likely want to get on every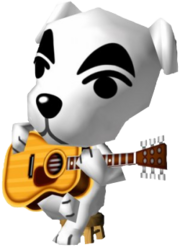 single day, due to the fact that there are brand-new items at Tom Nook's store, or someone new might have moved in, or there is a fishing tournament going on (etc.). Just be sure to limit your playing time and you should be fine.
The only other concern that some–parents of young, impressionable children in particular–may have, is the "language" and sometimes rude attitudes of the animal characters in the game. A talk about being polite probably wouldn't hurt younger gamers. Older gamers, however, will just see it as sarcasm and a brilliant display of human satire presented through animals. They will see the humor. Younger gamers will be too occupied looking at the cute characters.
The bottom line? You're never too old, too grown up, or too "cool" to play Animal Crossing. If you think you are, you're doing yourself an injustice. Don't be fooled by its cutesy, talking-animal world. There's something for everyone in this game. Go give it a shot! You'll be glad you did.
[amazon template=iframe image&asin=B00006FWTX,1930206240,B001CM0PR8,B0009Z3MQK]
The Bottom Line
You're never too old, too grown up, or too "cool" to play Animal Crossing. If you think you are, you're doing yourself an injustice. Don't be fooled by its cutesy, talking-animal world. There's something for everyone in this game. Go give it a shot! You'll be glad you did.