Party Hard Tycoon is a spinoff of the indie game Party Hard that was released in 2015. The original is a stealth strategy game in which the player takes control of a killer who shuts down parties by killing everyone in attendance. Party Hard Tycoon takes a much different approach as a management simulation. The main goal is to manage and maintain various venues across the city and build up hype to people will keep coming back. To be honest, I had so much more fun playing the game than i ever expected I would.
I took on this preview having never played the first Party Hard. When the opportunity came, our writer who wrote the review for it was tasked with another project, as was the remainder of our entire gaming team. With my limited experience I did some research by reading up and watching gameplay videos. I was very pleased to find that the Party Hard falls on a more humorous side of things rather than carrying a dark tone like Hotline Miami. I also expected very much drug use, which is only represented in the loading screens.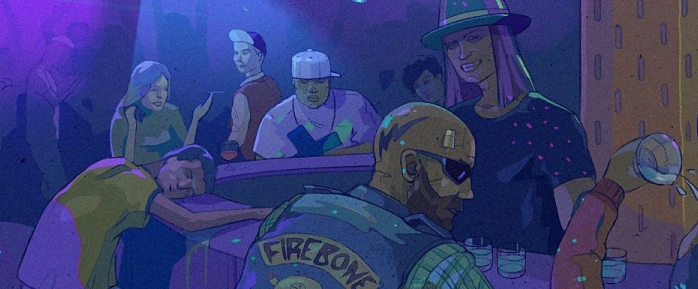 Party Hard Tycoon ditches the killing and focuses on the parties. The story is represented through conversations that the player is having with others via text message. In the Early Access build, these act as a tutorial, and they even let players earn some rewards when completing special tasks. The story elements are purely optional; I was able to jump right in without responding to the messages. A great option for anyone who likes to experiment with multiple save files.
Getting a party started happens in two phases once an venue is chosen. In the first phase, I was choosing the theme of the party and hiring the appropriate staff. There are a variety of themes that are built for different types of party goers; some of the your staff may even be more effective when used with particular themes. For example, when I was in the hole without profit, I'd set up a biker-themed party and hire a biker of my own to beat up people for their money. On the plus side, the hype meter increased, and more people showed up because fights are expected at biker parties.
The second phase is the actual set-up work. This is where I spent my time setting up equipment, decorations, including the food and beverages of course. When placing the lights and speakers, there is a colored circle that gives a helpful visual on how far that piece of equipment can reach. Various kinds of tables, kegs, and bars can be set up; the waiter has to refill them multiple times throughout each event which costs money as well. Finding the right balance between all of these things can lead to a successful night, while any failures had me in the hole by thousands of dollars.
The party can start once all of the preparations are made. I had the ability to direct my hired staff to go various places across the venue to entertain guests. It was quite nice to have some slight control over the event rather than simply watching it take place. The party only lasts a few minutes in real time, so things don't drag on too long. The game transitions to a screen that shows the results of a party, such as how many people showed up and how much profit was made.
The strategy of Party Hard Tycoon is all about throwing parties for all types of people. Fans are divided up into color coded categories. When starting out I had a sizeable fanbase of underground party-goers because the only venue I could afford was an abandoned building. Once I picked up some nicer venues, I was able to set up some high-end gatherings and gain a ban-base of folks to where much higher on the social ladder.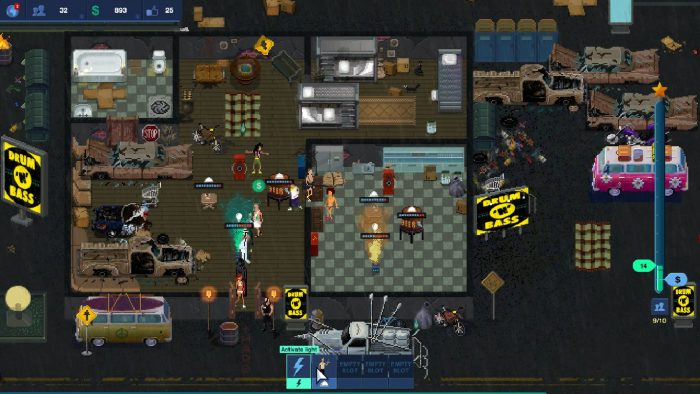 It's taken some time to master all the systems in Party Hard Tycoon, but I found myself playing it for an hour or two every night during my first weekend with it. There are many improvements that need to be made in such an early phase, but it's off to a solid start. Management simulation games are not my prefered genre, but I appreciate how they work and enjoy them on occasion. Party Hard Tycoon happens to be one of those, I look forward to see where it will go in future updates.
Preview code generously provided by tinyBuild Games