Developer: EA DICE , Motive Studio, Criterion Software
Publisher: Electronic Arts
Rating: T for Teen

Price: $59.99
In 2015, Star Wars Battlefront was a greatly anticipated release but criticism followed instead of praise. Since then, Battlefront has had a hard time bouncing back. Star Wars fans, myself included, got very excited again when Star Wars Battlefront 2 was announced. However, Battlefront 2 has not been immune to the shadow of doom 2 years after its predecessor.
Content Guide
Spiritual Themes
Star Wars concerns a battle between the dark side and the light side. It is always not too late to realize that we may have been fighting for the wrong side and it is never too late to fight for what is right. Hope is what we fight for and live for.
Violence
This game is family friendly. There is no blood or gore.
Positive Themes
We all make mistakes, and it is great that we have been given a second chance by God through Jesus Christ. EA made a mistake with microtransactions and the progression system of the game, but their listening and quick correction warrants a second chance from players. No matter how difficult situations look like, there is always hope. We shall never give up hope!
Review
As you may already know, Star Wars Battlefront 2 made a wrong first step in the gaming market and suffered a lot from its controversial progression system right at its release. Gamers reported it may take thousands of hours to unlock all the characters, and EA was forced to cut down 75% of some characters' prices under tremendous pressure from media. However, the war does not end there, and I am sure the struggle between EA and gamers may continue for a while. Anyway, there is no need to let the one negative aspect dominate our view of the game. Let's put down our biased lenses and look at Battlefront 2 with honesty and love, shall we?
First of all, one of the biggest selling points of Battlefront 2 is the single player campaign, which fills in the missing part of its predecessor. You can play the commander Iden Versio from the Empire inferno squad, adding some refreshing elements into the story. However, the campaign is far from perfect, due to its lack of creativity, predictable plot, and a cliff-hanger ending. Even though Iden Versio is the main character of the whole campaign, her motivations, behaviors, and back stories are not deep enough to fully explain  her feelings and actions on a whole. Having said that, there are still many good things within, such as a wonderful soundtrack, great cutscenes, mixed ground battles, space fight, heroes, and location varieties. I play as a computer slicer in Star Wars RPG games, so I really enjoy the droid for hacking and slicing in single player story mode. If the story plot could be more engaging and creative, Battlefront 2 would have easily made for an excellent Star Wars movie.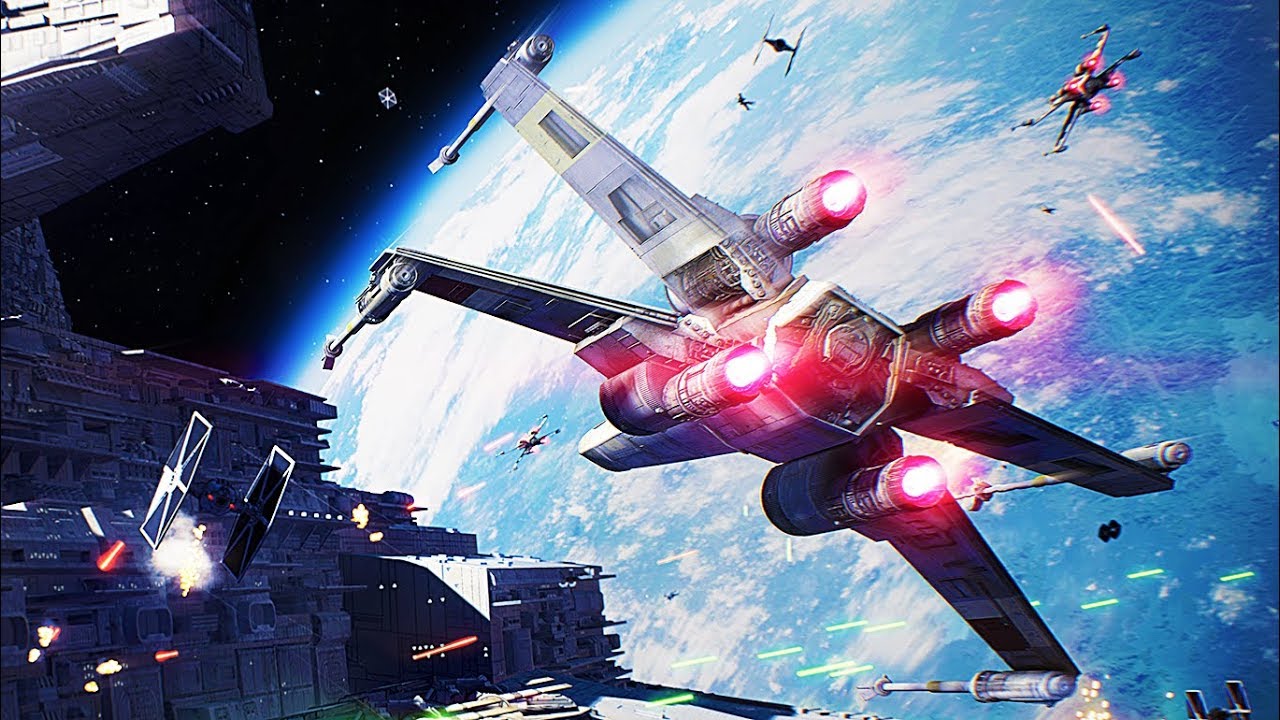 Arcade is an interesting add-on in Battlefront 2, allowing you play solo, co-op or versus in various scenarios. It is a great place to practice your skills or just to have some fun away from campaign or multiplayer mode. Arcade co-op can only do local split screen like its predecessor. There are various difficulties for arcade scenarios, and playing them will help you complete milestones. Milestones work like quests, which give you various rewards after completion, including crates, credits, crystals, and crafting parts. You will be able to complete these milestones through out the whole game, like campaign, multiplayer and arcade modes. Battlefront 2 features a daily loot crate reward for your daily visit. Even though it does not contain anything remarkable, it is still an alternative way to achieve progression. 
The loot box crate system contains various items of star cards, victories posts, speaking lines, credits, crystals and crafting parts. Star cards are essential to Battlefront 2, for they are closely connected with boosting and abilities of your hero character or your class. The higher level of your star cards are, the more slots you are able to unlock, and the more powerful your character will become. You can only get star cards from crates, and you can only get crates from milestone rewards or purchasing them in-store. There are two ways to purchase crates: in-game credits or real money. Unfortunately, you won't encounter too many crate rewards from milestones, and you probably won't spend every cent of your credit on crates. With the randomness of crate rewards, there is absolutely no guarantee for you to get higher level star cards from what you got in the crate.
I will give you an example here about how much this progression system impacts on gameplay. Those who pre-ordered Battlefront II or purchased the deluxe edition, they automatically received epic (maximum level) star cards of heroes and classes, which will take regular players like me forever to even have the slim possibility to get there. There is no other straight path to those epic star cards except paying money for the deluxe edition right now. With those rewards, players will have the advantage of dominating the battlefield, bullying common folks with overpowered abilities. There is no way to complete with someone with great boosts, unique powers, and strengthened abilities in game. The first multiplayer match I played after the game released, I was immediately turned off because of the unfair and unbalanced gameplay experience. I may not be the best player in game, but it absolutely kills the fun when you know you would never be able to catch up with those who already maximized their characters at the moment of the game's release.
In multiplayer mode, you can play Galactic Assault, Starfighter Assault, Heroes vs Villains, Strike and Blast. Starfighter Assault has been greatly improved from the previous Battlefront, and it only gets more intense and realistic like the Star Wars movies you watch in theaters. It is a blast to play but a dangerous place to die. Always be aware of your surroundings and be careful not to crash into floating space debris. It will take some time to get used to, but be patient; pulling off the correct maneuvers will generate a great deal of satisfaction if you could pull it off. Heroes vs Villains is also a delight to play, but you may always get stuck with the less popular heroes in game if you don't have all the others unlocked, or if you get into the game later than anyone else. The balance of heroes and villains needs to be adjusted, for I feel the dark side is a little overpowered at this moment.
Galactic Assault is more like walker assault of the previous Battlefront. Team of 20 players fight on a decently large map with each other. What makes things different this time is that you have 4 classes to choose from, assault (most balanced regular soldier), heavy (heavy weapons and shield), officer (boost up allies and set up turrets) and specialist (sniper). All classes have their own star cards to choose on boost and abilities. You can only get star cards for loot crates. Also, you can use in-game battle points to purchase reinforcements like vehicles or heroes to fight on the battlefield. Stay with your spawn squad if possible, for the game will give you a bonus if you try to stay together. Blast is a fast-pace, close-quarters team death match. Strike is an 8-player team objective-based match and it can be played more than one round. Finally, during multiplayer matches, the game suffers from glitches, bugs, and lag from time to time.
Overall, there are many good things in Star Wars Battlefront 2, but many things are not done right as well. I appreciate the fact that EA is willing to listen to players' opinions and make changes accordingly. It is unclear how its currency and progression system will be in the future. However, at this moment, even with the promise of temporarily removing the real money transaction loot crates, the uncertainty and confusion definitely will continue causing some frustration down the road. I recommend finishing the campaign, for it will give you the basic star cards when you don't have supplies from the deluxe edition. But from there, it is still a long dark path without clear shining light. The light may not come until EA figures out a better system for the future. With all the free DLC coming and an attentive listening developer, we can still hope. 
[amazon text=Amazon&template=carousel&asin=B06ZXTGFDR,B071Y9XLYJ,B071JSJ9GC,B072JZZ4XD,B071JSJVDS,B071Y1RXHG]
The Bottom Line
You will get it if you are a die-hard Star Wars fan, but if not, you may want to wait until further clarity on patches, changes, and development announcements in the near future.