A brief note from our editor on publishing amid national crisis.
Developer: Elden Pixels
Publisher: Elden Pixels
Genre: Adventure Platformer, Metroidvania
Platforms: PC
Price: $17.99
Alwa's Legacy immediately caught my attention. From the bright, colorful pixel art style to the catchy chiptune music, I knew I'd find something to love. The team at Elden Pixels did not disappoint with their fun retro adventure platformer.
Content Guide
Spiritual Content: The game is full of magic (as Zoe, the protagonist, and Vicar, the villain, are both powerful mages).
Violence: There is some mild cartoon violence but no blood or gore to be concerned with.
Sexual Content: There is no sexual content to be concerned about, though there is one peculiar barrel-chested man with no shirt on.
Drugs and Alcohol: There is no classic use of narcotics or alcohol to be concerned with.
Language/Crude Humor: There is no foul language to be concerned about. 
Positive Themes: There are multiple notable positive featured female characters from Zoe the protagonist, to Gwendolyn the knight, and—most notably for this reviewer because it's traditionally such a masculine role—Beth the town blacksmith.

Review
While I'm loath to use the term "metroidvania," Alwa's Legacy fits the bill for what we've come to expect of a retro-inspired game in the ill-named genre. It has gorgeous pixel-art visuals, a fantastic chiptune soundtrack, and tight controls with plenty of areas gated by new items and abilities. Fans of the genre should definitely consider checking out this budget-priced game. It's well worth your time and the price of admission.
At the command of the Grand Library's leader, Zoe is awakened, completely unable to remember her past. She's granted a magical book and told she must keep it safe from the evil Vicar, a sorcerer of notable power. As she journeys through the land of Alwa, she'll have to solve puzzles and defeat monsters to restore the book's power and break the time loop that binds her to a world where she doesn't belong.
The story follows fairly well-worn fantasy tropes, but they do an OK job keeping the game moving. In terms of grand adventure, it doesn't feel like anything new. The characters are fun, though, and I appreciate the team's focus on female characters in a space where males tend to be placed by default. From the wandering knight to the town blacksmith to the information merchant, Alwa's Legacy makes a point of filling its roster with ladies. 
Alwa's Legacy boasts excellent gameplay and game design. Controls (playing with an Xbox One controller) felt tight and responsive with easy-to-navigate submenus for those rare times they're needed. Each dungeon has its own unique mechanics you'll have to master to proceed, but to collect and upgrade everything, you'll have to backtrack and use all of your skills everywhere.
My one complaint with the gameplay is with its boss design. While navigating the dungeons felt clever and challenging, the boss encounters often proved simple and quick. The final boss, in particular, felt like a complete breeze. For someone enjoying the challenge of navigating a well-designed dungeon, it kind of deflated the payoff to defeat a boss in 30 seconds on my first try.
Alwa's Legacy is a treat for both the eyes and ears. The game employs bright, gorgeous pixel art with fluid animation. Each area has its own unique aesthetic theme that keeps things fresh. I love the character designs in the game, too. While the game looks beautiful, don't let the soundtrack be undersold. Alwa's Legacy contains some fantastic toe-tapping chiptune jams that feed wonderfully into the game's retro feel. It's clear the team at Elden Pixels put a lot of time and love into the look and feel of their game.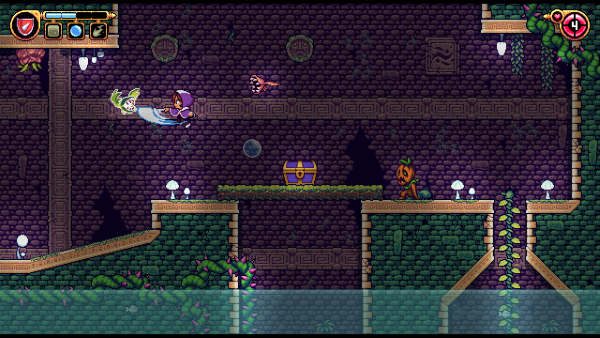 Alwa's Legacy is a prime example of why I love the indie game space. The team at Elden Pixels was able to take a genre and aesthetic they're clearly passionate about and make it their own. What's more, they chose to release it to the world at a price point that won't break the bank. While I feel a few aspects of the game could use some tweaking and the narrative is a bit flat, Alwa's Legacy is a fun, beautiful game with personality. Anyone that enjoys a solid adventure platformer will have a good time diving into the world of Alwa.
Review copy generously provided by Plan of Attack.
The Bottom Line
Alwa's Legacy is a fun, beautiful adventure platformer fans of the genre will have a good time with.