Batman: The Telltale Series closes out its first season with a resounding bang. The twists and turns do not stop coming as Telltale continues to put a diabolical new spin on fan-favorite supporting characters who now share the spotlight with Bruce Wayne/Batman.
Without delving into spoilers, Episode 5: City Of Light concludes in a similar fashion to Telltale's earlier crime noir title, The Wolf Among Us. Players will see the decisions they made as far back as Episode 1 come to a head in Episode 5. A nice cliffhanger also eludes to what might come in a potential second season. However, so far, the only game that Telltale has released multiple seasons of is The Walking Dead: The Game.
Content Guide
As with past episodes, this one does include foul language, violence, and the potential for quite a bit of gore, depending on if players fail a specific action set piece. Also, much like previous episodes, there is no mention of any religion at all. Certain characters do casually reference having had sex with one another, though nothing is explicit is shown.
Review
My initial reaction coming out of Episode 4 was that Telltale would have a hard time maintaining the momentum they established around Episode 3 in keeping this series interesting and varied enough for die-hard Batman fans. I am happy to say that I was mistaken. TellTale has once again pulled off a fantastic finale to a series that I sincerely hope gets a second season. What TellTale has done with the established lore and character motivations of the Batman universe is amazing, and I cannot wait to see what they do next.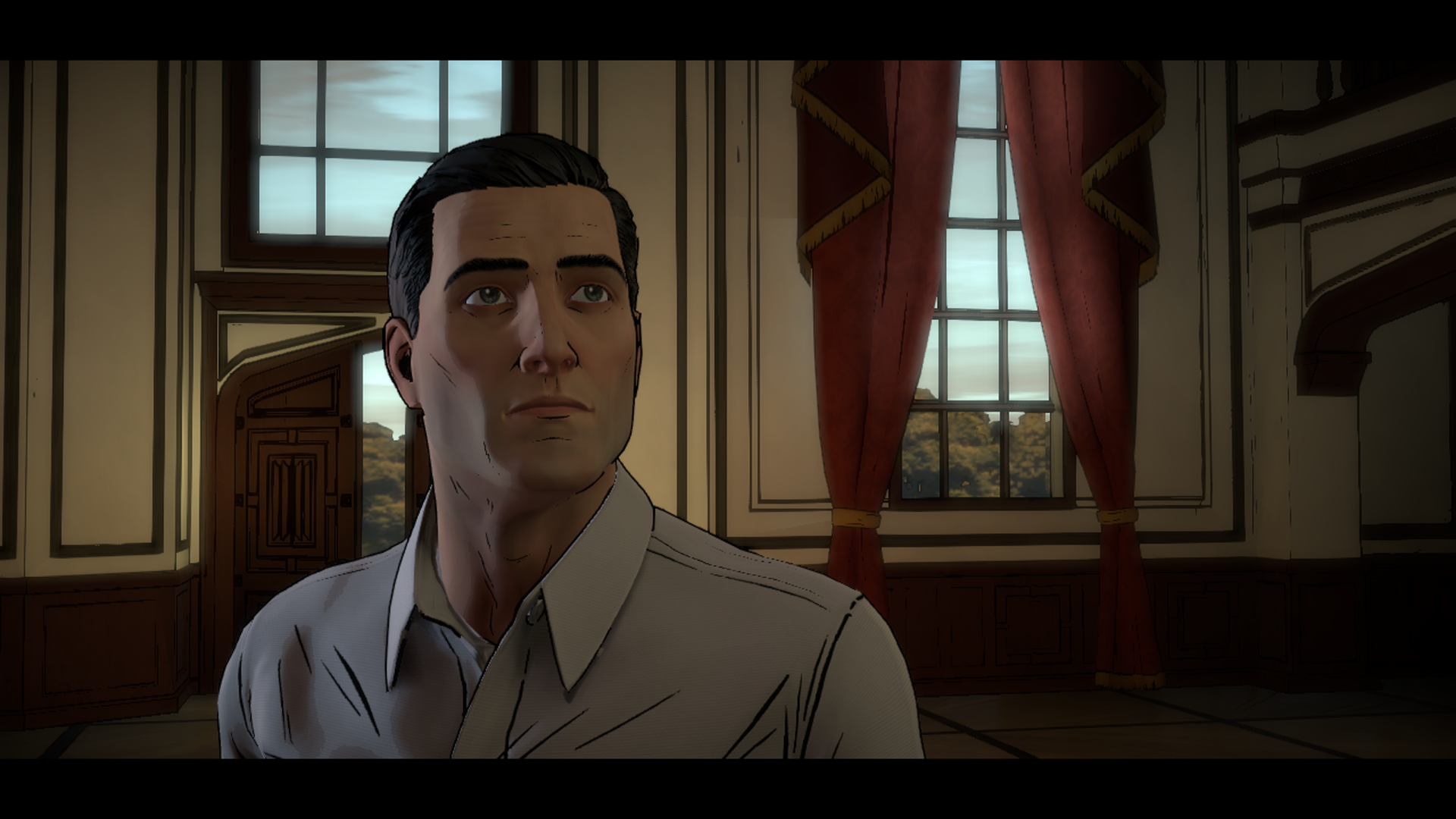 While TellTale has finally found that perfect balance between the action set pieces as Batman and the more grounded, dialogue/choice-driven moments as Bruce Wayne, City Of Light feels like the shortest and most rushed episode of the entire series. I literally saw the achievement for completing Chapter 1 before the title screen popped up and after only about seven minutes of gameplay. Typically, TellTale's episodes run anywhere from two-and-a-half to three hours, but this one clocks in at about two hours flat at best. Though I have enjoyed getting more gameplay as Bruce Wayne, I started to miss Batman when the credits were rolling, because the action set pieces and investigation scenes in City Of Light are such a vast improvement over those in the earlier episodes of the series.
A nifty new feature that I have not seen in any other TellTale game thus far is the psych evaluation breakdown of player's choices at the end of the series. Here, the game compiles all of a player's choices from each episode and determines whether Bruce/Batman was ultimately a reckless, brutal vigilante or a compassionate savior of Gotham. While I made sure to take a screenshot of my performance, players can also choose to share their own results on TellTale's site, social media, or their Xbox Profile feed.
Although I felt that the first couple of episodes in the series were severely lacking, I found myself clamoring for more TellTale-flavored Batman action by the end. It is easy to see why many, including myself, were somewhat concerned when TellTale first announced that they were releasing an episodic Batman game, as their particular brand of gameplay does not translate well to the Caped Crusader's style of vigilante justice.
However, TellTale has found that perfect balance between helping players relate to Batman on a human level through playing as Bruce Wayne, while also filling the shoes of the Dark Knight himself and dispensing beat-downs on countless goons (though it took 5 episodes to nail that feeling). The combat is brutal and sometimes, if players can ignore the quick time event pop-ups, is reminiscent of the fluid, frantic combat of the Rocksteady-developed Batman games.
Overall, I strongly recommend Batman: The TellTale Series, not only to fans of TellTale adventure games, but to Batman fanatics as well. Players who enjoy a traditional Batman story may be shocked to learn of a certain character's new motivations and backstory, but I feel the changes keep the Batman universe fresh and interesting and prevents the iconic hero from feeling stale and overused. With perhaps more action sequences than any of TallTale's other adventure titles, Batman: The TellTale Series offers new twists on the familiar, TellTale style of gameplay, which makes the game a fantastic entry point for newcomers to both Batman and TellTale Games alike.
[amazon text=Buy it from Amazon&template=carousel&asin=B01IFHEFX2,B01N7HUFZ5,B003C1I0CO,B007SRM5MO,B01HH21COG,B01MCUTV6V]
The Bottom Line
Batman: The TellTale Series is a must-buy for any Batman or TellTale Games fan. If players can get through the first two episodes, the final three episodes reflect exactly what is so great about TellTale's writing, character design, and gameplay innovations. If you received Arkham Knight or Return to Arkham over the holidays and you still need to scratch that Batman-gaming itch, then Batman: The TellTale series is the refreshing remedy you need.