Green Day, Green Day. What is there to say about this longstanding punk band? I did not discover them until I was 14. That was when "American Idiot" released and I heard "Boulevard of Broken Dreams." Upon further listening to the "American Idiot" album I realized how they had issues with going through a song and not dropping the f-bomb for… reasons. I really enjoyed their music and at the time did not pay much attention to lyrics.
Years passed and I found myself in the golden age of music games. Rock Band was my preference over Guitar Hero. I had heard Green Day: Rock Band was coming out soon and I bought it upon release. All I recall I loved it and purchased every Green Day album as a result of it. Here I am five years later and I am once again crazy about music games. Due to my fond memories of the game, I decided to repurchase it.
Needless to say at this point, I now recall why I got rid of my Green Day albums.
Story
There is not much of a story here. What you have instead is a trip through Green Day's career. You start in 1994 by playing at a warehouse. It may as well been called the "Dookie" House, due to the fact that you only play the "Dookie" album there.
In 2005, you are at the height of Green Day's fame and performing at Milton Keyes. This is where the best setlist is played in my opinion. You perform some tracks from the albums that occurred between "Dookie" and "American Idiot" along with the entire "American Idiot" album. You conclude in 2009 with playing two thirds of the "21st Century Breakdown" album. I say two thirds because to unlock the rest you need to download it.
Content Warning
Well this is going to be a doozy. If you want the TL;DR version then know that I would not recommend the game to anyone under 18 despite the T rating.
Green Day is by no means a clean band. Their songs consist of language which ranges from masturbation, to sh**, to the ever present f***. Green Day: Rock Band uses the radio edit of all these songs. So while the f-bomb is cut out, talks of masturbation, visiting a stripper, and the like are still present. The view of the world and other people is a generally negative one as well. Hate for America is also present along with depression and lots of life issues. Short of linking you to a Green Day song, I would say to simply avoid their music in general.
Gameplay
If you have played a Rock Band or Guitar Hero game before then you can skip this section. If not, then let me try to explain (or watch a video that is present here in the article). You either sing or play guitar, bass, or the drums to the music in the game. You hit the notes as they appear on your television screen. It sounds a lot simpler than it really is and I found myself a bit rusty after all these years of not touching the music genre of games. When playing you will encounter special notes that if you hit correctly will give you overdrive. Overdrive is something you can activate with your instrument at the time of your choice. This will double the multiplier on your screen. If you are on a hot streak or about to fail then kick in the overdrive and you will be all good. You are scored on each song you play with an actual score and a star rating. A three star rating means you barely passed while five means you nailed it.
Green Day: Rock Band is on the Rock Band 2 engine. Now what is truly special about this game in particular is how once you beat a challenge then you are given a tangible reward. Completing a three song setlist can get you an exclusive video interview that Green Day did back in 1994 where they talk about their bookmobile. You really get an insight into the band members and how they think.
What disappoints me is the lack of places you play at. Why is there nothing in between 1994 and 2005? Even if Green Day was not as great at the time, there was a big opportunity missed to show them before they launched into the stratosphere of stardom with "American Idiot."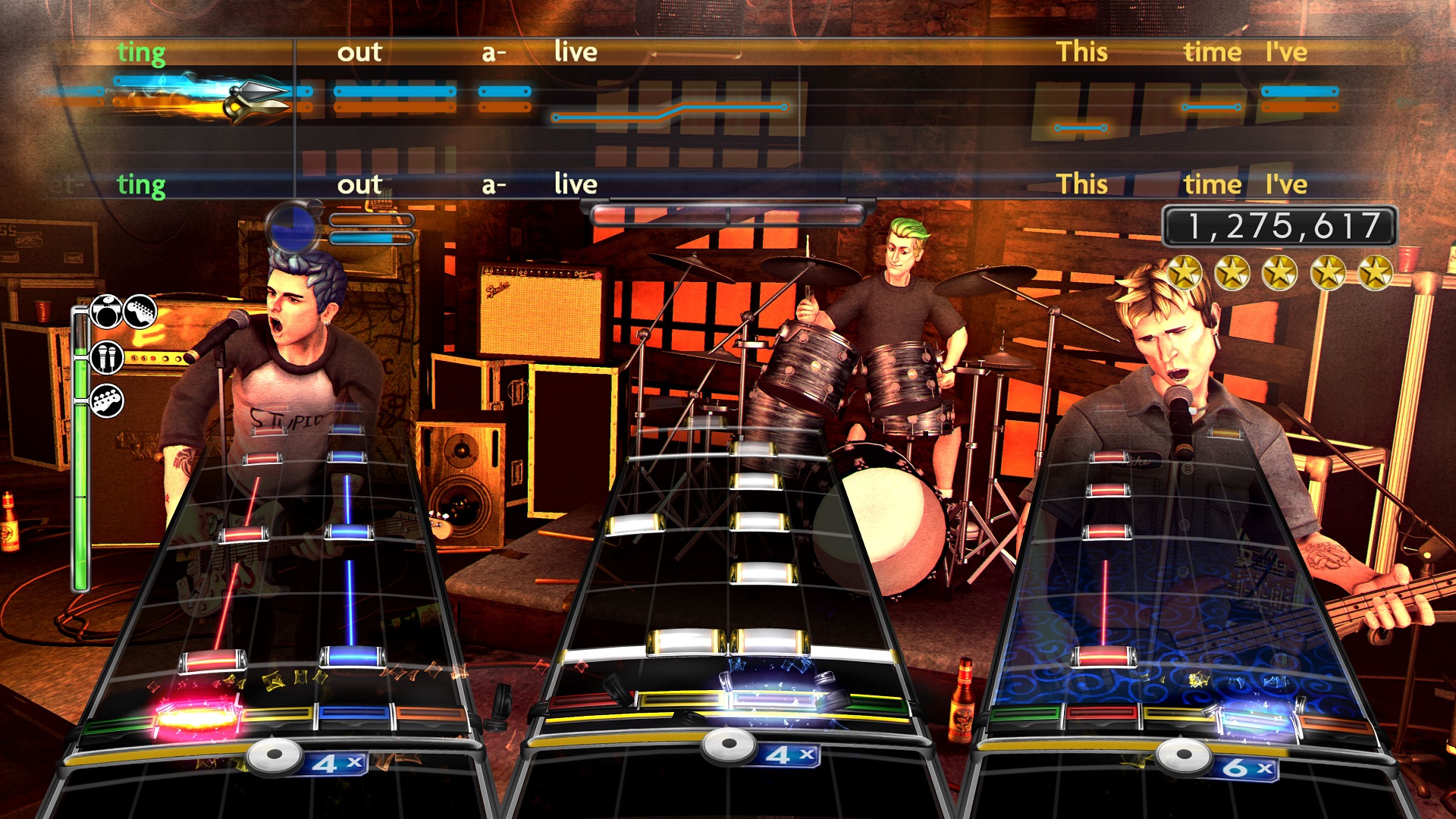 Graphics and Sound
If you want the complete setlist for the game then click HERE. I will admit that the presentation of this game is fantastic no matter what system you play it on (Xbox 360, PS3, Wii). Harmonix pegged the recreation of the Milton Keyes (2005) and Fox Theater (2009) concerts. I checked them out on YouTube to see what they really looked like.
I will admit I did enjoy Green Day's music. What I do not enjoy is their lyrics. As stated in the content warning, it is full of garbage which really sucks. I do wish some more songs from in between "Dookie" and "American Idiot" were present. While the lyrical content gets a bit better as the music progresses, what you really see is how the music itself matures a lot from "Dookie" to "21st Century Breakdown." It is weird to see how Green Day went back to their old ways with their three post Green Day: Rock Band albums.
Would I recommend Green Day: Rock Band? No. Despite there being a handful of good, clean songs. The bad heavily outweighs the good here. Harmonix did an admirable job making you feel like Green Day, but you are better off playing Rock Band 3 instead.
The Bottom Line
This is a hard game to recommend to anyone due to the lyrical content.