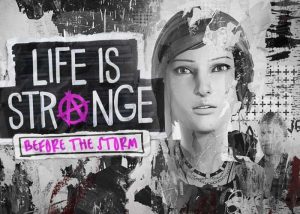 Developer: Deck Nine
Publisher: Square Enix
Genre: Adventure
Platform:  PC, Xbox One, PlayStation 4
Rating: M for Mature
Price: $16.99 for whole season
The third episode, "Hell is Empty" wraps up the emotional roller coaster ride of Before the Storm. Fans and critics alike met "Awake" and "Brave New World" with love and praise. Does "Hell is Empty" a prove a satisfying and successful finish, or does it ruin the climax?
Content Guide
Violence
There is a knife fight at one point and a character gets injured. Two characters towards the end get into a dangerous fight and blood is seen outside a person's trailer. A character is kidnapped and held at knife point.
Language
Characters frequently use the f-word and s-word.
Alcohol/Drug Use
A character is addicted to drugs. Some of the characters are drug dealers. Marijuana and harder drugs like heroin are alluded to but not mentioned outright. One character is forced to take a drug with a syringe late in the game.
Positive Content
"Hell is Empty" deals a lot with family, especially broken ones. This chapter really makes you question what being a good parent entails and when you should forgive your parent's mistakes. Honesty, forgiveness, and how best to be a friend are also big themes.
Review
When I finished "Brave New World," my stomach sunk. Before the Storm has in many ways been therapeutic as I went through my first semester as a college student and a young adult. Both Chloe and I were confused and dealing with a lot of change. I didn't really resonate with Chloe in the original Life is Strange, but here was different. We both have that fire in our stomachs that there's more out there to experience than we could ever imagine, but we both also have the same tendency to cling to things we can't control: the past, mistakes, childhood. I was definitely not ready to say goodbye to a character I saw myself in so much.
But alas, all good things must come to an end. I went into "Hell is Empty" expecting something incredibly different than what it actually is. Let's just say I had my tissue box and chocolate bars at the ready. But, while different than I expected, I believe "Hell is Empty" is an enjoyable ending to Before the Storm due to its dramatic story, satisfying finish, and successful tie-in to Life is Strange.
First, "Hell is Empty" once again beautifully tells a story and develops characters. While the story takes a much different turn than I expected it to, it is still incredibly engrossing right until the end. I genuinely had no idea who to trust. Of course, like previous episodes, dramatic and tense scenes are  mixed with adventures and victories.
Especially towards the end, I felt incredibly out of my depth when dealing with these very real, very dangerous situations, just like any teenager would. Chloe still feels realistic and relatable even as she goes up against some of the scariest kinds of adults. She's scared, helpless, yet desperate to be courageous and do the right thing. This only stands as a credit to the writing and design by Deck Nine.
One aspect of the story in "Hell is Empty" that is interesting is how it portrays family. Before the Storm's characters deal a lot with brokenness in their families, both in their family as a whole and within each individual. "Hell is Empty" pushes this theme further to the front as you make decisions about how to best be a part of your own family as well as what to do about Rachel's. What it means to be a good parent, a good daughter, and a good mother is all questioned and explored, which makes for a genuine story about forgiveness and humanity worth experiencing.
"Hell is Empty" feels like a satisfying finish to Before the Storm. I won't spoil anything, but you can put away the tissue box. Even though Before the Storm feeds right into Life is Strange, the two stories are distinct. The storyline feels conclusive at the end, and it feels like your choices have mattered. While I wish you could see how some choices here might impact the events of Life is Strange (*hint hint nudge nudge*), I know that probably won't happen.
Part of the satisfying conclusion of Before the Storm is how it adds to how you experience Life is Strange. While playing  Life is Strange is not necessary to fully enjoy Before the Storm, it is a bonus. More than the previous chapters, in "Hell is Empty" I get to see how Chloe transforms into the Chloe I met in Life is Strange. From her truck to her hair, she begins to gain the iconic features of her character which is super cool to see. You'll meet Chloe in Life is Strange knowing who she is and how she became the girl before you. Beyond Chloe, I'm actually going to go into Life is Strange caring about Rachel Amber. I met her, I talked to her, I know her. When the sad twists of Life is Strange take place, I'm going to feel more than I did the first time I played through it.
I would highly recommend playing Before the Storm in all its parts. Even if you don't typically play story-based games, Before the Storm is worth the experience, especially if you're a young adult or teenager. I know I felt a kindred spirit in Chloe and I'm sure you may as well. If you're looking for a way to get into the Life is Strange series or want the original game refreshed for you, Before the Storm delivers on its promises as a worthy addition to the series. With a beautiful beginning, a deep middle, and a satisfying conclusion, Before the Storm is a great way to end or begin your year of gaming.
The Bottom Line
"Hell is Empty" finishes off Before the Storm successfully with its use of mystery, continued love of realistic characters, and how it will enhance your future playthroughs of Life is Strange.