Overview
Item Reviewed
Plants vs. Zombies: Battle For Neighborville
Synopsis
Plants vs Zombies: Battle for Neighborville is a third person shooting family friendly video game, with both PvE and PvP modes.
Features
Go All Out in Online Multiplayer - Jump into the fray with up to 24 players in online multiplayer across a gigantic suburban skirmish. Bring the unique abilities of each character class to 6 PvP modes–including the new Battle Arena–and experience the unbeleafable thrills of combat.
Venture to the Outer Edges of Neighborville - The tension across the terra has expanded with free-roam regions that extend beyond the town of Neighborville. Squad up with up to 3 friends in the Giddy Park social region and take back Weirding Woods, Mount Steep and Neighborville Town Centre. It's grow time!
Customize Every Character for Battle - Join the newest bloom in the age-old battle between plants and zombies with 20 fully customizable classes at launch, including a Team Play class for each faction. Deck every character out with ludicrous looks and wacky weapons that show off your unique personality.
Specifications
MINIMUM REQUIREMENTS
OS: 64-bit Windows 10
Processor (AMD): FX-4350 or Equivalent
Processor (Intel): i3-3220 or Equivalent
Memory: 4 GB
Graphics card (AMD): Radeon HD 7730 or Equivalent
Graphics card (NVIDIA): GeForce GT 640 or Equivalent
DirectX: 11 Compatible video card or equivalent
Online Connection Requirements: 512KBPS or faster Internet connection
Hard-drive space: 15 GB
RECOMMENDED REQUIREMENTS
OS: 64-bit Windows 10
Processor (AMD): FX-6100 or Equivalent
Processor (Intel): i5-3570 or Equivalent
Memory: 8 GB
Graphics card (AMD): Radeon R9 285 or Equivalent
Graphics card (NVIDIA): GeForce GTX 970 or Equivalent
DirectX: 11 Compatible video card or equivalent
Online Connection Requirements: Broadband Connection
Hard-drive space: 15 GB
Length
10-20 hours to finish the PvE story—both sides—and more time to collect everything on the map
Release Date
October 18, 2019
Platforms
PlayStation 4 (reviewed), Xbox One, PC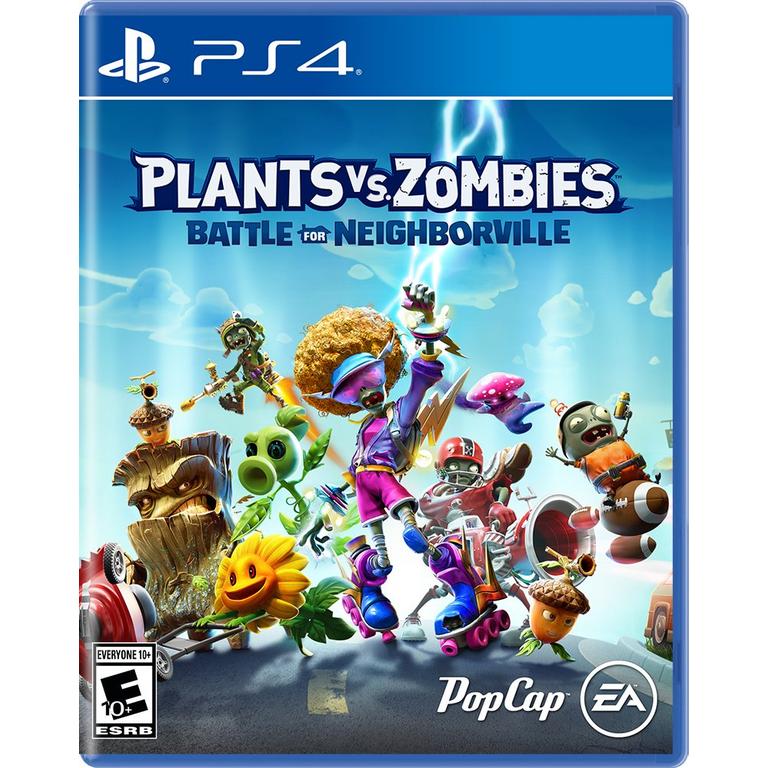 Developer: PopCap Games
Publisher: Electronic Arts
Genre: Action , FPS
Platforms: PS4, PC, Xbox One
Rating: E for Everyone
Price: $39.99
Plants vs. Zombies franchise used to be so popular among both children and adults. My husband and I were so hyped up when the new game was announced. We hoped for the magic of plants and zombies spreading again, but somehow our hope dropped with disappointment. 
Content Guide
Violence: Plants vs. Zombies Battle For Neighborville is a third person shooting game with colorful cartoon characters and environment.  It is very family friendly, no blood, no gore, and no strong languages.  
Review
Plants vs Zombies Battle For Neighborville keeps the classic characters alive while adding new members on both sides. On the plant side, you get the mushroom ninja Nightcap, the giant/tiny duo Oak & Acorn, and the flame-throwing Snapdragon. On the zombie side, you have the dancing maniac Electric Slide, the explosive 80's Action Hero, and the laser-blasting Space Cadet. My favorites are the Night Cap and Oak & Acorn, for they are both adorable and fun to play.
As an Asian, I love the concept of the mushroom Nightcap knowing how to perform Kung Fu, or Fung Fu as it is called in the game. It plays more like a hit-and-run ninja: fast, stealthy, and efficient for both long ranged and close combat. Oak & Acorn is very unique in how the little acorn transforms into an oak tree tank after a while. The oak tree tank form is hard to kill off, which makes it wonderful for both PvE and PvP modes.
I appreciate the fact that the developers added in emojis and short expressions to help communication among players online. Even though you don't have a microphone for voice chat, don't worry; with those new features you can communicate quickly and easily.  
You can find and try out many character skins in this game, if your heart so desire. Cosmetic items in Plants vs Zombies, while decent in their own right, do not carry the same weight to me as those in other games like Fornite, Little Big Planet 3, Overwatch, or Rainbow 6 Siege. If you really want variety, the cosmetics are both unlock-able and available for purchase in-game. 
Oh, each cosmetic skin does not count as a separate character in this game, yeah! I am so happy for this improvement, as it is a welcome time- and energy-saving change. Thank you, developers, for listening to the cries of players from the previous game. 
While its predecessor's story mode is always enjoyable, Nieghborville's story mode is quite a disappointment. It lacks exciting plots, creative quests, and high replay value in general. I found myself quickly getting bored in the PvE story town after the first wave of discovery and excitement. There are many hidden items to collect around the town center at both plant and zombie sides, but it may take a great deal of love and patience to push past the monotonous fetch-and-escort and hide-and-seek gameplay. 
Multiplayer mode is always fun, especially since they provide 13 maps available so far. Be prepared to die and to respawn a lot in this game, but the never-give-up Olympic spirit matters the most in the end. Each map has its unique layouts and environment. If you have a small group of friends, 4×4 Battle Arena or split-screen couch-coop are great choices. 
In a word, Plants vs Zombies Battle For Neighborville is a decent game overall, with lovely characters, great graphics, and fun gameplay. The multiplayer modes is still a blast to play, and it is a perfect game to play with children or youth. Unfortunately, the game's story mode leaves much to be desired, and in today's competitive gaming market, Neighborville just does not have enough attractions or content to keep players coming back for more.  
Paper Mario: Color Splash continues a trend away from the series' roots, and while that may not be what fans want, the end product is still engaging and, most importantly, fun.
Sony just announced the August 2020 Playstation Plus Free games line-up this week! Starting now, players can download Call of Duty: Modern Warfare 2 Campaign Remastered and on August 4th, 60 player Game Show Battle Royale, Fall Guys: Ultimate Knockout [...]
Earlier this week, Microsoft announced the August line-up of free Games With Gold titles, and…well, it's alright I guess. From Aug. 1st-31st subscribers can pick up Portal Knights at no additional cost. Mysteriously absent this month are any [...]