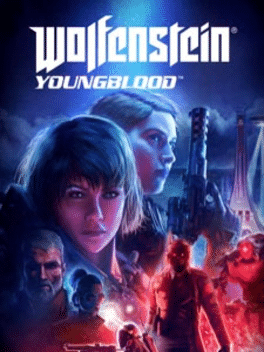 Developer: MachineGames
Publisher: Bethesda
Platforms: PC, PS4, Xbox One, Nintendo Switch
Rating: M for Mature
Price : $29.99
The Wolfenstein series has been running since the 80s. This fact surprised me during my research of the game series. I've been playing Wolfenstein games since the 90s when I got a shareware copy of Wolfenstein 3D which I played through hundreds of times. It excited me hear about Wolfenstein Youngblood because it seeks to open up a new chapter in the series. Youngblood picks up from the events of Wolfenstein New Order and New Colossus focusing on Jess and Soph Blazkowicz the daughters of BJ Blazkowicz.
Content Guide
The Wolfenstein series has been known for its action-packed and bloody gameplay. Youngblood picks up that tradition, but I didn't feel like the game went beyond what other Wolfenstein games have done before. That said, I would recommend this game only to gamers 18 and older. 
Violence:
Wolfenstein Youngblood contains a similar level of violence as Wolfenstein New Order and Wolfenstein New Colossus. When the player shoots an enemy, there is going to be a lot of blood. Sometimes the blood spurts out of the enemy or sometimes their limbs get blown off leaving a bloody stump. The worst violence in the game comes from the take downs because they are up close and violent. The player can use a hatchet or a knife to kill an enemy, and the player can turn an enemy's weapon on themselves, inflicting a gunshot wound at close range.
Alcohol and Drug Use
Jess and Soph do engage in smoking cigarettes and drinking wine, but this occurs during a brief scene at the beginning of the game.
Language
Numerous characters curse throughout the game. Jess and Soph have blue-collar personalities which is part of the reason that they curse so much, and they also share some crude jokes with each other.
Positive Themes
The storyline of Youngblood explores growing up and training to be a warrior. Opening cutscenes show Soph and Jess being trained by their parents, BJ and Anna, to push themselves beyond their limits. Throughout the game between firefights, Soph and Jess talk to each other about life events like caring for an injured animal or Jess' desire to write. I would consider Youngblood a coming of age story as the girls have to enter into their parents' worlds of fighting against the Nazis in an effort to free the world. 
Review
Wolfenstein Youngblood takes a lot of gameplay from New Order and New Colossus then adds in some newer elements to create a good FPS (first-person shooter). Players will find that most encounters boil down to kill everyone in the room before the player can move on. Some customization has been thrown into the game allowing players to customize Soph or Jess and their weapons. Players can join up with their friends through online co-op, but unfortunately, there's no local co-op in the PS4 version.
Jess and Soph battle as a team. The player plays as either Jess or Soph, while the other half is controlled by AI or by an online player in co-op. The allied AI is pretty good and will at least attack enemies with some success. Movement in the game feels fluid and free. My complaint about New Order and New Colossus was that BJ felt really heavy and moved with little agility throughout the game. Jess and Soph move quicker and can slide easier in this game. I enjoy the fast movement, but I found that Youngblood lacks any stealth gameplay. A few times I could get a couple of stealth kills in, but that wouldn't last long. The levels just don't encourage stealth boiling down to run and gun most of the time.
The gunplay for Youngblood matches the gunplay in New Colossus, while adding a whole level of customization to the new weapons introduced here. Both the guns and characters can be modified by purchasing items with coins found around the levels. The cost of some of the skins and helmets seems unbelievably expensive, which seems like the game is encouraging the player to buy in-game currency in order to get the skin they want. Though the variance in weapons and characters helps gamers customize the game to their play style, the girls stay fundamentally the same.
Once a player chooses either Soph or Jess they get an initial power. After the player starts collecting enough coins, they can upgrade the initial power and buy more health, armor, or other abilities. The player can purchase the ability to carry heavy weapons then upgrade it to be able to move faster with heavy weapons. They can purchase pep signs which are hand signals that Jess and Soph can use during battles to bolster each other. A pep sign can boost health or armor, make the characters invulnerable for a short time, or give them higher damage output. 
Weapons in the game have many different configurations that can be purchased. Players start the game with a standard loadout of weapons seen in previous games then acquires new weapons as the story progresses. Each weapon has several parts that can be upgraded with different categories of mods. One mod group gives the weapon more headshot damage, the second group lets the weapons shoot faster, and the third is a straight damage boost. I liked being able to mix the mods to customize the weapons to my liking. Once the player has purchased mods, they can be put on the weapon or taken off without having to buy them again, so it's easy to change a weapon to fit the fight.
The first two games were very cinematic with long cutscenes building up the characters and the story. Youngblood doesn't have as many cutscenes and very little interaction from the side characters. In New Order and New Colossus, the side characters had a larger role to play in the story. Youngblood takes a different approach to tell its story. Throughout the game, when Jess and Soph are not fighting, they will talk to each other sharing memories and talking about their future. These moments of dialogue make the game feel more intimate, helping me see that Jess and Soph are caught between being kids and becoming adults.
The enemy AI in the game is keenly aware of any disturbance the player makes. Miss a shot or move in the open at the wrong time will likely alert the entire area to her presence. An enemy AI on alert makes me wary of playing co-op with gamers who may just run around looking for a fight. This also makes stealth gameplay impossible; Youngblood would be a great co-op game with a teammate who knows your gameplay style.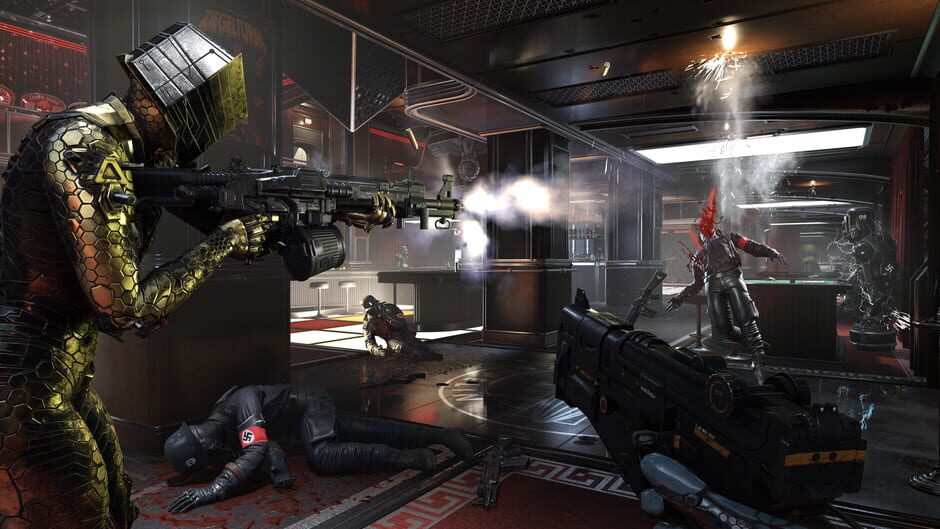 Wolfenstein Youngblood contains a lot of improvements since New Order and New Colossus. I enjoyed weapons and the new characters and the ability to customize them. Any gamer who's played the first two games will be very happy with this installment. I hope that we will get to follow Jess and Soph Blazkowicz on more adventures in the future.
[amazon template=thumbnail&asin=B07Q1KG3TX]
[amazon template=thumbnail&asin=B07Q1KGDL4]
[amazon template=thumbnail&asin=B07Q2X64P2]
The Bottom Line
Wolfenstein Youngblood is an awesome third chapter in the latest Wolfenstein series. The fast gameplay, weapon customization, and AI make this a great FPS, but it doesn't live up to the same cinematic level as the first two games.