Developer: Blizzard Entertainment
Publisher: Blizzard Entertainment
Genre: MMORPG
Platforms: PC
Rating: T for Teen
Price: $49.99
World of Warcraft is a well-known name among massively multiplayer role playing online players. It has a successful reputation, with a growing base of millions of players all around the world ever since it first launched in 2004. Battle for Azeroth is the most recent expansion of World of Warcraft, recently released in August 2018.
Content Guide
Spiritual Content: There are various spiritual traditions, rituals, and gods in the game. Christianity is not in the content, but seeking the light, fighting for the truth, and valuing sacrificial love can be found throughout the game. On the other hand, monsters, demons, hell and evil spirits also commonly exist in this universe.
Positive Themes: It is a battle between the Alliance and the Horde, which may not seem to be absolutely black and white, but it is clear that having honor and being righteous are virtues to find on both sides.
Violence: World of Warcraft is a fantasy battle war game with no blood or gore. You can fight monsters, demons, non-playable characters and and players.
Review
Before its launch, Blizzard Entertainment released a series of gameplay trailers, story novels, comic books, animated shorts, and pre-launch events to bring attention to the Battle for Azeroth expansion. This marketing strategy successfully built excitement for both new and returning players to the theme of conflict between the Alliance and the Horde. With great expectation, the expansion launched on August 17, 2018.
Players are able to jump into the story of both the Alliance and Horde sides immediately. However, in order to further progress the storyline, players have to reach levels of 110, 112, 114, 116, 118, and 120 to unlock each story section. Those who just want to play through the storyline as fast as possible may find a lot of frustration on having to complete other quests to level up. You will meet the major characters at the beginning of the main quests of each side, but you may or may not see them again for a majority of the quests. I was very excited to see Jaina returning to battle, but was disappointed at not being able to see her around again until a later part of the story. I am not saying the main quests are boring, but definitely falls short of what it was promoted to be.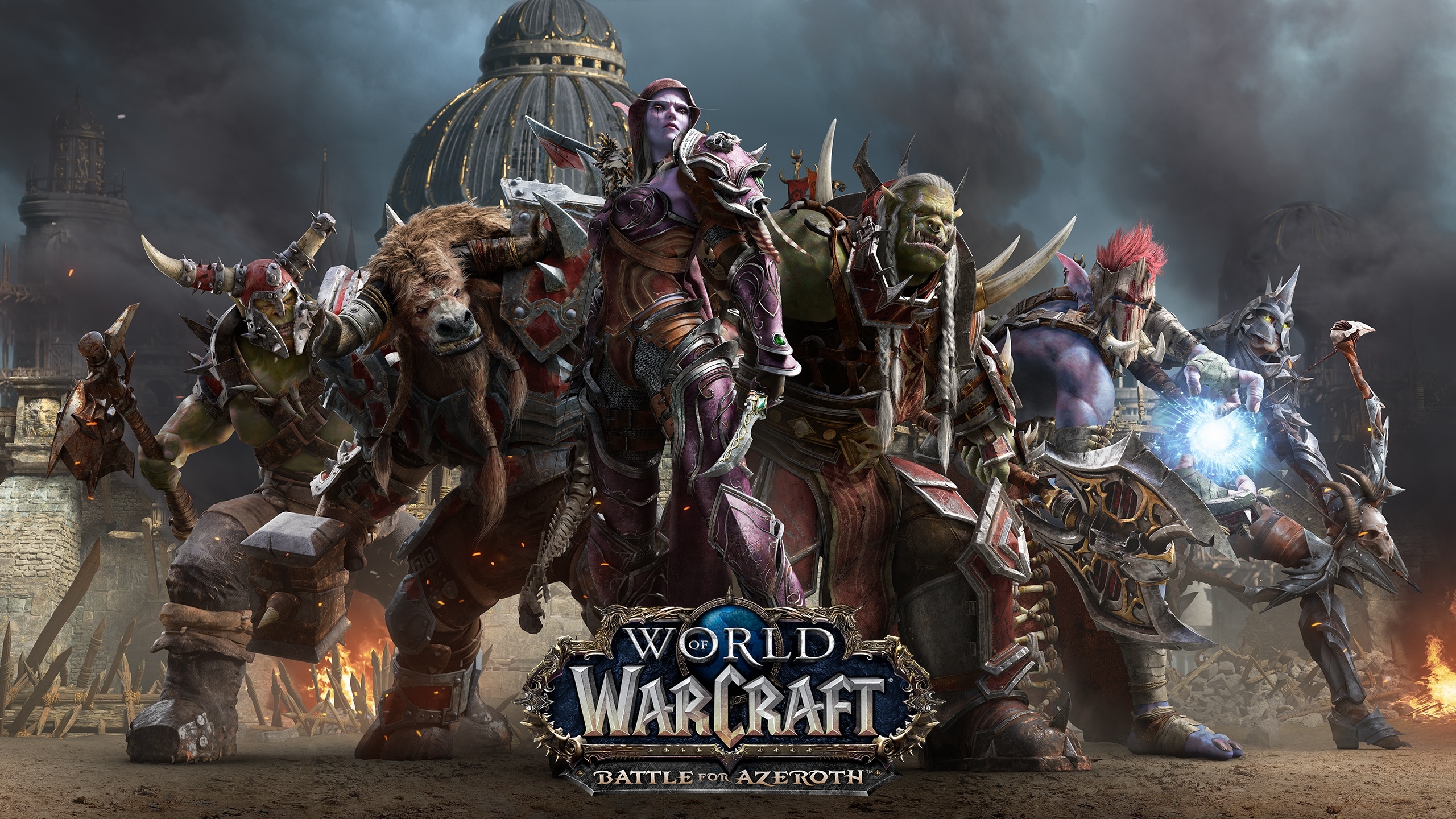 Side quests become a must in this expansion if you want to level up, since doing dungeons do not grant you a tremendous amount of experience any more. Stories are scattered around the map, and not all quests are unique, original, or memorable. Questing is not necessarily boring,  but very much monotone. Killing creature 'A,' fetching item 'B,' activating device 'C,' and escorting person 'D' are very standard models of quests. I found it became very repetitive and meaningless when the patterns appeared again and again during exploration. It killed the fun of an MMORPG by doing quests without much personality.
I used to play solo quite a bit in previous expansions, but it seems difficult to do the same in this one. Enemies will rush to attack you even though you are not even standing close to them. Not just one, but many all at once, which makes solo play difficult to survive. After the player attack stats were adjusted, I felt my character generally getting weaker and not showing significant differences between each level up from 110 to 120. It took longer to take down an enemy, and I died more often in solo play. My guess is Blizzard is trying to encourage more people to play in groups, so if you happen to be a loner, expect more grinding and to die often. Having said that, there is still plenty to do as a solo player every day, such as various daily missions in professions, and unlocking ally races when reaching exalted reputation. Leveling up with main quests feels a lot like the Legion expansion, but I wish they would keep the combat ally system.
War mode is something new in this expansion. For people who enjoy PvP, this new feature is perfect for them to explore the whole world while battling players in opposite faction. For people who like PvE, this mode is still worth a try, thanks to the general 10% bonus on whatever you do in the game. However, once you turn it on, be prepared to get attacked by groups of players and yes, you probably will die a lot and have a hard time completing your needed quests. It feels more fitting to have it on in order to fully experience the war environment between the two factions, but again, it is optional. Depending on your play style, it is up to you to decide whether the risk is worth taking.
I mentioned this expansion returns to the conflict between the Alliance and Horde, so where are the battles? Yes, you will discover three zones for your own territories and 3 for your opponent's bases. You can build, develop, and strengthen your own territories on one hand, and explore, invade, and attack your enemies' frontlines on the other. It is cool to see how the conflicts play out through numerous battles, and you will feel tension from each side. There is no absolute right or wrong; it is simply a game of power and territory. Both Alliance and Horde introduce beautiful new zones to explore which are colorful and breathtaking. The lore of new allied races and of the  new continent is deep, but it may not interest the more casual players who come just for the fun.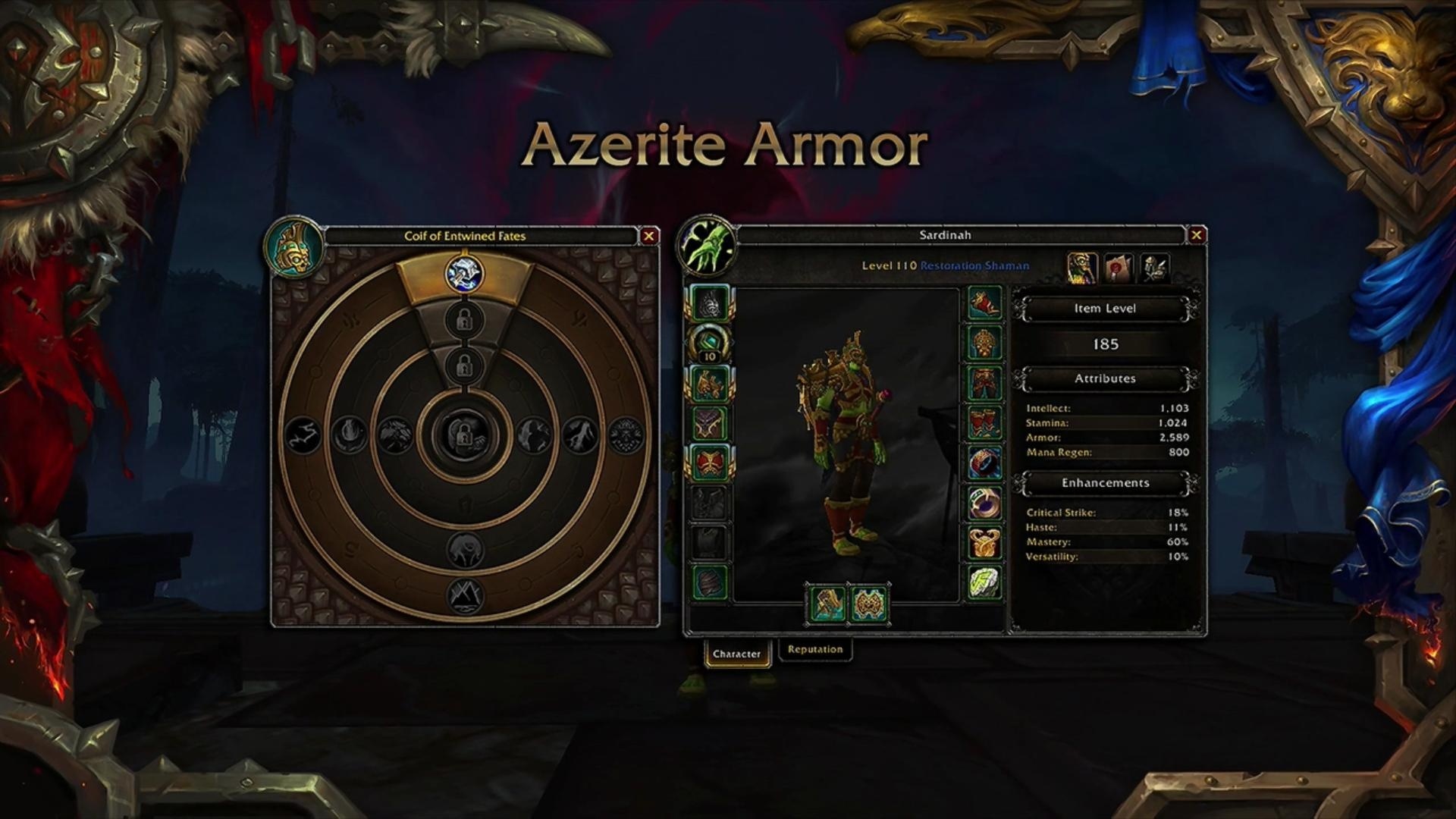 Warfront and raids opened several weeks after the game's release. Through those two special activities, people can collect legendary or epic items for gear from enemy drops. Warfront provides an epic experience with large amounts of enemies being at the battle field, but it does not last long enough to allow players to fully enjoy their battles before each cycle ends. It takes a month to rotate, and it requires a lot of resources to build it up. It is almost like a beautiful shell, but without much meat inside. New content will keep players busy for a while with added things to do, and more to collect. Island expedition is a 3-player instance-like adventure to get Azerite for your Heart of Azeroth, the item that you received at the beginning of the current expansion. The expeditions are fun, but are very repetitive and the reward is not significant enough to make a difference. In order to level it up and to unlock more talents, you have to collect more Azerite, and the island expedition provides you a quick way to farm it. Mythic and heroic difficulty dungeons are great for players who enjoy challenges and working together for extraordinary rewards.
There is a lot of dialogue in this game. I enjoyed the storytelling from both sides which engage players with a deeper understanding of their faction's struggles and character development. New features bring both excitement and frustration, voice acting helped to bring dialogues alive, beautiful graphics and landscape added joy for exploration; however, repetitive patterns of quests could use some improvement in future developments. Since Blizzard will continue releasing and updating new content for the expansion, I will hope for the best and appreciate what I have right now. This battle between the Alliance and Horde may never end as long as World of Warcraft still exists.
The Bottom Line
If you are a fan of World of Warcraft, you will find this to be one of the best expansions ever released. It may not be the greatest one, but will surely satisfy for now.