Ron Howard's version of the Dr. Seuss classic, How the Grinch Stole Christmas! has become a Christmas movie classic in several households across America since its release in 2000. Many of us have recorded it again this year, have bought it or own it on DVD, or are dusting off the old, green VHS tape. Some of us have already watched it a time or two this year… but there may be a few things we Christians can take note of (that we may not have noticed in years past) about a central character in the story.
While the movie mostly centers around a mischievous, green Who (who isn't really a Who at all) that has his name in the title and hates Christmas, there is a secondary character that seems to steal the spotlight and tug at our heart strings. Cindy Lou Who is a sweet little six-year-old girl that is constantly challenging the traditions that the Whos have gotten caught up in and have inadvertently replaced the purpose of Christmas with entirely. The holiday shopping, the gargantuan trees, and the over-decorating of houses take center-stage to the Who's traditions, when, as Cindy Lou notices, Christmas is meant to be so much more.
So what about Cindy Lou's story should Christians notice? Are there things that she does that we would be good to emulate? This article will draw similarities between what we see in Miss Cindy Lou Who's behavior and what lessons we might be able to learn while watching one of our favorite Christmas classics this season. While the movie and character may be secular in nature, we may still be able to take some Christian lessons away from them.
These are the Christian behaviors Cindy Lou Who exhibits in How the Grinch Stole Christmas!:
She Notices Everyone is Missing the Point of Christmas
Somewhere in the hustle and bustle of her dad spending a lot of money on gifts and her mother competing with Martha May Who for the best Christmas light decorations, Cindy Lou makes a solid point to everyone. She tells them that Christmas isn't just about all of the traditions and presents, it's about fellowship, joy, and peace on earth. While I agree that those are important things to keep in mind, too, we have a much more important message to remember and share during the Christmas season.
Around this time of year, we can get inundated with articles from Christian sites telling us that we are missing the point of Christmas. While it can get overbearing, the fact remains true. It is easy for us to focus too much on which gift to get family members or what to bring to the Christmas party this year. It pays to take time to include the life-saving message of the birth of Christ in all of our holiday traditions. Traditions are fun, amazing, and give us a special feeling that can only be accompanied with the Christmas season, so we shouldn't abandon them altogether. But as joy comes in believing in Christ (Romans 15:13), keeping Him involved in all of our activities can only grow those feelings.
She Wants to Help the Less-Fortunate Grinch Enjoy Christmas Too
When Cindy Lou is told the story of the Who that hates the Christmas season because of an unfortunate, scarring childhood experience, she immediately wants to reach out to him. While the rest of the town do their best to exclude him from their festivities–both to keep him from ruining them and because it would be too much trouble to help him–she wants to make the poor, secluded soul happy, too. This is exactly what we should expect to see from our fellow Christians.
Christmas is a time that we tend to spend a lot of money trying to buy that perfect present for our loved ones. We spend hours shopping, and we can sometimes go overboard with our spending. In a holiday to celebrate the coming of our Savior, He would certainly want us to participate in giving to those in need as His Word proclaims. (Luke 6:38) There are several people in our own neighborhoods that will be hurting this Christmas. One of the best gifts we could give Christ on His birthday would be to help them. Not that we shouldn't buy gifts for our loved ones, as we wouldn't want them to have an unpleasant holiday either, but the kind gesture of sending a few gifts to those less-fortunate would go a long way for them. Talk to your church, or a church in your area, about taking gifts to people in a hospital or homeless shelter that have no one there with them this season. You may be surprised by how many of those people may be visiting your church soon after.
She Creates a Relationship with the "Monster"
The Whos of Whoville, particularly the mayor, do their best to avoid the Grinch, even to the point of not saying his name. They hold their Christmas traditions so dear that they let him suffer alone on Mount Crumpit so they feel they can keep their holiday safe. Cindy Lou notices this and stands up to challenge it. She even nominates him for the most prestigious reward in all of Whoville: the Holiday Cheermeister. She believes so deeply in making the "monster's" Christmas merry too, that she personally climbs a mountain to hand-deliver the invitation to him. Her kindheartedness leads her to form a relationship with the one no one will talk about in hopes of helping him change for the better.
We can catch ourselves avoiding the dirty "monsters" to keep our worlds' safe too. It isn't easy to take the time to talk to a drug addict and be the friend that helps them, particularly in our modern culture of busyness. That's exactly what we are supposed to do, though. Christ took the time to travel great distances to cities that were filled with people that the religious people of the time called "dirty" or "monsters." Jesus befriended one of those people who were perceived as the most evil and corrupt people of the times and even made him his disciple! (Matthew 9:9) Those were the people that needed Him most, though, and they are the people that need us the most now. People need us to tell them about the saving and healing power of Christ in order for them to know about Him. Christ didn't sit back and hope others would talk to these lost people someday. He went out and did it, and so should we.
She Seems to be in a World of Her Own
The entirety of the town of Whoville that is introduced in the movie all subscribe to the same train of thought. They all simply listen to what their leader, the mayor, says, and they stay within the societal guidelines that everyone else does. Cindy Lou is different though. For a majority of the movie, the residents of Whoville scorn her for not thinking within their guidelines and challenging their behaviors. It is this exact behavior, though, that makes her stand out from the rest and causes them to take notice. At the end of the movie, everyone changes their predispositions and allows the Grinch to join in their merriment. Had she conformed to their thinking, the rift would have continued to grow between the town and the Who that needed them most: the Grinch.
In John 17:14, Jesus declares the world's hatred for Him is because He is not of this world. He goes on to tell us, His followers, that we are not of this world either. Jesus constantly challenged establishments that humans had built that weren't in accordance with His Word, and we should do the same. We need to have the courage to stand out the same way Cindy Lou did. If we conform to the world, we won't stand out in it, and people won't think we have anything different than what they have. We do, though! We have a relationship with the loving Creator of the universe, and we know the joy of His saving grace! Christians are supposed to be different, because we are. How will the world know you are any different if you don't behave differently than they do?
She Brings Everyone Together with Love
Throughout the entirety of the movie, Cindy Lou keeps one constant in her approach to everyone: love. She takes the time to form relationships and keep the message she shares in a loving manner. When she challenges the mayor during his speech, she questions what he is saying against what his law-book says. When she wants the Grinch to come to the Christmas festivities, she climbs Mount Crumpit to extend the invitation. The one thing she keeps in focus is that she loves these people enough to care about them. The Whos end up responding favorably to her because they feel her genuine concern for them, and the town is changed for the better.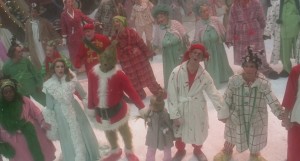 The town of Whoville wouldn't have responded the same way if she had come at them with a megaphone, shouting why they were wrong. Jesus went to the people and talked with sincere love for them because He knew that they would respond to that. That doesn't mean He didn't challenge people, but He did so with concern for them, not just concern for what they were doing wrong. We have to be mindful that, when we approach others, we do so with their interests at heart. Practicing loving others is of the utmost importance. We can show the world the love of Christ with our actions. 1 John 4:19, "We love because He first loved us."
So, my hope is that these similarities will give you some encouragement this holiday season when you sit down to watch the Grinch and little Cindy Lou Who. Maybe you can even use the movie to share Christ with others as you keep these things in mind while you watch it with them. However this article affects you, I pray that it helps you draw nearer to Him during the best time of the year: Christmas.
Merry Christmas, and may God bless you during this wondrous time of year!