Every year brings unexpected triumphs and downfalls and usually, you can't predict where things are going. 2018 was a year with some of the largest films ever made like Avengers: Infinity War and Solo: A Star Wars Story but few would've walked away from that year assuming Black Panther, Won't You Be My Neighbor, and Mission Impossible: Fallout would be the biggest financial and critical success stories.
Looking into this new year there are some enormous films coming out. Frozen 2, Spiderman: Far From Home, How to Train Your Dragon 3, Hellboy, X-Men: The Dark Phoenix, Terminator 6, Kingsman 3, and Men in Black: International all have movie fans in various states of frothing, excitement, and despair. Maybe the most anticipated film this year is Jordan Peele's sophomore horror film Us, which many people are hoping will be as excellent as the critically acclaimed Get Out. Looking out into this year it's difficult to decide which of these films will be successful and which will go down as the year's worst.
With dozens of films on the horizon for 2019, five of us at Geeks Under Grace came together and submitted our thirty most anticipated films of the year!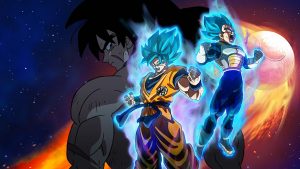 Dragon Ball Super: Broly – January 16th
Directed by Tatsuya Nagamine
Tyler Hummel – Starting out the year in just two weeks we have the third of the recent line of Dragon Ball films following the immense success of Battle of Gods and Resurrection F. While the fan's relationship to Dragon Ball Super has been mixed due to the show's poor character writing and overt fan service, the anticipation for this film seems to be universally positive. At a glance the film seems to be remixing elements of the series from wildly disparate non-canon sources like Fusion Reborn, Broly: The Legendary Super Saiyan, and Bardock: The Father of Goku to create a new story that brings the fraying story threads of the past five years to a head where Goku and Vegeta need to make serious decisions in order to save the day. While the end of the story might be predictable, it's the journey that matters. The new animation style looks like some of the most beautiful artwork in the history of the series and it might go down as the most visually gorgeous story in the franchise.
Glass – January 18th
Directed by M. Night Shyamalan
Colby Bryant – Unbreakable is, by far, the top film I love from M. Night Shyamalan. Coming in before the prevalence of superhero films came to be, it had an interesting, slow-burn take on the concept of heroes and villains as a whole, and it always entertains me, even to this day, to give it a view. Split was a film I regrettably missed in theaters, but I am so glad I now own it, due in most part to the absolutely superb acting of James McAvoy on display. With Glass, the two films collide with a story that I've anticipated since the credits rolled in 2000. While I don't see it being a mega-hit blockbuster in January (few films ever are), I do hope it can be what I want it to be as a long time fan of what Shyamalan began years ago.
The Kid Who Would Be King – January 25th.
Directed by Joe Cornish
Tyler Hummel – Joe Cornish is one of Edgar Wright's frequent collaborators. He helped write the screenplay to Ant-Man and The Adventures of Tintin and in 2011 he directed one of the best contemporary science fiction/horror films. Borrowing a lot of the tone and style of his contemporary while injecting it with a unique social consciousness about the difficult internal life of young boys living on the streets, he fashioned an excellent film in the vein of John Carpenter's unique style of low budget, high concept science fiction. It's taken him a long time to make a follow-up and now we finally have it. Truthfully the promotional material for this film hasn't been terribly forgiving. The fact that it got bumped up to January suggests there is some trepidation on the part of the distributor on how to market it. That said, I have high hopes.
Lego Movie 2: The Second Part – February 8th
Directed by Mike Mitchell 
Kyle Mann – Lego films have gotten worse with each release, so it's possible that returning to the setting and characters of the one that started it all will reinvigorate the series. Of course, it's always possible that the movies just continue to decline in quality, but again, I'm an optimist!
Happy Death Day 2U – February 14th
Directed by Christopher Landon
Julianna Purnell – It just looks like fun!
Captain Marvel – March 8th
Directed by Anna Boden and Ryan Fleck
Colby Bryant – With the inevitable shakeups coming to post-Avengers: Endgame, it's important that we have central figures to latch onto in the Marvel Cinematic Universe. I've written at length on my own blog about the MCU, and for it to continue, there is a lot riding on Captain Marvel, I feel. With its nostalgic look at the 90s and cosmic-cops plot involving the shape-shifting Skrulls, I think it has the ingredients to be a great solo-film, but the baggage of audiences needing to attach to her as an immediate core part of the Avengers moving forward is going to make this one to watch for sure. I'm just as excited about the Endgame, as it were, but I think that this film, in particular, will have to work for it all to work down the line.

Us – March 15th
Directed by Jordan Peele 
Julianna Purnell – As Jordan Peele's next film, I'm hoping he offers what I love most about this genre–that the horror is present only because such a message requires it, and not just for cheap scares and exploitation.
The Man Who Killed Don Quixote – March 2019
Directed by Terry Gilliam
Tyler Hummel – Terry Gilliam isn't a household name but as the director of Monty Python and the Holy Grail, Brazil, Fisher King, Fear and Loathing in Las Vegas, and 12 Monkeys, cinephiles everywhere are likely familiar with some of his work. He's an immensely talented visual filmmaker with an eye for surrealism and existential stories. His passion project of the past two decades has been an adaptation of the Spanish language's greatest piece of literature Don Quixote. As documented in the documentary Lost in La Mancha, the film has been falling apart due to financing issues, cast illness, and legal red tape since it's inception. Now finally after an additional year of lawsuits following the film's supposedly illegal premiere at Cannes, it's finally receiving its long overdue North American premiere after being dropped by Amazon Studios. While the reviews are coming in relatively badly, the joy of this film comes from a director finally crossing the finish line after so long more than anything else.
Shazam! – April 5th
Directed by David F. Sandberg 
Tyler Hummel – Maybe tacit curiosity isn't a compliment. That being said, there is certainly potential here. The superhero story is all about exploring morality and facets of life through hyperbole. As a metaphor, exploring the impulses and power fantasy that come with being a superhero would be interesting if you told a story about all that power being placed in the hands of a literal child. Granted I'm not sure Warner Brothers has the dexterity to make a straight-up comedy film similar to Deadpool but there is at least a possibility of this film being good given that Wonder Woman was fantastic and Aquaman was serviceable.
Pet Sematary – April 5th
Directed by Kevin Kölsch and Dennis Widmyer
Kyle Mann – The first Pet Sematary adaptation is something of a cult classic, hokey as it may be. And the original King book stands among his very best works, touching on the universal themes of the inevitability of death and man's ability to accept it as a natural occurrence (or not). An updated version is just the ticket for King fans, though we'll see how well they're able to live up to the source material.
Avengers: Endgame – April 26th
Directed by Joe and Anthony Russo
Derek Thompson – The main concern I have for Endgame is whether or not Marvel will learn from the mistakes of the Star Wars reboot. They are clearly headed for a "soft reboot" where many characters will really die and set up the next generation. That can be done well, but it can also be done incredibly poorly. However, Marvel has already generated over twenty movies in this universe with very few duds; far more than was ever accomplished in the original Star Wars universe. I expect good things.
Game of Thrones: Season 8 – April 2019
Adapted for television by David Benioff and D. B. Weiss
Julianna Purnell – And finally, my most anticipated film for 2019…Game of Thrones. I know what you're thinking. Yet if it has the length of a feature film, is shot like one, and has the budget to match, then… isn't it a film? With Martin Scorsese's upcoming The Irishman going straight to Netflix, the line between television and film is becoming more and more blurred. David Benioff and D.B. Weiss originally applied for the final season to be several cinematic releases, and while that was denied by HBO, it means the only real difference between film and television is its platform. With rumors that the last few episodes contain battle sequences on the scale of Braveheart, be prepared for Game of Thrones to deliver the best action sequences out of all the films in this list. So watch this space, as just how LOST revolutionized the film quality of television, I think Game of Thrones may topple boundaries and spread into the cinematic sphere if it hasn't done so already.
Detective Pikachu – May 10th
Directed by Rob Letterman 
Julianna Purnell – When it comes to the franchise films, I must say I'm looking forward to Detective Pikachu the most, as it's willing to push the boundaries on a fandom that has kept things relatively safe over the past twenty years.
John Wick: Chapter 3 – May 17th
Directed by Chad Stahelski
Tyler Hummel – The anachronism that is the John Wick franchise continues with its much-anticipated third chapter. The first film was produced as a side project by a group of industry special effects veterans working together with Keanu Reeves that ended up being one of the best standalone action films in years. Then just two years later they made lightning strike again with the superior John Wick: Chapter 2, that took the revenge story setup from the first film and made its character grapple with the consequences of returning to the Hell he once escaped from. The story of John Wick is a tragedy about the moral descent inherent to vengeance. The third chapter has the difficult task of being a film that can outpace its already intense predecessors and bring some amount of closure to a story that can only end in more cyclical death and destruction.
Brightburn – May 24th
Directed by David Yarovesky
Tyler Hummel – Given that Superman is my favorite superhero, I find Brightburn to be conceptually interesting. Taking the setup to the Superman mythos but playing it out as the setup to a horror film is interesting and I'm fascinated to see how this will play out. The movie is written and produced by members of James Gunn's family so having his name hanging around the project will inevitably carry a weight of pressure given his unceremonious dismissal from Marvel after his unfortunately disgusting old tweets were leaked onto the internet. That said, he's only involved in a producing role. The last time Gunn gave us a film he merely had a hand in developing we got the gory and schlocky film The Belko Experiment which has largely been forgotten. Either way, this will be an interesting story to watch unfold.
Godzilla: King of the Monsters – May 31st
Directed by Michael Dougherty
Colby Bryant – I'm going to say it: 2014's Godzilla didn't do a whole lot for me. It was competently made, for sure, but it had an overall dullness that kept me from revisiting it often. The full reveal only at the end of the film of everyone's favorite atomic titan at the end was necessary, but it only allowed so much to be excited about. That said, 2016's Kong: Skull Island is one of my favorite blockbusters of recent years. It was a ton of fun throughout, and yes, it is connected to the events and mythology of that Godzilla film. Now, Godzilla is back with a full slew of his biggest, worst threats in this film, and it all leads to the showdown I've been waiting for against King Kong. As should be obvious here, I'm hoping for an even better film here, as the dealings of Monarch in all of these films are becoming increasingly intriguing.
Toy Story 4 – June 21st
Directed by Josh Cooley
Colby Bryant – I'm cautiously optimistic about this film. First off, I think that the original three are as close to a perfect film trilogy as one can hope for, and the ending of Toy Story 3 came full circle in its imagery and message to link back to the first one. So, with that said, I love each and every character in these films. I could spend the rest of my life enjoying them all, doing nearly anything. I lovingly watched each and every one of the Toy Story Shorts released over the last several years, and their quality keep me confident that this entry will be well-made, even if unnecessary. Still, who knows? PIXAR could surprise us all with an incredibly well-made and necessary film that will make me reconsider just how vital adding another story was to the experience of the series. Here's hoping.
Once Upon A Time in Hollywood – July 26th
Directed by Quentin Tarantino
Julianna Purnell – Can't wait to see Quentin Tarantino's take on his home city!
Tyler Hummel – It took me a fair minute to figure out what this film could be trying to do. The obvious timeliness of making a movie with Charles Manson in a major role seems significant but Tarantino had previously said that he wanted to have a full trilogy of westerns in his filmography. It then struck me that this movie, with two lead characters who are actors in the story, set against the backdrop of an evolving Hollywood and named after one of Sergio Leone's greatest westerns was that film. Beyond that, it was a visitation of the setting of Pulp Fiction that initially defined his career. This could very well be his most ambitious and cozy film in years. There is so much potential in this film to examine society, the evolving nature of the film industry, the nature of the western genre and Tarantino's filmmaking philosophy itself.
Midsommar – August 9th
Directed by Ari Aster 
Julianna Purnell – Hereditary's first time director, Ari Aster, will be releasing his second film, Midsommar. I'm excited to see if lightning can hit this extraordinarily talented novice twice.
It: Chapter Two – September 6th
Directed by Andy Muschietti
Kyle Mann – Yes, another year, another slew of King adaptations. This one has a lot to live up to, with 2017's It ranking among the best King films, besides just being a powerful, heartfelt movie on its own. The two-part structure was inevitable, given the flashback-driven nature of the book, though I fear the change may rob the adaptation of some of the book's power. But I'm still hopeful that Chapter Two will be every bit as riveting as Chapter One.
Julianna Purnell – I'm curious to see if they can pull it off!
Downton Abbey – September 20th
Directed by Michael Engler 
Derek Thompson – The premise for the TV series Downton Abbey is about the most boring thing imaginable. I honestly cannot remember why I ever considered watching it, but I did. And I was entranced. The acting was so good, and the time period was so interesting–in the grand scheme of history, it was so close to the modern day, and yet so far away. I did not think we would ever get more of the series after so many cast rotations before its conclusion, but I'm glad to be wrong.

Joker – October 4rth
Directed by Todd Philips 
Tyler Hummel – Again I'm going to pull the tacit curiosity card on this film. I like the idea of Warner Brothers experimenting with risky non-canon superhero stories and the production stills that were released early in the film's production functionally broke the internet for the better part of a week. Given Joaquin Phoenix's pedigree as an actor, it's easy to want to get excited with this film that he could come close to matching Heath Ledger's generation-defining performance in The Dark Knight. The only real problem I foresee is that its director Todd Philips lacks the subtly the film might very well need. He's the director of the Hangover trilogy and War Dogs so whatever respect that gleams him is what you can expect going into it. I would expect a mean-spirited, violent gangster film that will probably end up being superficially entertaining that sparks a lot of controversies. More than likely it will be 2019's Venom.
Knives Out – November 27th
Directed by Rian Johnson 
Tyler Hummel – Speaking of controversy, the director of Star Wars: The Last Jedi has a new film coming out this year. That's probably all you need to know about whether or not you're interested in seeing it. Even if you're not interested in the director the film itself sounds interesting. It's a mystery thriller inspired by the works of Agatha Christie. The cast is a veritable who's who of interesting actors including Daniel Craig, Chris Evans, Michael Shannon, Jamie Lee Curtis, Christopher Plummer and Lakeith Stanfield. Granted if this isn't interesting to you it will be opening up against Frozen 2 so you'll have options that weekend.
Star Wars: Episode IX – December 20th
Directed by J.J. Abrams
Kyle Mann – Not an original pick, I'm afraid, but I can't stand Disney live-action remakes and didn't care for the latest Avengers (gasp!), so this is all that's left. I'm one of those who thought The Last Jedi was great, wacky casino scenes, Death Star-sized plot holes, and all. The core Star Wars films give me chills every time when I see the opening crawl and hear that majestic score, and I'm sure Episode IX won't be an exception—as long as the filmmakers are confident enough to stick with their vision and not listen to a few whiny fans.
Derek Thompson – Is there such a thing as "cautiously pessimistic?" After Episode VII, I felt that the new universe had potential (despite a ridiculous Super Mega Ultra Death Star Planet), but that none of the potential had been tapped yet–it was all set up for future films. Then The Last Jedi came and completely disappointed me. The question is whether Episode IX–given the backlash from TLJ, and the death of Carrie Fisher–can right the ship and give a satisfying conclusion, or if it will simply give more fuel to the fire for angry Expanded Universe (Legends) fans.
Little Women – December 25th
Directed by Greta Gerwig 
Tyler Hummel – With her inaugural effort Ladybird, Greta Gerwig established herself as one of the top female directors working today. He sophomore effort is an adaptation of Louisa May Alcott's classic Little Women starring Meryl Streep, Saoirse Ronan, Laura Dern, and Emma Watson.
Jojo Rabbit – 2019
Directed by Taika Waititi
Julianna Purnell – Taika Waititi's Jojo Rabbit is boldly (or unwisely) going to be a fantasy comedy featuring an imaginary version of Hitler.
The Irishman – 2019
Directed by Martin Scorsese
Tyler Hummel – Scorsese's newest film for Netflix is somewhat infamous for its bloating budget. Obviously, this is a revisitation of the same gangster dramas that have defined his career like Goodfellas and The Departed but this depiction of the death of Jimmy Hoffa has a great deal of potential to be a solid film given just how spectacular Silence and The Wolf of Wallstreet are.
Parasite – 2019
Directed by Bong Joon-Ho
Julianna Purnell – Bong Joon-ho always offers something interesting, and this time it's all about toxic family dynamics.
Synchronic – 2019
Directed by Justin Benson and Aaron Moorhead
Julianna Purnell – After their unexpected hit, The Endless, last year, I'm definitely looking forward to seeing what Justin Benson and Aaron Moorhead deliver next. It doesn't get more indie than those two, offering the best budget sci-fi I've seen in years.
The Resurrection of the Christ – Spring 2020
Directed by Mel Gibson 
Julianna Purnell – It almost sounds like a joke, but every Christian knows there's more to this tale, and with Mel Gibson directing once again, one can hope that there's not a drop in quality.