Distributor: Sestero Pictures
Director: Justin MacGregor
Writers: Greg Sestero
Composer: Daniel Platzman
Starring: Tommy Wiseau & Greg Sestero
Genre: Comedy/Drama
Rating: R
In 2004 the world was quietly introduced the now famous "worst film in history The Room. It would go on to become one of the world's favorite terrible films with hundreds of annual midnight movie screenings across the world, a best selling memoir, and a big Hollywood movie adaption of the story behind the film's bizarre production process. Nearly a decade and a half later the two leads of that film are back for a new indie-drama/comedy that explores their checkered relationship on and off the screen.
Content Guide
Violence/Scary Images: A character falls off a cliff, characters get into bloody gunfights.
Language/Crude Humor: Severe language throughout including f*** and numerous crude sexual remarks.
Drug/Alcohol References: Characters drink alcohol throughout the film.
Sexual Content: No sex depicted, numerous crude references to sexual activity.
Spiritual Content: None.
Other Negative Content: Betrayal, infidelity, graft, theft, and murder.
Positive Content: Themes of friendship and redemption.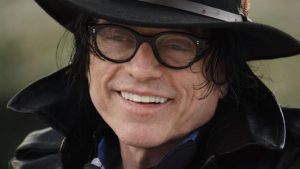 Review
The story of Tommy Wiseau and The Room (Our Review!) is one that is more than frequently discussed in modern film discourse. That film's slow journey from failed auteur psychological thriller to ironic so-bad-it's-good midnight movie was a swift but rapid one that fully culminated last year with the release of James Franco's adaption of co-star Greg Sestero's memoir. While the film is quite funny, albeit somewhat overwrote, the original memoir The Disaster Artist is a fascinating masterpiece in its own right that really fleshes out the complex relationship between the two stars. There are so many bizarre facts about the life of the auteur's voice behind the self-proclaimed worst film ever made. While speculated, Tommy's origin, age and bizarre acquisition of massive wealth are never fully or meaningfully explained by him or anyone else.
The set for the film was plagued by runaway spending on gear and set construction while his checks constantly came late to the cast and crew who were forced to overwork in unbearable shooting conditions. Yet for all of Tommy's rudeness in the heat of shooting and his refusal to discuss his past the book finds a certain humanity in the enigmatic figure that is Tommy Wiseau. Just as his "masterpiece" reveals the soul of a tragic figure who desperately wants to fit into the world, we come to see Tommy as a guy desperate to be like everyone else.
While much of Tommy's life will likely go unknown to history, the story we do come to understand of Sestero and Tommy's friendship is much more carefully laid out. The two met in acting classes and developed a strange friendship around their mutual love of film and their desire to break out in Hollywood. Both would eventually wash out to varying degrees despite Greg scoring roles in Patch Adams (as an extra) and as a lead in Retro Puppetmaster. Tommy eventually wrote, produced, and self-funded The Room on a multi-million dollar budget, secured through unknown means, as an attempt to break into movies by producing their own independent film.
Sestero was brought in as the film's producer and later one of its lead actors. From there the rest is history. The movie was released in theaters briefly in 2004, turned into a cult classic bad movie, and started making the rounds for movie fans the world over. This ultimately culminated in the publishing of The Disaster Artist which finally lead to last year's film. What was lost in this story, however, was the lack of closure on Tommy and Sestero's dreams. Neither actor's careers took off in the aftermath of The Room. Both would work on minor roles in small horror films like Dude Bro Party Massacre III or Samurai Cop 2 but neither meaningfully built a career beyond touring around the world premiering screenings of the film or writing memoirs about it.
Amongst the buzz and roar of the long lead up to the premiere of The Disaster Artist (Our Review!) in 2017, a smaller lesser-known project started leaking into the news. Tommy Wiseau and Greg Sestero were making another movie. Best F(r)iends was announced to be a semi-autobiographical exploration of the lives and complex relationship of the two actors who starred in The Room coming together to make the big Hollywood film they always deserved. Regardless of the final product, the fact that these two actors can come back together after nearly two decades of friendship, rivalry, and frustration to create the fruition of their mutual dreams together is the most beautiful outcome to the course of their lives I could have hoped for them.
Best F(r)iends isn't The Room. It only exists because that film was created in the first place but more than anything it's a response to The Room. If The Room could be a cry from a lost soul tragically mourning his abandonment by the world then Best F(r)iends is that soul's best friend reaching out to tell him that he's there, he's sorry for failing him at the moment that counted, and that he'll always be there for him now. The most beautiful thing that this movie says is done merely by existing.
Then the movie started.
Best F(r)iends Volumes 1 and 2 are a bizarre pair of films. Beyond the fact that the movie is rather arbitrarily bifurcated at the least ideal point from a story construction standpoint, that the second volume is perfunctory and boring, and that the shooting style is amateurish at best, the film is a quiet testament to Tommy and Sestero's relationship. At the beginning of the first part, we meet Greg Sestero as a homeless man and Tommy Wiseau as a mortician. This is an apt metaphor. The story plays out as a metaphorical reenactment of all of the largest moments of their strained friendship but with Noirish flourishes and some David Lynchian surrealism thrown in for good measure.
It's not hard to see our leads Harvey and Jon (Tommy and Greg respectively) being the stand-ins for their real-life counterparts. Jon starts the film with nothing but is given a chance to build himself up through his relationship with Harvey. The two of them discover a way to make a ton of money quickly and nervously jump on a scheme that culminates in their relationship fracturing before eventually making up for what happens between them.
Most of this plays out in the first of the two volumes. Of the halves, the first is easily the stronger and more recommendable of the two as it presents the most amount of screen time for Greg and Tommy to bounce their enigmatic personalities against each other. It is notable that Tommy really does put his best into the role. Greg specifically wrote it for his bizarre screen presence so it's not surprising that he is an engaging as he is but here he is playing something entirely perfect for his presence. Even in a naturalistic setting, you believe that this weird guy could exist in a relatively realistic portrayal of Los Angeles as some back alley mortician. Greg's role ends up being the primary driving force for the story but he really isn't the center of attention for the duration of the first volume. So much of the film's charisma is riding off of Tommy and he manages to queerly present the stronger of the film's two lead performances.
This swaps radically for Volume 2 where Harvey takes a backseat for the duration of the plot and Sestero is intended the take the lead. Unlike the first half of the pair, Volume 2 is a complete mess. This volume functionally fulfills the third act of the duology's story yet it's a half an hour longer than the first two acts combined. The film's best character doesn't play a major role in it. Most annoyingly the characters it introduces to play the roles alongside Sestero aren't strong enough to carry a feature film. In the end what we do get from them are a series of drawn-out scenes of "drama", heavy exposition, and a moderately over the top Clint Eastwood impression that was almost insane enough to work.
As a whole, the film is a strange mess. The tone is wildly all over the place. It's trying to walk the line of being a drama-comedy but there's no logical balance to these elements. People talk about how recent blockbusters like to undercut dramatic scenes with jokes for a laugh but here there really isn't any tact to where the jokes are placed. Here the problem is accentuated by a tone-deaf hand that doesn't know what and how to undercut its dramatic elements. It's very haphazardly constructed. During the pre-show for Volume 2 in a TMZ interview, Sestero name-dropped Breaking Bad and Nightcrawler as his primary influences for the film and one can easily see shades of them in Best F(r)iends.
There are also shades of the aforementioned surrealism but also of other films he's talked heavily about in the past about such as The Talented Mr. Ripley and Sunset Blvd which are frequently quoted in The Disaster Artist. Since the latter of those films share Best F(r)iends' themes of friendship and betrayal it isn't hard-pressed to imagine Sestaro was inspired to place those kinds of characters into a neo-noir/neo-western setting to let the drama play out. Functionally speaking, the script really is just too haphazard to balance all these visual ideas and themes evenly. The film starts wildly inconsistent and gradually devolves into blatantly dysfunctional storytelling.
This might have been alleviated somewhat if the visual language of the film could bathe us in some beautiful scenery or trippy slow-speed montages in the style of something like Tree of Life. Frustratingly, however, the shooting style is completely inept and lifeless. The movie looks like it was shot on a DSLR camera with random drone shots thrown in constantly. It's color corrected to try and fix this but it's hard not to guess that the team behind this wasn't a bunch of film students, but the shooting and scene editing in this film was even too inept for film amateurs to get wrong. The camera is constantly jumping from angles that don't edit cleanly together, cutting randomly to inserts of random things in the room the characters are inhabiting or holding on random shots for awkwardly long periods of time. Is this film actually just a first-year student feature?
As I said this critical analysis isn't the most important thing about Best F(r)iends. The most important thing is that Greg Sestero and Tommy Wiseau achieved a minor miracle. They made an actual Hollywood movie that people desperately wanted to go see. I can't and would never want to take that away from them with a negative review. There is a great deal about this film in all of its flaws that work and the things they knocked out of the park. I hope that these two go on to work on new things together and live out their dream. I also hope they learn a few lessons from their mistakes in this film and change them for next time.
+ Great Lead Performance by Tommy Wiseau + Wonderful Behind the Scenes Story
- Weak Script - Useless Second Volume that drags out the final act - Bizarre Cinematography/Editing
The Bottom Line
Best F(r)iends is a beautiful story that fulfills the life journey of two actors who struggled to build their own careers. It's a shame that the final product isn't strong enough to elevate the concept into something more timeless.