Distributor: Elevation Pictures (Canada—theatrical), Shudder (USA—TV)
Director: Jeff Barnaby
Writers: Jeff Barnaby
Composer: Jeff Barnaby, Joe Barrucco
Starring: Michael Greyeyes, Elle-Máijá Tailfeathers, Forrest Goodluck, Kiowa Gordon, Brandon Oakes, Kawennáhere Devery Jacobs, Gary Farmer
Genre: Horror
Delving into one of the most recent horror films released exclusively to Shudder, one might think a film like this is merely a schlock zombie movie with an edgy premise. On the contrary, this action-heavy zombie thriller is one of the most thematically loaded films in the genre since George Romero's Land of the Dead. It also stands alongside Shaun of the Dead and Train to Busan as one of the best zombie thrillers in the last twenty years! 
Content Guide
Violence/Scary Images: Excessive gore and violence throughout; characters are shot, stabbed, bitten, crushed, and die painful deaths.
Language/Crude Humor: Strong language including racial slurs.
Drug/Alcohol References: Characters drink and take pills.
Sexual Content: A character considers an abortion after becoming pregnant. Nothing sexual depicted beyond cuddling. 
Spiritual Content: None.
Other Negative Content: Themes of violence, despair, death, and survival.
Positive Content: Themes of love, family, and humanity.
Review
"Blood Quantum" is a term I hadn't heard before watching the movie of the same title. The term refers to how North American governments handled the issue of ethnicity amongst descendants of Native Americans and First Nations peoples in America and Canada. It isn't how tribes internally handle membership so much as it is an archaize legal system that served to legally seperate settlers from Native peoples. I only bring this up because the issues of ethnicity and race are very much subtextually explored in the narrative and it's clear this is part of the film's point. 
From the start of Blood Quantum, the people of the Red Crow First Nation reservation, circa 1981, are already living at the edge of society. Most members of this tribe are dealing with different degrees of troubled lives (divorce, teenage pregnancy, petty vandalism, alcoholism, etc) when the onset of a seemingly worldwide zombie apocalypse reaches their part of rural Canada. They don't know how the rest of the world is fairing, but they live on an island that's relatively easy to protect from the encroaching wave of zombies. 
The first third of the film is just setup before the zombie apocalypse. People and animals are starting to transform but nobody knows what's happening and the otherwise despondent members of the reservation are going about their difficult daily business. Once the movie settles into the second act, the movie starts laying out the themes in more direct fashion. The movie isn't preachy but it's playing its themes fairly straightforward.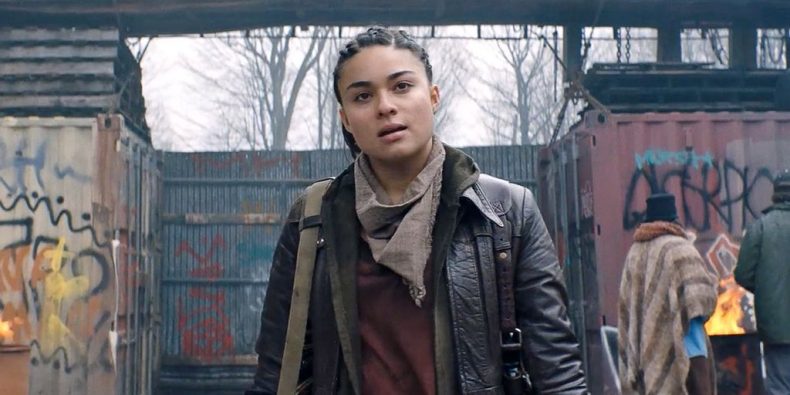 This reservation's secret is that they're all, by chance, immune to zombie bites. As such, everyone white Canadian in the area is trying to escape to the walled-off reservation. The metaphor is a bit on the nose but the stakes lay out the themes quite clearly: this is a film about the fear of the death of a native culture and how assimilation into a hostile society creates the need to protect what little they have left. The movie isn't taking a morally binary stance on cultural separation though. Different members of the reservation have very different relationships with the outside world.
One teenager is shown having impregnated a Canadian teenager, and the two of them have decided to keep the child despite the risks of the mother and the child being infected. Another young man carries deep resentments about outsiders. In any case, the possibility of bringing Canadian refugees into the camp is a hotly debated one. While they can't be infected, the zombies can still maul them and leave them for dead. A zombie getting loose in the compound will be catastrophic. 
This would seem to set up Blood Quantum as a deeply serious, gruesome, and melancholic horror film. That's more or less the case but the movie isn't so serious all of the time. It's definitely a horror film more so in the Evil Dead tradition than the Night of the Living Dead tradition. It's a very human film with flawed characters, but the movie itself isn't too grim by horror standards. It dedicates a huge portion of its runtime to creating over-the-top awesome horror movie characters who run around with specialty weapons and massacre the living dead. It's serious minded and mature but it's also having a lot of fun living out its zombie/action movie premise. 
Keep that in mind. This is definitely not a restrained film for the light-hearted amongst us. It's not a movie that I'd recommend unless you can handle a fair amount of gore and viscera depicted on screen. That said, Blood Quantum is one of the best genre films of the year so far. Considering how much of a dry spell the movie industry has been in since March, that's not saying much, but it is legitimately great as a horror/action film. Considering you can watch it for free with a trial subscription for Shudder, there's not much standing in your way to catch one of the year's most interesting instant cult-horror classics. 
+ Interesting, thematically loaded story! + Great performances by mostly unknown actors and actresses + Great production design
- Somewhat superfluous first act
The Bottom Line
Blood Quantum is a highly engaging and very entertaining spin on the zombie mythos, which brings an authentic new perspective to one of horror's most beloved genres. If you like gory horror films and sociopolitical themes, this will give you a lot to enjoy!