Distributor: Paramount Pictures

Director: Justin Linn

Writers: Simon Pegg & Doug Chung

Stars: Chris Pine, Zachary Quinto, Karl Urban, Idris Elba, Sofia Boutella

Genre: Action/Adventure Science-Fiction
Rating: PG-13
When I say I'm a Trekkie, I've had a lot of people tell me, "Aren't you too young for that show?" because I'm twenty-three, a woman, and I like the original series. I've seen all three seasons from the 1960s and the new movies with the original cast made years later, Journey Home being my favorite. Despite some of the hokey effects of the original, what I loved most about this franchise are the characters and their dynamics. I believe that's why this series has endured to be remade over fifty years after its original release. I've loved the first two films in this alternate universe version of the Starship Enterprise crew, and I highly anticipated this new film's release, because we're finally going to spend some quality time on an alien planet like the original series.
Content Guide
Violence/Scary Images: As with the previous movies, there is a good bit of violence whether that be aerial battles in the stars or hand-to-hand combat. In the sky, crew members are blown up or sucked out into space. Characters endure bloody beatings from fights. One character gets stabbed by a sizeable piece of shrapnel in the torso and deals with that wound for the majority of the movie. The most disturbing element that gave me the shivers was the villain Krall uses the energy from his captives to grant him long life. The way he extracts this energy is disturbing to watch as there is a lot of chilling screams and the victims are rendered to shriveled corpses. I would not recommend this to anyone under fifteen for that reason.

Language/Crude Humor: There actually wasn't much of this at all. There were maybe five usages of d*** and mostly from McCoy as characteristic, two usages of sh**, and maybe one usage of a**. The only crude humor I can recall is Keenser has a nasty cold, and he sneezes a gob of snot. Also there's a little animal-like alien on the ship, and Kirk comments how he still isn't wearing pants.

Spiritual Content:  None of note.
Sexual Content: There's some brief intense kissing between crew members that is implied to lead to sex. One female crew member throws a shirt onto a bare-chested male crew member's face after obviously having sex. Spock breaks up with Uhura because he feels its his duty to procreate with a Vulcan. Also a lot of people have been really nervous when they heard that Sulu is openly gay in the movie (I was one of those). There isn't any troubling content there. He's shone briefly twice with his partner. The most sensual act you see is his arm around his partner's back. They also have a little girl together.

Drug/Alcohol Reference: The characters drink on several occasions, primarily at the beginning and the end, but none of them get drunk.
Other Negative Content: Krall is a wicked villain who wants to destroy the Federation at its core, and he'll do this by using any means necessary which includes killing others and committing genocide.
Positive Content: There are a number of beautiful themes in this film, the strongest of which is unity. The crew of the Star Ship Enterprise is strongest together which Kirk and Scottie pointedly make note of. One of my favorite lines of the movie is when Kirk humbles himself because of this theme. After Admiral Paris told him he did a good job in his mission, he said couldn't have done it without his crew. I feel like this is why I enjoy Chris Pine's performance of Captain Jim Kirk more than William Shatner's. Chris Pine puts this wonderful ever-developing growth into his characterization of Kirk. I feel like in every movie, Kirk turns away from his careless roguish self and grows into a man we can look up to.
Review
The Enterprise is three years into their five year deep space mission, and now they're taking leave in Yorktown, the latest most advanced Star Fleet base. However, when an unknown ship is discovered with one survivor of an attack, Kirk and his crew are assigned to go into an uncharted nebula to save the survivor's crew. While on this mission, a swarm of alien ships attacks and destroys the Enterprise, stranding and separating Captain Kirk and his crew on this strange planet with no way to contact base and at the mercy of the terrifying villain Krall. The ship members must find each other again before Krall executes the majority of the crew.
The plot of this movie is so fantastic. It's very mysterious and you have to piece together what's really going on as you go. The screenwriters skillfully dropped in tiny puzzle pieces throughout that all come into play later into the film. As a writer, I'm stunned by how intricate this plot is. The conflict escalates beautifully and the climax is so satisfying. There were so many nods to the original series with lines like Kirk saying, "I ripped my shirt again." or McCoy saying he'd rather die than be spliced with Spock.
All of the original crew return for their roles and do an excellent job as always. Because of how the story is set up, the characters are given great opportunity to shine. Many of the characters are separated in pairs: Kirk (Chris Pine) with Chekov (Anton Yelchin), Spock (Zachary Quinto) with McCoy (Karl Urban) (which if you know this series was loads of fun), Uhura (Zoe Saldana) and Sulu (John Cho) with the crew, and Scottie (Simon Pegg) with a new character named Jaylah (Sofia Boutella). It was nice to have more aliens in the series, so her performance was well done and very welcome. Another new cast member was Idris Elba as Krall. If you've seen him perform in any other movie, you can recognize he's very talented, and he brings that talent to this film. Though I was unsure at first, he gradually develops into a compelling villain.
The alien planet was very creative and beautiful yet dangerous. I loved the floating seeds in the forest and the jagged rocks. The space settings were stunning with vibrant nebulas in a vast sea of stars. The new space station Yorktown was very creative with its artificial gravity. As McCoy said it, it looks like a giant snow globe, but it's very cool. The costumes and hairstyles allude more to the original series, and I thought that was a good nod. The score is awe-striking and very emotional. It added to every scene.
Overall this was an amazing film. I want to rant more about it, but I fear I will stray into spoiler territory. Every Trekkie needs to see this film.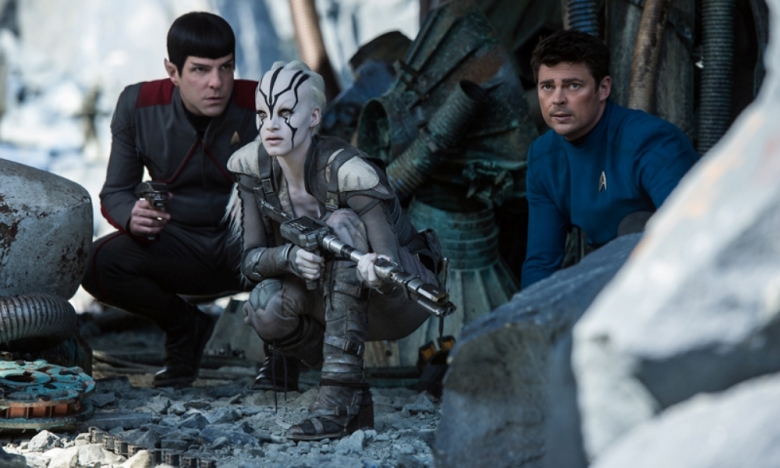 Save
Save
Save
Save
Save
Save
Save
Save
Save
Save
+ Wonderfully Casted + Awe-inspiring Battle Scenes + Mammoth Plot Twist That Had Me Reeling + Lots of Pointed References to the Original Series + Excellent Character Development
- Some of the villains backstory and abilities were a bit confusing
The Bottom Line
This is a wonderful new edition to the new Star Trek franchise. Wonderful plot, I love how the characters have developed, and the visual effects blew my mind. Every Star Trek fan needs to see this.