Distributor: United Artists Releasing (United States), Universal Pictures (International)
Director: Conrad Vernon, Greg Tiernan
Writer: Gail Berman, Conrad Vernon, Alex Schwartz, Alison O'Brien
Starring: Oscar Isaac, Charlize Theron, Chloë Grace Moretz, Finn Wolfhard, Nick Kroll, Snoop Dogg, Bette Midler, Allison Janney
Genre: Comedy, Horror
Rating: PG
Okay, so this is one I've been looking forward to. I've been what could be called an "honorary goth" since childhood, though I've had to keep that side of my interests a well-guarded secret for a long while. The creepy and kooky tribe of the late cartoonist Charles Addams' imagination was one of the more commonplace macabre decorations of my imagination, especially as a child of the 90s. There were no fewer than three live-action Addams Family movies released in that decade as well as two animated TV productions.
It seems about that time for the people who had their formative years in the 90s to start revisiting their childhood treasures in the current film development cycles, and I'm actually rather surprised it took this long for the Addams to be resurrected. Fingers crossed for a revival of Beetlejuice. Well, maybe not…
Content Guide
Violence/Scary Images: Townsfolk with pitchforks and torches drive the Addams family out of the Old Country (Eastern Europe). The Addams' respond by using swords; instead of injuring people, they slice open their trousers (which fall and reveal their underwear). People hurl and catapult fiery rocks/boulders that cause lots of property damage to the Addams house. A character is struck by a car but survives. Wednesday's braids end in the form of a noose.
Wednesday and Pugsley often fight with weapons and explosives, and it's common for Wednesday to shoot an arrow at Fester. An Addams rite of passage requires each Addams to do a choreographed dance with a special sword. At school, Wednesday shocks the dissection frogs back to life. A climactic confrontation between the Addams and the Assimilation town causes property damage and minor injuries. The house itself yells "Get out!" in a spooky voice. A girl is an overt bully at school. Most of the dark/violent content is intended to be funny.
Language/Crude Humor: Insults include "freak," "weirdo," "monsters," "ghoul," "lemmings," and the lyric "pimp" (in the edited Snoop Dogg song that plays as Cousin It rolls up to the house).
Sexual Content: As always, Gomez and Morticia are deeply in love and passionate–kissing, embracing, and slow dancing. Thing is caught scrolling through internet images of bejeweled and manicured hands that are clearly inferred to be "hand" pornography. Man in bath without his shirt on.
Drug/Alcohol Use: A wedding tradition includes putting a lime in a coconut drink and then drinking it, but it's not clear whether there's alcohol in the drink.
Spiritual Content: All Hallow's Eve themed imagery abounds throughout the film. A brief throwaway reference to "tea and séance" as a casual family activity. Some of the Addams are suggested to be ghosts.
Other Negative Themes: Standard family drama and arguments.
Positive Content: Promotes accepting those who are different from you and not forcing conformity and assimilation on everyone. Parker and Wednesday each rebel in their own way but want to feel loved unconditionally and accepted as they test their boundaries. Character strengths such as teamwork and empathy are important to the story.
Gomez and Morticia love each other and their kids. Wednesday wants to see what's beyond her family's mansion. Parker doesn't want to go along with everyone else like her mother wants. Not a lot of cultural inclusion, but there is equal focus on girl and boy characters.

Review
Stop me if you've heard this one, or if you want to avoid spoilers:
A small family of ghoulish outcasts are chased out of their homeland by a band of fire-wielding mobsters for simply being themselves. They mean no harm to anyone, but their unsightly appearances and inhuman habits are enough to elicit terror and violence from regular observers. After deciding that enough is enough, the father of the home decides to find a safe haven for himself and his family in a large haunted mansion on a hill.
This hallow hilltop bastion serves to guard the creepy family's way of living from those fire-and-brimstone-breathing onlookers beyond their gate, providing protection even for extended relations, and they manage to live in comfortable secrecy for many years. What upsets their quiet solace is both an upcoming rite of passage for one of the young ones as well as an inviting call to venture out among regular folk again. Many of the old resentments and misunderstandings between the tribes are reignited, with authority figures on both sides responding with horror and bewilderment at how the encounter is changing their respective children's habits and outlooks.
At first, the rite of passage is a complete failure, but an explosive showdown provides an opportunity for both much-needed familial bonding as well as equally-needed reconciliation between the beastly personae non gratae and the "normies." The denouement unmasks some shady activity from the ostensibly well-meaning but wholly misguided opponent of the spooky clan of outsiders and ushers in a new era of coexistence.
Also, the plot seems far too thin to justify a feature film release.
Yes, dear reader, it seems that in the act of rebooting the tales of Charles Addams' haunting dark comedy characters, the direction of "Let's do the Hotel Transylvania trilogy but all at once" was what won out in the brainstorming phase. It's not the WORST idea that one could imagine, but I had hoped that what we got in the latest major studio production treatment for what has been a subcultural staple of American entertainment for as long as Superman has been around would a bit more…inspired?
Mind you, everything that is recognizably Addams is present, accounted for, and looking better than ever. The art direction gives explicit and fitting homage to the visual stylings of the original newspaper strips with character design master Shane Glines staying true to the original while also being original himself, going so far as to enhance some of the visual flourishes that the Addams are known for with respectable (and respectful) aplomb.
The tall and hauntingly alluring Morticia (Charlize Theron) has been given even sharper and more arachnid features while still maintaining a clear femme fatale aura. The butler Lurch (co-director Conrad Vernon) has an even more towering figure while his undead appearance has been noticeably enhanced by modern CGI techniques. The impish Wednesday (Chloë Grace Moretz) has had her head enlarged and her signature braids woven into the shape of a hangman's noose. If you've been with this family before, you're gonna feel at home here at least.
While traditional Addams comedy focused on the macabre inversion of typical suburban family activities, the animated 2019 feature directed by Vernon and Greg Tiernan opted to retread the "misunderstood monster" pathway. The Addams have a long history of being harassed and harangued by angry denizens of more average appearance who see them only as a threat to the community, and so Gomez (Oscar Isaac) and Morticia spent their honeymoon hunting for a place they could call home. They were fortunate enough to find an abandoned and haunted asylum on a fog-riddled hill face where no sensible commoners dare tread.
After their years of naturally guarded safety and security, during which they bore their two children, Gomez and Morticia find a new civil development happening in the valley below. An ambitious TV host by the name of Margaux Needler (Allison Janney) is arranging a planned housing community which she literally names "Assimilation" in hopes of engineering the perfect neighborhood. As fate would have it, the young ones from each of these communal hobbles stumble upon ephemera from the metaphorical "other side of the hill", which provides the catalyst for something of a culture clash between the Addams and the people of Assimilation.
Redoing the familiar tropes with an acquainted but long-shelved IP like the Addams can be an effective way to breathe new enthusiasm into what was long recognized as one of America's most iconic and well-known families, if it's done with some depth, heart, and inspiration. What's given here, however, is largely so by-the-numbers and grindingly generic, that I can't help but feel like we've been cheated out of something truly great that could have come from this. It's tempting to say that this would have been better off as a pilot for a new series on Amazon Prime.
Probably the most pathos could be found in the thread in which the son Pugsley (Stranger Things regular Finn Wolfhard) is facing the pressure of what is essentially the Addams' version of a bar mitzvah. The Mazurka sword dance is a rite of passage that every Addams must undertake to show that they are fit to defend the family from those who would do it harm. Pugsley means well, but his interests in heavy explosives weakens his skill with a traditional sabre. Some standard drama about parental acceptance of the next generation's quirks is bandied about, but the real kicker is that the essence of this tradition is held while Pugsley is given the opportunity to put his own combustible spin on it.
Aside from that, there's very little to mull over. Wednesday has a fair share of antics when she has her first day of education outside the home, with reanimated frogs, revenge on school bullies dealt out with capricious efficiency, and the cosmetic inverse of a "bad girl" phase being the primary takeaways. With a bit more fleshing out, she could easily carry her own series, but that doesn't seem to be allowed in this screenplay.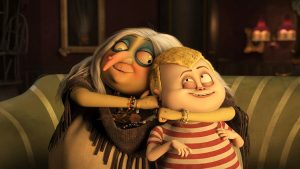 From what I gather, the big wigs behind this production had little hope that this would be much of a success at the box office, since even though the film just recently broke even as of the time of this writing, MGM announced a sequel set for a 2021 release. It's a bit of a shame that what little worth is immediately present had such middling support from those authorities in charge of its completion and release. 
To be fair, while I do grow tired of the "wrongly criticized beast" trope as it has been done halfway to death in just the last decade or so, it does certainly have its value, especially now in such morbidly divided times. So long as the all-too-common human tendency to mark anyone different from ourselves in any noticeable way as being not only in error but also in sin is still in effect, there is certainly a treasured place for tales of misjudged strangers, and the Addams can easily be a great example of such.
I suspect that many a Christian reading this might find it unconscionable that one could even watch, much less enjoy, a film about a morbid family living in a condemned asylum while still keeping true to the command to "have nothing to do with the fruitless deeds of darkness." It is here that I encourage a more mature and sensible application of the biblical virtue of discernment. We are not to judge either artistic works or anything else for that matter with a broad brush, regardless of whether that brush is meant to condemn or to approve. Our practice is to be precise and nuanced, carefully studious and "rightly dividing the word of truth."
The whole charm of the Addams from their very inception was that how they contrast with an average white-bread-picket-fence suburban family, not how similar they are to a sociopathic or criminal family, is surreal enough to provide comical wit and subtle satire not only to their antics, but also to the mundane activities that the more civilized sort of family takes for granted. They're creepy and kooky to be sure, but amidst the Halloween City decor and the deadly weapons tossed to and fro across the dinner table with Tom & Jerry style recklessness, there's no actual malice to found among the Addams. The drab and weathered outfits, the eerily living home trappings, the curious unfamiliarity with anything bright, colorful, or festive; real evil is nothing like this. Of course, real good isn't like this either, but again, it is how they contrast with real good, not how they match up with real evil (which they don't), that makes the Addams so lovable.
In fact, what will probably be the highest praise I will give in this writing is that this is one of the healthiest representations of a stable traditional nuclear family that I've seen in a major studio animated film since The Incredibles. A part of me wishes that some of what was so emphasized in previous Addams Family films had made its way here. One of the most cherished elements in the productions from the 90s at least was the deep, passionate, and wholly sincere undying love that Gomez and Morticia had for one another as husband and wife. That has some treatment in the prologue section of this film, but loses steam once the story proper gets going.
A few tidbits here and there make me worry that the writers might have gone a bit too far into the macabre territory when fashioning the daily routines of the Addams residence. Morticia makes a throwaway reference early on to a casual activity of "tea and séance" with her daughter Wednesday that is never performed, but she does enjoy her tea using a small Ouija board as a coaster. One can understandably be offended by this under one slant, another can see that an object meant for spiritual harm being used as a disposable piece of tableware gives credence to Martin Luther's advice that "the best way to drive out the devil…is to jeer and flout him, for he cannot bear scorn."
I may have spent too much time this year complaining about my "great animated movie withdrawal," but I'm not going to repeat that here. The Addams Family may not be all that a more serious fan of what came before would eagerly hope for, but it's significantly better than nothing at all in many of the regards that I've given. A simple touching shot of a literal "family tree" composition near the end of the conflict was enough to send me home satisfied.
+ Unique and eye-catching art direction + Solid jokes and writing + Healthy nuclear family representation
- Thin plot - Superficial - Doesn't do enough with its material
The Bottom Line
I'd like to see this expanded into other productions sometime soon. Nice appetizer. Where's the main course?