Distributor: Warner Bros.
Director: Nancy Myers
Writers: Nancy Myers
Stars: Robert De Niro, Anne Hathaway, Rene Russo, Anders Holm
Genre: Drama, Comedy
Rating: PG-13
When I watched the Intern trailer for the first time, I became very skeptical of the film. It appeared to be another unnecessary, forced-humor comedy. To my pleasant surprise, it actually grabbed my attention throughout as I laughed during the comedic relief and processed the scenes of emotion and realism. Director Nancy Myers does not fail to deliver a well-paced script full of character development and rising conflict executed by star actors to near perfection.
 Storyline:
Taking place in New York City, Ben Whittaker is a retired communications marketer who comes to realize that retirement is not as glamorous as people make it out to be. After coming across a job posting for senior interns (and by seniors, it meant 65 and older), Ben applies to an online highly-popular fashion company. He receives the the internship position and his task is to assist the director and founder of the company, Jules Ostin, a hardworking and work-centered young woman. As their work relationship slowly but surely begins to grow, so does their friendship outside of work as Jules becomes more open to him about her personal life and the emotional struggles within.
Content Guide
Violence: None.
Language/Crude Humor: Though minimal, three F-Words can be found, one that is yelled out in panic, one that is a middle finger flip-off, and one that is typed on a phone. B**** can also be found typed on a phone once and a** can be found three times in pieces of dialogue, one of them being bada**.
Sexual Content: Nothing in regards to nudity or explicit sex can be found, though there are some sensual moments where a female co-worker massages Ben during work hours behind closed doors. Other areas of sexual content are more of word choices such as "We'll do 'it' tomorrow." or "You came over for 'dinner' five months ago and never came back."
Drug/Alcohol References: After work hours, Jules gets buzzed and tipsy at a bar with her co-workers and then is taken out back to throw up after having too much to drink.
Negative Content: While it is actually a comic-relief scene, Ben and the other interns are required by Jules to break into her mother's home, hack into her computer, and erase a profane email regarding Jules' mother that was actually sent to her by mistake.
Spiritual Content: There is a mention of religion when Ben is creating his Facebook account, but nothing beyond that.
Positive Content: There is much positive content to be found such as loyalty, speaking/telling the truth, recognizing faults, and reconciling damaged relationships.

Presentation
There was almost nothing that I could find at fault within this film. I believe the trailer greatly misled audiences as to what the film truly is. Rather, it greatly focuses on the relationship between Ben and Jules in and out of the work environment.
Even though there are two starring main characters, Robert De Niro greatly stole the show as his character Ben Whittaker is a friendly, calm, and easy-to-listen-to elderly man, who is also sharp and witty when it comes to words of affirmation and truthfulness. This is not to say that Anne Hathaway did not pull her own weight, but when you have a character like Ben who possesses life experience wisdom, it is impossible not to focus on him more than other characters.
While not a major focus until halfway into the film, the supporting cast does their part in the plot as well, making the execution enjoyable for audiences. I must say, some of their scenes and even the main cast scenes felt unnecessary or could have been trimmed down, but it does not take away any large amount of focus from the film.
Nowadays, a good, solid dramedy is hard to find. The Intern, however, possesses a good balance between comedy and drama. When the film begins to get a little more serious and personal, a quick laugh at a piece of dialogue helps us feel a quick relief of tension. The scenes of comedic relief allow the audience to relax for just a minute and have a good laugh out loud when needed.
In the 21st Century, times are changing on how society runs. A number of fathers are becoming stay-at-home dads, women are balancing careers and family, and ageism is beginning to be taken more seriously in the area of the workforce. This film touches on all areas appropriately as these characters take on some of life's biggest challenges. It really hits home a large number of times, from short pieces of dialogue to scenes of conflict, tears, and emotional highs. Another theme it includes is what makes a man a man and what makes a woman a woman by what they do and how they run their lives.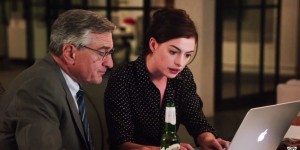 The downside to the film however was that a number of comedic moments felt to be a little too much for a film like this, such as the break in to Jules's mother's home or small side stories with the other interns. While it is not a big problem, it was a noticeable one.
Also, I felt iffy about the ending of the film. It is abrupt, leaving you asking for more and what was going to happen next, while at the same time, it leaves audience members to create what they believe happened next. An ending like that can be a hit or miss for audiences and for this film.
Conclusion
The Intern opens a fresh new look onto different topics of today's society through an engaging and simple fictional story of two co-workers. While the film felt a little bit longer than it needed to be and a little too over-the-top in some scenes of comedic relief, it does not shy away from the realistic tone the film has to offer for many young, middle-aged, and elderly adults. A film this clean (aside from the swearing) and this enjoyable makes a perfect date night movie for both dating and married couples.
+ Engaging storyline & overall plot + Realistic take on life's biggest challenges + Heartwarming moments of dialogue and emotional depth
- A little lengthy than it should have been - Unnecessary pieces of dialogue and comedic relief
The Bottom Line
The Intern is an well-paced story on the relations between an overaged intern and a young CEO in and out of the work environment. It opens up touchy topics of today's generation, from marriage and gender roles to ageism and organizational communication.