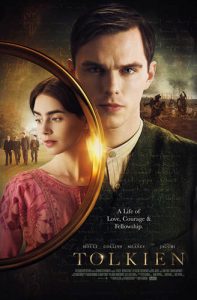 Distributor: Fox Searchlight Pictures
Director: Dome Karukoski
Writers: David Gleeson & Stephen Beresford
Starring: Nicholas Hoult, Lily Collins, Colm Meaney
Genre: Biography, Drama
Rating: PG-13
As a longstanding fan of J.R.R. Tolkien and his works, I was very much excited for the release of a biopic focusing around this grandfather of modern fantasy fiction. Much of my knowledge of his history has been acquired from the Lord of the Rings films' appendices, though my recent view of the Tolkien Art Exhibition in New York City revived my interest for Tolkien's checkered past and fascinating imagination. I truly hoped for a film that could capture this untold story, but I believe Tolkien missed the mark.
Content Guide
Violence/Scary Images: Intense war scenes with characters shot, set on fire, and blown up with mortar shells. There is a scene where a character is standing in a bloody pool of water surrounded by masses of dead bodies. A child comes home to find his mother dead.
Language/Crude Humor: A few minor swears including d*** and a**.
Spiritual Content: Tolkien is the ward of a Catholic priest.
Sexual Content: Two characters kiss. Female breasts are shown on two small paintings at a distance.
Drug/Alcohol Reference: Characters casually drink, party drink, and then in one scene a character is drunk and then passes out.
Other Negative Content: Characters squat in an empty parked public bus with women.
Positive Content: Themes of perseverance, courage, and love.

Review
J.R.R. Tolkien led a fascinating life. He was an orphan, he had a secret society with two groups of friends (The T.C.B.S. and the Inklings), he had a forbidden romance, and he fought in World War I just to name a few things. It's no wonder that Dome Karukoski wanted to bring this story to the big screen. There's so much material to work with! I only wish the execution was better.
Tolkien cherry-picks many important events from the author's life and mixes them with some artistic license, but seems to lack–a point. The film never had an overarching theme, thus lacking a message to tie all of Tolkien's experiences together and build momentum. There were many great scenes that had me smiling or even tearing up such as Tolkien's interactions with his friends, his romance with Edith, and the hell he went through in World War I, but without a point to all of this, it all just felt like information being regurgitated from the Wikipedia page.
The story flatlined in tension and there never seemed to be any real climax, especially with the scenes of Tolkien staggering around ill in the trenches at the Battle of Somme peppered throughout. I feel like it would have been so much more impactful if Karukoski had focused on the story chronologically, instead of trying to add lackluster tension with the flash forward snippets.
This is all such a shame considering Nicholas Hoult, Lily Collins, and Colm Meaney did wonderfully in their roles. Hoult and Collins had lovely dialogue and romantic tension. Even the younger portrayals of Tolkien, Edith, and the T.C.B.S. were a joy to witness and had many touching moments. They just didn't have a cognizant story to work with.
Another major concern is the director abstaining from including Tolkien's strong religious beliefs. Karukoski claims that Tolkien's spirituality was too internal to portray. I disagree. There were several sequences where Tolkien was in extreme distress and I could have seen him turn to prayer which could have been shown outwardly in a powerful way.
Tolkien could have been such an amazing film. With better screenwriting and editing this could have been a powerful story. I hope another director tries his hand at it in the future since this is an amazing story to be told.