Review: Dice Throne Adventures
Cooperative Fantasy Combat Yahtzee
| | |
| --- | --- |
| Designer | Gavan Brown, Nate Chatellier, Manny Trembley |
| | |
| --- | --- |
| Artist | Gavan Brown, Damien Mammoliti, Manny Trembley |
| | |
| --- | --- |
| Category | Dice, Cooperative |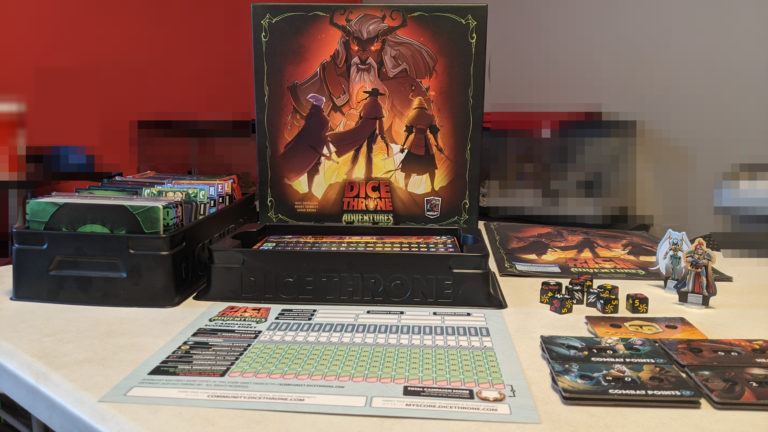 NOTE: Dice Throne Season 1 and/or 2 are required for Dice Throne Adventures!*
It's no secret I'm a massive fan of Yahtzee and, more importantly, Roxley's competitive Yahtzee-like, Dice Throne. I own both standalone seasons (and reviewed Season 2 here) and break them out any chance I get. As my sensibilities have developed more in recent years, the one thing Dice Throne was missing was, for me, a cooperative mode with some replayability. As if spoken into existence at my behest, Roxley has developed and released Dice Throne Adventures, a cooperative expansion to the lot-casting combat phenomenon. Let the good times roll!
Content Guide
Enemies cover a fair range of twisted, demented fantasy villains from goblins and vipers to yokai and chaos knights. There's nothing vulgar or inappropriate, though the beautiful, vibrant art can lead to some truly villainous depictions that may be unsettling for younger players.
Review
While I like to think of Dice Throne Adventures as a huge standalone offering, in reality, it's more of an expansion for Dice Throne Seasons 1 and 2 since they're required to play Adventures. Where Dice Throne took various character classes and pitted them against one another in direct combat, Adventures has players teaming up to conquer dungeons and bosses, gathering loot and getting stronger along the way.  With Adventures, you and up to three of your friends can sit down for a friendly campaign against the game itself. Campaigns consist of two alternative phases: portal crawls and boss fights.
For a portal crawl, players will draw a random scenario card and set up tiles to match the card's layout, including loot chests, salves, and portal shards (which you have to collect to escape). Your team will take turns making their move. Each player will have to either proceed to a tile that hasn't been flipped over or move to help teammates engage in an ongoing fight. Moving to an unflipped tile will cause a tile to flip, most often resulting in a battle along with other effects.
Because of how the boards are laid out and some of the rules, portal crawls will require teams to think critically about how they approach a given situation. Throwing a lot of bodies at a monster fight could be a good idea, but because monsters deal damage back to each engaged hero on their turn, it could be devastating too. Portal crawls can set up some pretty tense, frustrating situations, but it was designed that way and it makes victory taste that much sweeter when it's won. It's also worth mentioning that, yes, a team can lose a portal crawl but in the vein of a roguelike, your team will grab some extra healing items and give it another go with extra knowledge and experience in the bag.
One of the positives to combat is loot. Players can win loot cards and gold with the opportunity to permanently add them to their decks at the end of a round. Like Diablo, loot is considered "unidentified" when it's nabbed and at the end of the game, you can pay gold to identify it and put it in your deck. This allows your team to grab some tangibly more powerful cards to use as you progress through your campaign.
When you're not engaged in portal crawls, your team will be taking on bosses. From fallen heroes to the Mad King himself, you'll get a chance to go head to head with the big bads in a modified round of Dice Throne. The designers cleverly crafted a sort of artificial intelligence into boss fights to keep things interesting and challenging, and bosses can do some pretty devastating things over the course of a round. Conquering a boss will let your team load up on some more loot then proceed for another portal crawl.
As a fan of Yahtzee and the original Dice Throne games, Dice Throne Adventures' gameplay feels like a beautiful blend of dice-rolling and cooperative RPG-mechanics. Aside from the gameplay itself, there's a lot to appreciate about Dice Throne Adventures. The game's artwork is gorgeous. As I mentioned in my Dice Throne Season 2 review, the team at Roxley delivers incredible visual design with their games. On top of that, Adventures materials are high quality and sturdy, ensuring the expansion will be around to enjoy for a long time.
While I personally found Dice Throne Adventures to be an unmitigated delight, I think it's worth mentioning that Dice Throne might not be for everyone. As I discovered about some of my teammates, the randomness a dice-driven game inherently brings doesn't always sit well with folks. For myself, an element of chance brings that much more excitement to the table.
As a fan of Dice Throne who found myself longing for some cooperative action, Dice Throne Adventures was the perfect expansion for me. It let me use the existing games I already loved to sit down with my friends and focus on something together instead of head-to-head. There's plenty here to keep you engaged and coming back for more for a long time, too. If you enjoy games of chance, RPGs, and the opportunity to enjoy it shoulder-to-shoulder with your buddies, Dice Throne Adventures is a must-have.
A review copy was provided by Roxley Games.
The Bottom Line
Dice Throne Adventures takes a fantastic game and broadens it with clever (sometimes frustrating) cooperative gameplay and legacy mechanics.