Producer: Disney Television Animation
Director: Aaron Springer & Joe Pitt
Story: Mitch Larson
Writer: Michael Rianda, Tim McKeon, Alex Hirsch
Starring: Alex Hirsch, Kristen Schaal, Jason Ritter, Linda Cardellini
Distributor: Disney Channel (later Disney XD)
Genre: Mystery, Fantasy, Comedy, Adventure
Rating: TV-Y7
Gravity Falls is an American animated series created by Alex Hirsh and produced by Disney Television Animation. The series started on June 15, 2012 and ended on February 15, 2016. Gravity Falls has won numerous awards, including Teen Choice Awards, Kid's Choice Awards, and Annie Awards to name a few. The series ended with only two seasons of 40 episodes, as Hirsh desired to end on a high note and not allow the series to grow stale. Nevertheless, Hirsh commented in interviews about the possibility of revisiting Gravity Falls in future projects.
To the joy of many fans, all 40 episodes were released on July 24th, 2018, from Shout! Factory. Gravity Falls: The Complete Series [Collector's Edition] includes audio commentary, deleted scenes, and many extra features. It is available on both Blu-ray and DVD.
CONTENT GUIDE
Violence/Scary Images: Dipper fights with his copies; Dipper at one point is locked in a closet; the Dipper copies melt via liquids.
Language/Crude Humor: Pacifica mocks Mabel, Grenda, and Candy throughout the episode.
Sexual Content: Dipper's crush on Wendy, including his fantasy dance with her.
Drug/Alcohol use: None.
Spiritual Content: None.
Other Negative Themes: The party is another money-making scheme of Grunkle Stan.
Positive Content: The problem with perfectionism; the issue of popularity and true friendship.
EPISODE RECAP
Double Dipper starts with the Mystery Shack crew setting up for a party. Dipper and Mabel play with silly string as if they are vomiting, with Wendy joining in. Grunkle Stan then restricts them from playing with the party supplies and Soos asks who's birthday it is. Grunkle Stan responds the party is simply a means by which to get kids to spend money at the Shack.
Grunkle Stan tasks Dipper with copying flyers. Mabel originally wants to go to the copying store, but Grunkle Stan sends them to the old copier in the back office. In the back office, the Pines twins find the old copier. Dipper removes an old blanket covering the machine, releasing a cloud of dust and moths.
During the test, Dipper accidentally copies his arm. Mabel holds up the copy of her brother's arm, proclaiming success, but it begins to warp. The paper falls to the floor and Dipper's arm manifests from the 2D paper into a 3D animated object. Frightened, Dipper throws his soda as the disembodied arm crawls to them. The animated arm then melts and Dipper realizes the copier can copy living beings. Mabel responds to this revelation with another silly string.
Grunkle Stan holds a roll call to establish who does what for the party. Soos is to be the DJ; Wendy and Mabel are on ticket stand duty.
But, Mabel wants to socialize. Seeing an opportunity to hang out with his crush, Dipper offers to take his sister's place.
Later, as Dipper preps for the party, Mabel teases him about his love interest. Dipper says he is ready with a plan. Mabel bemoans his making an over-complicated list, to which Dipper pulls a list out and breaks it down. Mabel states Dipper is actually getting in his own way.
Getting the Party Started
The party at the Mystery Shack starts, with Grunkle Stan sporting disco-style fashion. Wendy and Dipper hand out tickets outside the Shack. Dipper attempts to have casual banter with Wendy, but he stumbles over his words.
During the party, Mabel sits next to Grenda and Candy, who she quickly realizes have compatible personalities to her. Soos then presents the Party Crown, a reward for those who party the hardest. Pacifica Northwest, the most popular girl of Gravity Falls, steps up to the DJ table. She wants Soos to just give her the crown, to which Soos replies it is a competition. Pacifica says there is no competition, and insults Grenda and Candy. This invigorates Mabel to compete against Pacifica. Mabel introduces herself to Pacifica and the rivalry begins.
Wendy and Dipper hear the party inside the Shack intensify, as the party competition commences. Wendy wants to go have fun and leaves Dipper to man the ticket stand alone. Dipper wishes to hang out with his crush and tries to temporarily close the stand. Grunkle Stan catches him and holds Dipper to his promise. Dipper grudgingly returns to the ticket stand and wishes there was a way to be in two places at once. Looking at the flyers nailed against the wall, he realizes the solution.
Dipper goes to the back office and copies his whole body in the mysterious copier. A whole body length copy of himself prints off. Just like his arm earlier, the full length body copy lifts from the paper and becomes a 3D being. Upon seeing a physical copy of himself, Dipper notes he has a big head.
Enter Tyrone
Dipper stares at his copy; they mirror each other's movements and speech patterns. The copy is eventually called Tyrone, a name the original always wanted. Dipper tells Tyrone to handle the ticket stand as he dances with Wendy. Dipper then wonders if the clone will turn on him, as in the movies. Tyrone reassures him, telling Dipper he can always disintegrate the copy with water.
Dipper then goes to the party, only to find Wendy hanging out with Robbie. Dipper imagines Robbie dancing with Wendy, charming her as Soos plays the trumpet in the background. Wendy then punches Dipper in the fantasy. His imagination is interrupted by a phone call from Tyrone, who says he had the same jealously fantasy. Wendy and Robbie go to sit on the couch, which panics Dipper. The Dippers then figure out a plan, but they need help. Dipper makes more copies of himself; the fourth copy is a paper jam which makes the copy deformed and unable to speak coherently. Original Dipper says just one more clone.
Pacifica sings on stage under the spotlight. She gives the mic to Mabel, challenging her to top her singing. Mabel karaokes to Don't Start Unbelieving, a cheesy 80's rock ballad song. She also swings around her mic cord and attempts a flip.
Original Dipper tells Soos someone is stealing Robbie's dirt bike, which he announces over the speaker. Robbie rushes outside, as the Dipper copies steal his bike. Soos slows down the music, encouraging slow dancing.
Small Talk with Wendy
Dipper notices an opportunity to ask Wendy to dance; Mabel encourages him to do it. He takes a few steps to Wendy, but then quickly runs off. Dipper and Tyrone analyze asking Wendy to dance, which they think carries too many variables. They figure they need help, and make more copies of themselves. Dipper then makes a roll call for his copy platoon, making sure they know what to do. The Dippers all work to create a perfect environment for the original to ask Wendy to dance. The cue is made and the original Dipper goes to ask Wendy to dance. Instead, he finds her waiting at the bathroom, foiling his plan to ask her to dance.
Wendy then starts small talk with Dipper, prompting Dipper to put away his list. Wendy shows Dipper a picture of herself when she was younger. Dipper shows Wendy his birthmark, a Big Dipper birthmark on his forehead under his hair. Wendy says they are both freaks, and she goes to the bathroom.
The copies of Dipper appear and remind the original Dipper about the plan. Original Dipper states he no longer needs a plan and can simply talk to Wendy. This stuns the copies and they decide to turn on the original Dipper. They drag him away and trap him in a closest.
Tyrone nominates himself to dance with Wendy, which starts a small argument between the copies. This distracts the copies from the original Dipper escaping the closet. The copies manage to catch up with him and start an all-out clone fight. The copies attempt to gang up on original Dipper, who fights back with a party popper. The smoke from the popper triggers the water sprinklers, which melts the majority of the copies. Only Tyrone remains.
Conclusion
Back on the dance floor, Mabel is doing the Worm. Mabel attempts to make amends with Pacifica, but Pacifica continues to mock her and her friends. Tyrone holds Dipper in a headlock, trying to make Dipper say he can dance with Wendy. At that moment, they hear Wendy laughing, which stops their fight. They run out to the dance floor and see Wendy chatting with Robbie. Disheartened, Dipper and Tyrone decide to get some sodas.
The party crown voting begins, with the winner determined by audience clapping. Soos lets the crowd clap for Mabel, and then for Pacifica. But Pacifica manages to cheat and win the Party Crown. Mabel feels like she let her new friends down and understands if they want to go. But, Candy and Grenda decide to sleep over at the Mystery Shack.
Dipper and Tyrone sit on top of the Mystery Shack in Wendy's secret hiding place. Staring up at the starry night, the two reflect on the lack of progress with their crush. Dipper and Tyrone drink soda, and Tyrone quickly realizes what he did. The soda causes Tyrone to disintegrate; his last words are a request to Dipper to not be a wimp around Wendy. Dipper pours out some of his soda for Tyrone. Dipper sees the crew inside the Mystery shack, including Wendy. Before he goes inside, he tears up his list. Mabel then introduces her brother to her new friends. The end credits roll with Soos searching for a particular sound effect on his keyboard.
REVIEW
Double Dipper is a pretty average episode, providing character development for both Dipper and Mabel. But the average for Gravity Falls is still pretty entertaining. Dipper grows in shedding his perfectionism. Mabel develops friendships in Candy and Grenda. In addition, Mabel, and by extension the Mystery Shack crew, gains an antagonist in Pacifica Northwest.
This episode continues Dipper's crush on Wendy. Mabel gains two new friends, both of which match her in her eccentricity. Pacifica is a suitable rival for Mabel as well. As Gideon was introduced as a antagonist to Dipper as few episodes ago, it is only fitting his sister receives one. The self-focused Pacifica provides good contrast from the free-spirited Mabel. Of course, in this episode, Pacifica is only a stereotypical popular girl.
The animation looks good, especially during the disco ball party sequences. The settings are detailed and the music fits. The parody 80's songs weren't all too memorable or long, but they get the joke across. As always, the humor is ever present in the writing, with subtle dialogue jokes in the opening sequence. Again, the humor and cliché of rebellious clones shows how well the creators know the genre.
The pacing and structure of the episode is good; nothing is rushed or out of place. The only thing I didn't care for was the visibility of the Dipper copies. With the amount of partygoers in the Mystery Shack that night, I feel like someone would notice the presence of several clones. But, of course, for the sake of the plot, no one points out this oddity.
Spiritual Thoughts
Dipper's over-planning for Wendy provides a perfect example of perfectionism. I can't help but to be reminded of Martha (Luke 10:38-42) when I saw this episode of Gravity Falls. When Jesus entered her town and eventually her house, Martha was too preoccupied with serving. She was bound to her activity. But, Mary sat at the feet of Jesus. When Martha asked Jesus why He didn't rebuke her sister Mary for not helping, Jesus had a profound answer:
"Martha, Martha, you are worried and troubled about many things. But one thing is needed, and Mary has chosen that good part, which will not be taken away from her (Luke 10:41-42)."
Like Dipper, we can get in the way of ourselves. We can try to create the perfect conditions for the perfect chain of events to take place. Instead, God calls us trust (Proverbs 3:5-6) and rest in Him (Matthew 11:28-30). We must slow down and enjoy the presence of God in our lives.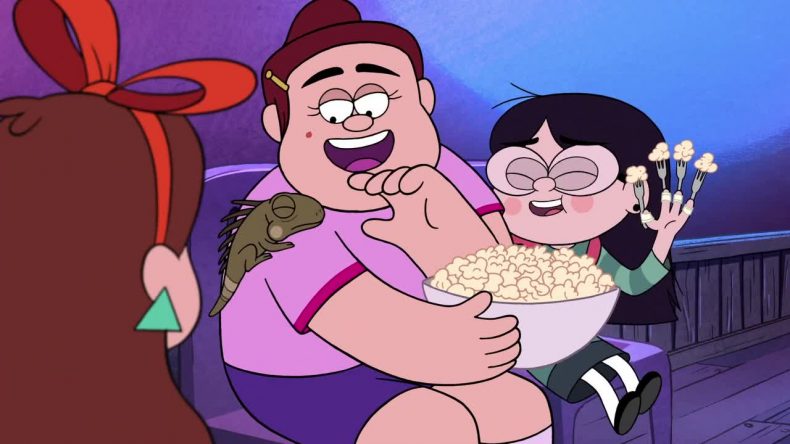 Double Dipper provides an introduction of Pacifica. She symbolizes the stereotypical rich popular girl, a stark contrast to Mabel. The focus on image and the opinion of others can be a major pitfall, especially for young Christians. This attitude may act indifferent to others, but it is actually based on fear. As Proverbs 29:25 says, the fear of man brings a snare.
Pacifica cheats to obtain the Party Crown and uses wealth to obtain friends. The after party on her boat implies this manipulation. As Proverbs 19:4 says, wealth brings many new friends, but a poor man is deserted by his friend. However, Grenda and Candy remain, not dissuaded by popularity or wealth. They prove to be true friends, something needed as the Gravity Falls crew confront increasingly bizarre threats.
The Bottom Line
Dipper's perfectionism gets the best of him in this episode. He learns you can't make everything perfect, even with copies of yourself. Overall, a good message to slow down and take things with ease. For Christians, it is a reminder to rest in the Lord. Mabel also faces off against Pacifica, which is a decent subplot addressing popularity.