Item Reviewed
Review: Once Upon a Time Season 4 Episode 10 – Shattered Sight
Full Review
Sunday night's episode was a doozy! Don't get me wrong—I mean doozy in the best way possible. Wow-I-can't-believe-that-happened kind of doozy. We finally saw that the Snow Queen wasn't crazy; she and Emma really did love each other. But the episode ended in the Snow Queen's demise! :'( Let's get into it.
Content Warning
This episode contained a lot of violence, some sorcery and witchcraft, and death.
Recap
The episode begins with the Snow Queen in 1982 Boston. She wanders the streets, and finds a psychic's shop. The psychic attempts to read the Snow Queen's future with Emma, and she turns out to be a fake. The Snow Queen tries to teach the impostor a lesson, but finds out that she has no powers in this land. She leaves and vows that she will wait for Emma. We then see her in present-day Storybrooke, admiring her handy work; the Spell of Shattered Sight is in effect, and the town is in uproar.
Cut to the jail where Snow White, Prince Charming, and Kristof are all under the spell. They're brutal to one another—and to Anna, Elsa, and Emma. Anna remembers how the original Spell of Shattered Sight was ended: the death of the witch who cast it. Elsa and Emma go after the Snow Queen, while Anna reluctantly looks after baby Neal and the others.
Regina is sealed in her own vault (her own doing) and blames Emma. She looks in a mirror and changes her outfit. She's missed the classic Evil Queen look.
Hook enters Gold's Shop, wondering why he isn't affected. Turns out it's because his heart wasn't in his body—it was with Gold. Gold plans to leave Storybrooke with Belle and Henry, and Hook has to get Henry for him. The next day he will be rid of the dagger, and he'll be far away with his family.
The Snow Queen retrieves two strange-looking pebbles from her Ice Cream Shop. As she's leaving, Emma and Elsa confront her. They try to use their magic, but it has no effect. The Snow Queen says that the love in the ribbons protect them all from being hurt, and that soon they won't want to hurt her. They'll love her, truly.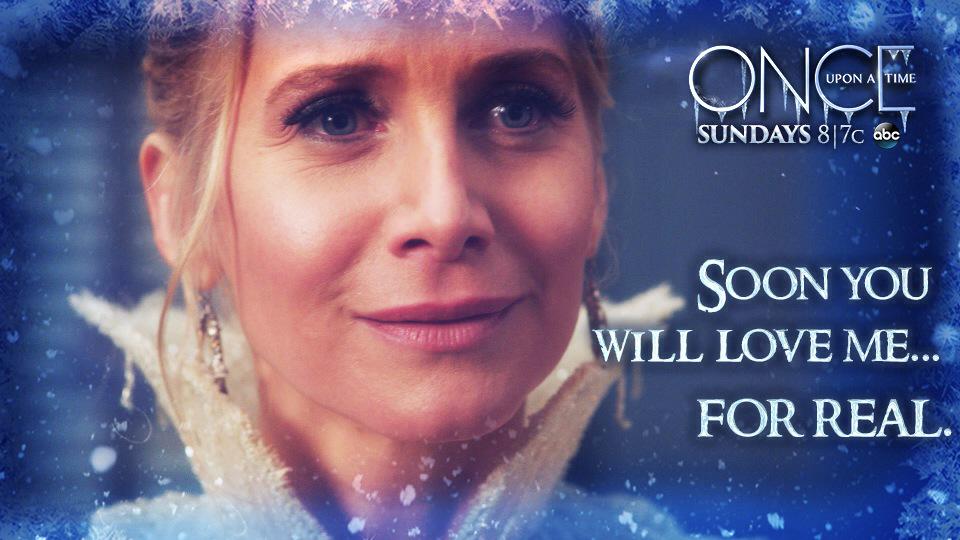 Flashback to when Emma was a teenager, in the foster care of the Snow Queen (Ingrid). She's being teased by another child, and Ingrid intervenes. Her first night she tries to run away, but Ingrid convinces her to stay for another day.
Adult Emma and Elsa enter Gold's Shop. Seeing that they're alone, they try to yank the ribbons off themselves.
Hook walks down Main Street, which is in full riot mode. He walks past Will Scarlet.
In the jail, things are getting very heated. Anna tries to bring peace, but it blows up in her face.
Back in Gold's Shop, nothing is working—the ribbons are stuck. Emma and Elsa realize that there is a powerful opposite to strong love: strong hatred. They need to make Regina hate Emma enough to counter the spell. They approach her vault, manage to push through the seal, and enter.
Flashback: Emma and Ingrid are at an arcade playing a crane game. Emma wins a toy with the help of her magic (unbeknownst to her). Ingrid gets misty-eyed and excited. Emma notices adoption papers in Ingrid's bag and assumes that she's getting shipped off again. Ingrid tells her that she wants to adopt her, and be an awesome big sister. They hug and express their love for each other.
Upon entering the vault, present-day Emma lets her prickliness shine. She spouts off that she intended to bring back Marion, saying she wanted Regina to see happiness all around her, but to never experience it. This infuriates Regina, and she attacks them, successfully destroying the ribbons. Emma blasts Regina to the ground, and she and Elsa run out. Regina chases after them, escaping the vault. She's on the loose.
Hook finds out that Henry is in the Mayor's Office. He tries to enter, but Henry refuses to cooperate. Hook uses a potion that Gold gave him to break the seal to the door. He slides on some marbles once he's through the door (Nice Home Alone moves, Henry). Hook chases after Henry, but Will Scarlet interrupts, trying to pick a fight. Scarlet misses his shot, and Hook knocks him out.
Elsa and Emma make their way to the Snow Queen's lair, where she's spying on them.
Flashback: Emma and Ingrid are walking home at night, and Emma comments that she wishes she could be like Harry Potter. Ingrid mistakenly assumes that Emma is coming into her powers. She pushes Emma into oncoming traffic, trying to force her to use her powers. It backfires. Emma's terrified (her soon-to-be adopted mom just tried to kill her), and wonders if someone has to be crazy to want to adopt her. Emma runs away, and Ingrid is left distraught.
Regina enters the jail. Most of her mortal enemies are sitting ducks—how fun! She tries to attack. Anna intervenes, but Regina sends her and Kristof "back where they came from." She unlocks Snow White's cell, gives her a sword, and says "I want to watch you bleed."
Ingrid walks in the woods, remembering the Apprentice's advice. She then mysteriously ends up in Storybrooke, where she is delighted to be there.
Emma and Elsa are shown, once again, in the Snow Queen's lair. She's attempting to use the strange stones; they're memories. The stones contain all of the good memories between the three. They won't make them love her now, but rather they'll remind them that they once loved her. They're hesitant to kill her, a good sign for the Snow Queen.
Flashback to Emma's first arrival in Storybrooke. She wanders into Ingrid's Ice Cream Shop, shocked to find her foster mother. Unsurprisingly, Emma freaks out. Ingrid tries to explain, but Emma refuses to listen. In that moment, Ingrid takes her memories, leaving Emma with no memory of Ingrid whatsoever. She gets the ice cream without incident and leaves.
Regina and the Snow Queen are battling it out. Regina notices that the baby is still asleep, and Snow White goes full Mama Grizzly. Regina breaks the rules and uses magic.
Anna and Kristof are at the trunk that they came through, since it's the closest place to Arendale. Kristof's being a jerk, and Anna notices a glass bottle. She knocks Kristof out with it, reads the contents, and heads to the Snow Queen's lair.
Anna enters the lair and stops everything. The glass bottle contains a letter to Elsa and Anna from their mother. She admits that they tried to rid Elsa of her powers, but they acknowledge that it was wrong. She admits that she had sisters. She admits that it was wrong to put Ingrid in the urn, and that she was terribly sorry. She's sent a memory stone so that everyone could remember Anna. The Snow Queen doesn't believe at first and tries to kill Anna. But she stops to read the letter. She touches the stone, and everything changes. The Snow Queen is repentant. She begins to reverse the curse, ultimately killing herself. She gives Elsa and Anna their memories back, and tells them that she's finally found her happy ending. She's finally found the love of her sisters, and now she can be with them. Elsa and Anna agree that they must fulfill their mother's last wish and return the memories of their aunts to the people of Arendale.
The curse is lifted, and the riots stop. Everyone in town apologizes or laughs at what they've done (just another day in Storybrooke). Emma, Anna, and Elsa walk down the street arm-in-arm, and they meet Regina, Snow White, Prince Charming, Henry, and Neal. Snow and Charming share a passionate kiss.
Gold watches Belle sleep in his shop. Hook enters and admits that he failed. The spell may be lifted, but Gold will still prevail. Hook is reminded that he'll die, and asks that Gold will spare Emma and Storybrooke. Gold agrees, so long as they don't get in his way. He won't promise that for the rest of the world, however. Gold leaves his shop, and walks through Storybrooke.
Review
I thought this episode was great. It really gave the Snow Queen the ending that she deserved. Plus, it was relatively fast-paced. When I first watched it, I was so engrossed, the hour passed by in a flash. My only complaint—I wish more characters would have been involved. The Spell of Shattered Sight had so much potential! I would've loved to see Robin Hood and Regina interact while under the spell, or Belle and Gold. But that's a small thing. The episode was still great!
Final Thoughts
Man, I loved the Snow Queen. I really couldn't see her as a villain. Her background was so rich and thorough that I quickly fell in love. I couldn't really convict her of anything. All she wanted was to be loved, bottom line. While this type of relatable villain is severely overused, I still hold her in a special place in my heart. She was unlike any of the other villains on the show. I mean, Peter Pan was a complete jerk with no redeeming qualities. The Wicked Witch was iffy. Sure, she was cast aside by her mother, which is tragic, but she wasn't looking for love, just revenge. The Snow Queen wanted what all of us are searching for: love.
Quick note: I made a mistake in my last review, and the winter finale is, in fact, next week. From the sneak peek they showed at the end of last night's episode, it's going to be amazing! Check it out next Sunday at 8/7c on ABC, and head back here for the review.
What did you think of the episode? And how'd you feel about the end of the Snow Queen's reign? Let us know in the comments!
Positives
+ Good ending for the Snow Queen
+ Evil Regina
+ Lots of backstory
Negatives
- Not enough characters
- Spell of Shattered Sight not used to fullest potential
Aside from some blatant pacing issues which make the series drag, its direction and performances are great. Generally, the series is a win for Apple's new streaming service. 
Partnered with amazing writing, excellent directing, and stand out performances, Ozark looks to be a major player in the streaming landscape.
Devs is a complex, quiet, and understated science fiction mini-series with a lot on its mind.