Overview
Item Reviewed
The Librarians, Season 1, Episode 3 - And the Horns of a Dilemma
Synopsis
To find out why interns keep disappearing, The new Librarians head to Boston and run into Greek mythology that has come to life. Now, they have to learn how to work as a team in order to succeed.
Full Review
In episode 3, the new Librarians-in-training are trying to find their footing in the new roles they've taken on. Unfortunately, that seems to be the case for the series as well. The franchise has always been able to depend on the excellent chemistry between Noah Wylie and his co-stars, but now it's time to see if the show can still live up to its potential without its usual leading man.
With Flynn Carsen gone and Eve left in charge of training the new Librarians, she decides to focus on their survival skills. Eve knows that they won't be able to survive in a fight, so she's keeping them on lock-down until she feels they are ready. Jenkins, however, keeps dropping tempting little hints about things that appear in the clippings book, and the trainees are getting restless. In the end, Eve decides to let them go on a mission as long as they follow her orders.
Of course, when they get out in the field, nothing goes as planned; and Cassandra, Jacob, and Ezekiel find themselves separated from their guardian and lost in the Labyrinth with an angry Minotaur. Throughout the episode, Eve has to learn to trust her charges and how to treat them like Librarians instead of soldiers. The Librarians begin to learn how to act as a team and rely on each other instead of following their own path like they're used to doing.
In the end, the day is saved and the artifact is brought safely to the annex where Jenkins can find a safe place for it. Jacob admits that he doesn't trust Cassandra and has no intention of trying to because people will always let him down, and Eve admits that these Librarians-in-training are more capable than she thought. Everyone is happy with a job well done and the show fades out as they congratulate themselves.
Not so fast. I'm not sure this cast is as capable as they seemed in the premiere, and I feel like they did more of a mediocre job than a good one. From plot to performance, the show felt flat and was missing the fun and with that made it successful in the first place.
First, let's talk about the dialog. Outside of the opening scene, when the hooded villains went from a ritual sacrifice to discussing who had the best panini, the dialog was dry and stilted. The fast-paced, intelligent monologues that are a trademark of this franchise were completely missing, and what was left was a little boring. Ezekiel's repeated self-congratulatory proclamations quickly got old, and if Cassandra doesn't lose the "I'm so shy and scared" vibe soon, I'm going to start hoping the Serpent Brotherhood takes care of her.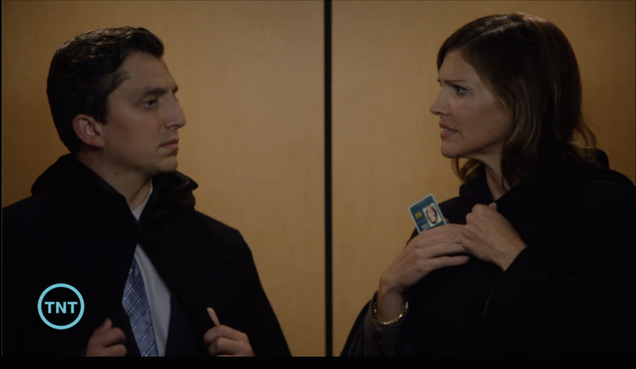 Another place that was sadly below the usual standards was visual effects. I don't expect a weekly series to have big screen effects; however, I do expect them to be able to produce a Minotaur that doesn't look like someone stole a Chik-Fil-A cow costume and spray painted it black. Of course, even that was better than said Minotaur eventually turning into a tattooed biker. Also, having the big finale happen in front of a black doorway with a wind machine is probably not the anti-climactic moment the show was going for. The first time they used the doorway was actually pretty cool, but the final use was just disappointing.
In the end, I was disappointed with the 3rd episode of The Librarians. I've learned to expect a lot from the franchise, and it felt like this episode didn't deliver anything other than combining science and mythology. There didn't seem to be any real chemistry between the cast members, and the story fell short of what it could have been. Now the question is: can they recover? Or is Noah Wylie the only real Librarian?
Content Warning
Language – No offensive language.
Violence – Some minor fighting and gunshots, but no one is injured on-screen.
Occult – References to Greek mythology and virgin sacrifices. Some magic, but nothing dark or dangerous.
Positives
+ Escher comes to life
+ Some moments were pretty funny
Negatives
- The dialog was missing its usual flair
- The cast doesn't have much chemistry yet
- The most un-scary Minotaur ever
Aside from some blatant pacing issues which make the series drag, its direction and performances are great. Generally, the series is a win for Apple's new streaming service. 
Partnered with amazing writing, excellent directing, and stand out performances, Ozark looks to be a major player in the streaming landscape.
Devs is a complex, quiet, and understated science fiction mini-series with a lot on its mind.