Producer(s): Raphael Bob-Waksberg, Noel Bright, Richard Choi, Steven A. Cohen, Tommy Pallotta, Kate Purdy
Director(s): Hisko Hulsing
Writer(s): Lauren Otero, Kate Purdy, RaphaelBob-Waksberg, Elijah Aron, Joanna Calo
Composer: Amie Doherty
Starring: Rosa Salazar, Angelique Cabral, Constance Marie, Siddharth Dhananjay, Daveed Diggs, Bob Odenkirk, Luna-Marie Katich, Nova Reed, Sheila Vand, Kevin Bigley, John Corbett, Tyler Posey
Distributor: Amazon Prime Video
Genre: Animation, Drama, Fantasy, Sci-Fi
Rating: TV-MA
Undone is an American animated television series created by Raphael Bob-Waksberg and Kate Purd, the creative minds behind BoJack Horseman and produced by Amazon Prime Video. The series stars Alita Battle Angel's Rosa Salazar and Breaking Bad's and Better Call Saul's Bob Odenkirk. Brought to life by visionary Director Hisko Huksing, the series premiered on Amazon Prime Video on Friday, September 13, 2019. If you haven't had the possibility of watching the first season, I highly suggest to do so, you can use this amazon coupon to get a discount on your Amazon prime Video membership.
In March of 2018, Amazon Video announced the production of an animated original series using the animation style of Rotoscope where animation is drawn over live action video to capture a greater sense of realism. This same animation style can be seen in such cult films as "A Scanner Darkly" and "Waking Life." The producers explored a story about the nature of reality and the perception of time. Rotoscoping allows for the ability to achieve a realistic sensation, yet allows for mind bending visuals. The series touches on personal experiences producer Kate Purdy has gone through. Suffering from a nervous breakdown and having a history of mental illness in Purdy's family, Undone is a very personal project for the creative team. The first trailer was released in June 2019 to great anticipation.
Undone premiered on September 13, 2019 to critical praise. The series is certified fresh on Rotten Tomatoes with an impressive 100% critic rating and a 94% audience score. Alongside an equally impressive score of 88 on Metacritic and 8.3 IMDb rating, the series has achieved astounding critical acclaim. With such high marks, nominations and awards seem inevitable. There is no word from Amazon regarding a second season; however, in a world where streaming services are exploding, investing in a high- concept, critically embraced, and "different from the rest" series such as Undone seems like a no brainer.
Content Guide
Spiritual Content: Camila Diaz, mother of Alma Winograd-Diaz, is a devout Catholic. Many scenes take place in a church with conversations relating to God with the parish's priest.
Violence: Aside from Alma reliving an automobile accident, Undone does not contain physical violence.
Language/Crude Humor: Foul language is used throughout the series such as F**k, S**t, B***h, A** and a few others are littered throughout the series.
Sexual Content: Alma and her boyfriend engage in love making, however no nudity is present. Becca Winograd-Diaz kisses a male bartender during a game of truth or dare.
Drug/ Alcohol Use: Multiple scenes with characters drinking alcohol at home or in a bar are peppered throughout the series.
Other Negative Themes: Alma at times can come off unlikeable and sometimes disrespectful to all manners of opinions including one's faith.
Positive Themes: Undone shines a light on mental illness and how those suffering from it are treated by those closest to them.
Story
Undone centers around Alma, a sarcastic, witty, and at times aloof young woman with an overbearing mother, over-achieving sister, and a dorky boyfriend. Alma's life consists of the same routine day in and day out. Her life has become and endless cycle of the same routine every day which begins to weigh on her emotionally and mentally. With a genetic history of mental illness in the family, dealing with a past tragedy and her predictable routine drives her to lash out against her family, work environment, and romantic relationships.
After receiving the news of her sister's engagement, Alma gets into an argument with her boyfriend which leads her to end their relationship. Durning a moment of emotional low, Alma drives recklessly as she breaks down into tears. As she speeds down the street, through her runny mascara she has a vision of her father who has been dead for many years. With her attention on her dead father, she runs a stop sign and crashes her car.
Alma survives the accident, but remains in a coma. As Alma slowly comes to, she is surprised to see her father sitting in the hospital room with her. Jacob Winograd (Alma's father) was a theoretical physicist who died when Alma was a little girl. She fears she is losing her mind, but is assured by Jacob he is very much present. He explains he has the ability to transport his consciousness through time and space. He says he needs her to help prevent his death (which he believes was brought on by murder). He tells Alma his ability to travel though time and space can be used to manipulate and change events which occurred in the past, and is not unique to him, but hereditary. Alma also has this ability.
Jacob begins to train Alma on how to transport herself through space and time in order to relive memories and alter them. Alma's sense of reality begins to break as she questions everything she sees. As she learns how to leap in and out of memories, the past, and the present, Alma's personal world turns upside down. Alma and Jacob begin to unravel secrets and uncover lies as they race to reveal the mystery behind her father's death.
Review
At first glance, Undone visually stands out from the overcrowded world of streaming television. The series' unique animation style is a joy to watch. At times it feels like live action, and at other times it feels very much like an animated series. Either way, Undone is a feast for the eyes. The technical use of rotoscope allows for the unique ability to capture a realistic tone, yet allows for fantastical imagery without taking the viewer out of the story. This animation style lends itself perfectly to the story of Alba and her experiences of reality bending and twisting to the point of possible psychosis. Rotoscope is the only visual style able to achieve visually the depth and magnitude of Undone's story arc.
In order to relay the complex story of Undone, the writing must be tight, precise, and easy to follow. The writers of Undone achieved just that. The plot of the series, which includes time jumping, memory hopping, and at times can be chronologically out of order, can lead to a muddy, difficult to follow mess. However, the series successfully lays out an easy to follow story aided by the technical art form of rotoscoping. The story of Undone is fast-paced, yet never feels rushed. With eight 25 minute long episodes, the writers display the story arch in a pace which moves the story forward constantly. The series perfectly balances a steady, consistent progress that allows for levity and breath. The dialogue within the series is natural and believable. It is realistic and refreshing. The writing and dialogue rolls off the tongue of the performers with beautifully natural conversations.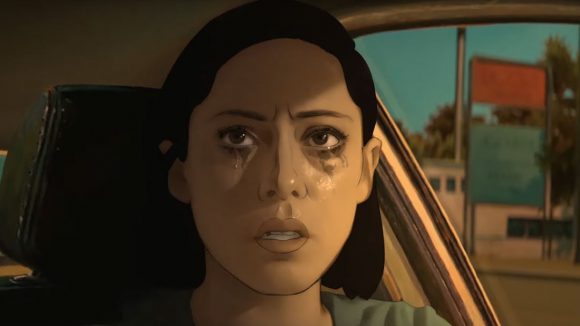 The beauty of using rotoscope as an animation style allows for the ability to capture the actors true performances. Undone uses this to perfection. The performances captured from the actors are true and defined. So much of an actor's performance isn't from what is said but what is expressed. These microscopic expressions would be lost in other forms of animation, but the excellent minimal performances are on full display in Undone. Rosa Salazar is a stand out and brings her unique ability to maintain humanity behind cell shaded color. Her performance is elevated and supported by a cast of characters who feel real, tangible, and relatable.
Conclusion
Undone is an easily consumable series that captures the imagination of the viewer. We are swept away and swallowed by the mystery. Not only are we compelled to discover who murdered Alma's father, but we are also forced to ask ourselves, "is this even really happening, or is this in the mind of a girl who is suffering from mental illness?" Undone is unlike any other intellectual property for many reasons. The use of rotoscope captures your attention and imagination as if you are watching a living, breathing oil painting. It is also unique in its approach to storytelling, specifically by exploring the subject of mental illness. With Undone we aren't just watching a character who may have a mental illness react to the world; we are experiencing what she experiences. We join her in questioning her reality as we question whether what we are watching is truly happening or not. This is the true beauty of Undone. It is truly immersive and makes us question what our own eyes see and our ears hear.
The Bottom Line
Undone is an easily consumable series that captures the imagination of the viewer. The use of rotoscope gives your imagination a workout as if you are watching a living, breathing oil painting. If you enjoy a compelling, visually stunning story with a hint of mystery, then Undone is for you.