Welcome to GUG Predicts WWE Battleground 2014. This is Thomas reporting to you live from GUG Studios. Battleground is this Sunday, so I have put together another predictions article. Luckily, I'm not flying solo this time. I have joining me Michael Pyatt Jr. and Steve Schoen. Be sure to check out their articles! For easier reading, I have put each author's contribution in a different font color. That way if you find my opinions atrocious, you can avoid them and skip straight to what Michael and Steve have to say.
Kickoff Singles Match
Cameron vs. Naomi
Thomas
I honestly have no opinion in this match.
Winner – One of the Funkadactyls 😛
Michael
Naomi wins this match. I think the company would like to push Naomi more than Cameron, which is the right call, so she should get the win.
Winner – Naomi
Steve
I see Cameron beating Naomi
Winner – Cameron
Singles Match
Rusev vs. Jack Swagger
Thomas
This match is all about the slimy, conniving, no-good, self-centered, dirty Russians (*Boos*) vs the patriotic, selfless, red-white-and-blue, freedom-loving Americans (*Cheers*). I think that this marks the first time in Jack Swagger's WWE career that he is a face. I first thought this feud was designed for just feeding Rusev another puny human to CRUSH! However, Zeb and Swagger have really turned up the heat against Rusev and Lana. I would love to see this continue on to Summer Slam. With that in mind, there can't be a clear winner yet.
No Contest
Michael
Arguably the hottest program right now is the angle between Rusev and Swagger. Zeb Colter has thrived in his role as the facilitator in this whole ordeal. As for the match itself, there has been a nice build up, the crowd seemed to be excited for it, it should be an explosion when they first get together.  I expect Rusev to take the win here. However, I don't think it will be a clean win. This program is good enough to go all the way to Summer Slam.
Winner – Rusev
Steve
I see Rusev besting Swagger.
Winner – Rusev
Singles Match
– Chris Jericho vs. Bray Wyatt
Thomas
Jericho is the gift that keeps on giving for younger talent. Y2J is the kind of guy whose popularity is not affected by a win/loss record and he has no problems taking the fall to give other wrestlers a chance to shine. This will be a nice showing, possibly starting the show off with a bang. However, the young, rising star will pull out a victory.
Winner – Bray Wyatt
Michael
I think this also could be a long feud. I know Chris Jericho likes to put over the talent, and Bray Wyatt can really use a win here… But I think Jericho gets the win at Battleground. Which would set up a good rematch at Summer Slam.
Winner – Chris Jericho
Steve
Jericho has had a habit in recent years of coming back for a month to job at a PPV ( Fandango… egads…), so I see Bray going over.
Winner – Bray Wyatt
2-out-of-3 Falls Tag Team Match for the WWE Tag Team Championship
– The Usos © vs. Luke Harper & Erick Rowan
Thomas
This is potentially the match of the night. I personally would not mind if, regardless of the outcome, this feud continues into Summer Slam. These four men put it all out there when they step in the ring. I have my preferred outcome, but I know that I won't be disappointed by this.
In terms of predictions, I would love to see the Wyatts finally get the titles. They have finally started to establish themselves outside of Bray Wyatt. Luke Harper, in particular, has become his own character that demands attention when he is on screen. As much as I enjoy the Usos, it is time for the titles to make the change over.
Winners and NEW champions – Luke Harper and Erick Rowen
Michael
I love the two-out-of-three-falls stipulation match. It adds an element to the feud that seems to be coming to an end this Sunday. I expect The Wyatt Family to get the first and third falls. Which means The Wyatt Family will become your new tag-team champions.
Winners and NEW champions – Luke Harper and Erick Rowen
Steve
I see the Usos retaining (I don't care if people think the Wyatts deserve the belts, they don't look good on a magazine cover and I don't really see them moving merch). Harper and Rowan are aesthetically unpleasing hillbillies. The Usos are part of a wrestling dynasty. They'll always have a home.
Winners and STILL champions – The Usos
WWE Divas Championship Match
– AJ Lee © vs. Paige
Thomas
A feud in the Divas Division that I actually care about? What is this, twelve years ago? This can be a good feud with some decent matches to back it. I would love to see these two lovely ladies allowed plenty of time to surprise all of us who gave up on women wrestling in the WWE. It was too early to give Paige the title when she got it. I am always opposed to people winning titles in a debut. My reasoning? Look at how Paige was handled for her three months as Diva's Champion.
I do not want to come across as a Paige-hater. In fact, I would consider myself a fan of hers. However, do I think that she has proven herself to be a champion? No. There is only one logical winner of this match.
Winner and STILL champion – AJ Lee
Michael
Finally, we get to see these women go at it for an extended period of time-hopefully. Paige took the first match quickly. AJ returned the favor once she returned from her hiatus. I think the rubber match will end with Paige getting the victory. Along with that victory, I am expecting Paige to fully turn heel on Sunday night. You can see it coming a mile away, but the payoff will happen Sunday night.
Winner and NEW champion – Paige
Steve
I see AJ pimp-slapping Paige back to NXT.
Winner and STILL champion – AJ Lee
Singles Match
– Seth Rollins vs. Dean Ambrose
Thomas
This is a tough call for me. WWE logic says that Seth Rollins loses this one. Most of the recent MITB winners go through a series of humbling losses before given the push for the gold. On top of that, Ambrose took a major beating on Monday night and in wrestling that translates to being the favorite to win (backwards, I know). However, WWE seems adamant in pushing Rollins as Mr. "Plan B" and wanting him to look like a viable top champion.
Dean "Loose Cannon" Ambrose is a rogue cop with nothing to lose. Also, that last sentence is untrue. Ambrose's current character is based entirely on stopping Rollins from cashing in MITB. Ambrose has no reason in storyline to care about the outcome of this match. My call is that Ambrose grabs a chair mid-match and goes to town on Rollins, forcing the referee to throw out the match. Rollins gets the W. Anbrose gets some revenge. It's a win-win.
Winner by DQ – Seth Rollins
Michael
Since Dean Ambrose just got his tail whooped, and he hasn't had a defining win since going solo, I'm guessing that he gets the win on Sunday night. All indications point to Seth Rollins' knee being fine. I don't believe it, but we'll see.
Winner – Dean Ambrose
Steve
I see Ambrose beating Rollins into the ground.
Winner – Dean Ambrose
20-Man Battle Royal for the Vacant WWE Intercontinental Championship
– Alberto Del Rio vs. Big E vs. Bo Dallas vs. Cesaro vs. Curtis Axel vs. Diego vs. Dolph Ziggler vs. Fandango vs. Heath Slater vs. Kofi Kingston vs. Rob Van Dam vs. R-Truth vs. Ryback vs. Sheamus vs. Sin Cara vs. The Great Khali vs. The Miz vs. Titus O'Neil vs. Xavier Woods vs. Zack Ryder
Thomas
Several outcomes in this match would not surprise me. Sheamus is a strong possibility to win this match. There has been talk about unifying the IC and US championships. They could do it here. Bo Dallas is on a strong winning streak. Cesaro won that meaningless battle royal at Wrestlemania.
Instead, I'm going to go with the returning Miz. If only because I've liked him more these past two weeks than I have in the past two years of his career.
Winner and NEW champion – The Miz
Michael
I'm not going to list all the participants, but what I will say is that out of all the people in the match, the big favorite in my opinion to pull it off is Bo Dallas. I'm sort of a "BOliever". Not in the sense that I like Bo Dallas. It's just that they have been really pushing him lately. I hope they start to make a bigger deal out of this streak. Too bad Undertaker lost to Brock Lesnar at 'Mania… Who wouldn't want to see a "streak vs streak" match?
Winner and NEW champion – Bo Dallas
Steve
Cesaro will get the I/C belt and start a feud with Miz.
Winner and NEW champion – Cesaro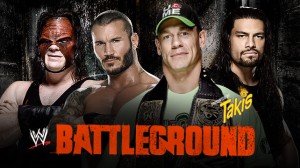 Fatal 4-Way Match for the WWE World Heavyweight Championship
– John Cena © vs. Randy Orton vs. Kane vs. Roman Reigns
Thomas
I would like to go heavy into analysis on this one, but there is no question what is going to happen here. WWE has already spoiled the fact that John Cena will be defending his title against Brock Lesner at Summer Slam. Anyone betting otherwise is foolish.
Winner and STILL champion – John Cena
Michael
John Cena wins. Setting up the Lesnar/Cena match at Summer Slam that most of us know is coming. But I think the result of the match itself will play second fiddle to other developments to come from this match. I think Kane is turning face. And somehow, someway, we will get a setup for a HHH vs Roman Reigns match at Summer Slam
Winner and STILL champion – John Cena
Steve
Winner and STILL champion – John Cena
What do you guys think will happen at the PPV? We had some good, strong opinions here at the site. Steve hates the Wyatts. No one is putting their money on anyone except John Cena in the WWE World Heavyweight Championship match. All that is left is to watch the PPV.
Be sure to tune in to WWE Battleground this Sunday, July 20 at 8 pm Eastern or 5 pm Pacific.
All images used are from the official WWE.com website.
With that, I leave you a video of our current Divas Champion meeting a former Diva for the first time.