This Sunday has a WWE PPV and you know what that means! The boys and I got together and gathered our thoughts on what will happen. Today I have Steve Schoen and Michael Pyatt joining me. As a special treat, we have Daniel Worley, a Geeks Under Grace community member, as a guest writer.
Due to the sensitive nature of certain words within the Christian community that may or may not be in the title of this PPV, I have taken the liberty of finding more… family-appropriate titles for the show. Enjoy!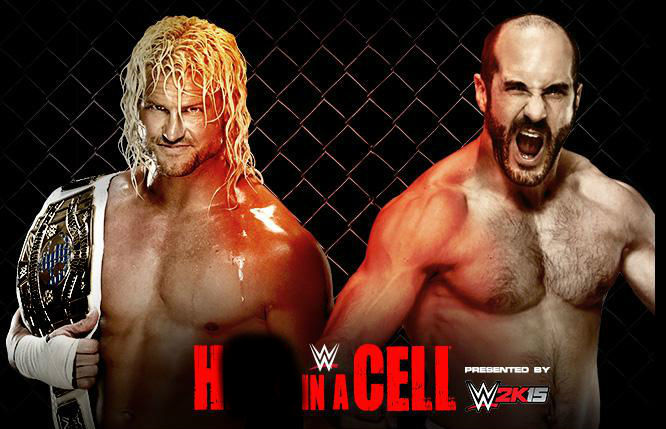 Dolph Ziggler (c) vs. Cesaro – 2-out-of-3 falls Match for the WWE Intercontinental Championship
Thomas
I don't think that this match was even announced until Friday's Smackdown. WWE really dropped the ball on that.
These are two guys who consistently put on great matches and yet both frequently lose on television. I suppose the good news is that one of them has to pick up a victory here. In all seriousness, were it not for Ambrose/Rollins this would be the match to watch in my opinion. The championship means nothing, but the match itself will be spectacular. Unfortunately, Cesaro is incapable of winning a title despite all of his opportunities.
Winner and STILL WWE Intercontinental Champion – Dolph Ziggler
Steve
It's kind of amazing how Cesaro went from losing a title match for the lowest-tier belt in the company at the last PPV event to compete for the second-highest belt in the very next one. This is just more evidence regarding how meaningless the belts really are right now. Vince and/or Triple H needs to get their act together and bring respect back to the titles. Anyway, there were many people–myself included–who were initially very excited about Cesaro's potential, especially after his win at the Andre the Giant Battle Royale. However, there have been a few missteps since then, not the least of which being separating from Paul Heyman. For his part, Dolph's in-ring losses since Night of Champions has put a damper on both his reign as I/C champ and the meaning of the belt itself (surprise, surprise). Ziggler desperately needs a win here, and more than that, needs to start winning on television as well if he wants the be taken seriously as a champion. Ziggler is over with the fans, whereas Cesaro has lost the majority of his initial pop, and shows no real signs that will change anytime soon.
Winner and STILL WWE Intercontinental Champion – Dolph Ziggler
Daniel
I freaking love Ziggler. Easily one of the best workers and sellers in the company. I'm hoping WWE realizes the true star they have with Ziggler especially since the roster is plagued with injury and part timers but hey probably don't. I want Ziggler to win but they'll probably give it to Cesaro to extend the feud.
Winner and NEW WWE Intercontinental Champion – Cesaro
Goldust and Stardust (c) vs. The Usos – Tag Team Match for the WWE Tag Team Championship
Thomas
Very short comments from me here. This will be a good match and should open the PPV. I honestly don't see the titles changing hands here.
Winners and STILL WWE Tag Team Champions – Gold and Stardust
Steve
Not a whole lot to say here. The feud between these two teams has been pretty good, but now it's time for the brothers cosmic to cement themselves as the rightful tag champions with a consecutive title defense. As I've stated before, the Usos are young and hungry, and will be the tag champions again one day without a doubt. But now is the time of Goldust and Stardust.
Winners and STILL WWE Tag Team Champions – Goldust and Stardust
Mike
Easily my favorite act right now is Stardust. Cody Rhodes has taken this character and ran with it. Goldust is still doing his thing as well; I love the chemistry between the two. What else would you expect from two brothers? Speaking of chemistry, they put on some good matches with The Usos too. However, it's only so much they can do with each other, and this feud has to end on Sunday.
Winner and STILL WWE Tag Team Champions – Star & Goldust
Daniel
I like Goldust and Stardust a lot actually but as heels, I see WWE putting the straps back on the Usos.
Winners and NEW WWE Tag Team Champions – The Usos
AJ Lee (c) vs. Paige – Singles Match for the WWE Divas Championship
Thomas
They are only two divas who have been worth anything this year. I expect an above average match with AJ retaining.
Winner and STILL WWE Divas Champion – AJ Lee
Steve
The feud between these two could well go on to be the best Divas feud of the decade. Their in-ring chemistry is good, and they are exciting to watch. This feud should continue into the foreseeable future. For that to happen, I believe Paige should take home the belt, even if it's only for 24 hours. Her new bff Alicia Fox is sure to become involved if the opportunity presents itself. You also can't dismiss the possibility of any of AJ's recently-spurned tag partners showing up to get a few licks in.
Winner and NEW WWE Divas Champion – Paige
Mike
I can't say that I'm surprised, but the writers have totally dropped the ball on this feud. First of all, they rushed into it from the jump, and never even gave Paige a chance to get her feet wet on the main roster. On top of that, they bombed  when they tried that stupid psycho friend nonsense again. It was good when Trish Stratus and Mickie James did it the first time, but not good enough to do it again.  AJ gets the win, and hopefully they can move on and start this feud over in a year or two.
Winner and STILL WWE Divas Champion – AJ Lee
Daniel
This is the best feud that the woman's division has had in a long time. Both are great workers and can put on a good match. I see AJ keeping the title.
Winner and STILL WWE Divas Champion – AJ Lee
Big Show vs. Rusev – Singles Match
Thomas
The setup to this match leads me to just one conclusion: Rusev will not lose. Perhaps it is solely because Lana is so entertaining, but Rusev is slowly starting to rub off on me. Big Show on the other hand has an entirely different problem by the name of Mark Henry. It is clear that Henry will turn on Show this Sunday and cost Show the match. Rusev will move on to something else and we will get another Show/Henry feud.
Winner (for the glory of Russia) – Rusev
Steve
This is going to be a grudge match of low technique and lots of power moves. I absolutely love the prospect of Rusev being slung about the ring by the dominant Big Show. Rusev's been getting away with murder in the WWE with this "effectively undefeated" steak of his. Big Show has to win here for a couple of different reasons. First, I'm just tired of seeing Rusev win. It's become predictable and sad. "Oh look, he won using the accolade; never saw that coming." *Slow, sarcastic golf clap*
Second, if Rusev beats Big Show, where does he conceivably go for his next opponent? Rusev has already beaten Big E and Mark Henry in their respective feuds. If Big Show can't get the job done, the only talents left for him to face are top guys. And to be frank, Rusev hasn't earned the right to face top guys in high-profile matches, let alone go over in one. While seeing The Rock on television is always a welcome sight, having him come out to taunt Rusev showed Rusev way more respect than he deserves as a talent. I sincerely hope Big Show knocks this joker out and pins him by just putting one foot on Rusev's chest.
Winner (like a boss) – Big Show
Mike
Why should I pick Show to win? Seriously, we all know that Rusev will continue to get put over. I'm not even going to waste my time talking anymore about this match.
Winner – Rusev
Daniel
I see this match as Snoresville. I couldn't care less about this feud or Rusev. I know WWE is booking him strong and as such, Big Show will lose but can we just call Rusev what he is: a cheap Iron Sheik knockoff.
Winner – Rusev
Sheamus (c) vs. The Miz – Singles Match for the WWE United States Championship
Thomas
The entertaining version of this match:
Miz refuses to wrestle Sheamus and instead allows his stunt-double, Damien Mizdow, take his place. Mizdow goes on to somehow win the title. Miz tries to claim the victory for himself (despite having no part in the actual match) setting up a feud between the "Hollywood A-lister" and the stunt-double that overshadows him.
The actual version of this match:
Miz takes a Brogue Kick to the moneymaker.
Winner and STILL WWE United States Champion – Sheamus
Steve
Fresh off his feud with Dolph Ziggler, Miz is now after the United States Championship. Sheamus has been a passable U.S. Champion, and is clearly stronger than the Hollywood pretty boy he's facing. In a standard brawl, Miz has no shot here, but you have to consider the possibility of Damien Sandow becoming involved. Mizdow, as he now styles himself, has received rather positive feedback from fans as the stunt-double for Miz. Undoubtedly, fans will want to see Mizdow become involved in the match somehow, and I believe this will be the case. However, I don't see a U.S. title reign in Miz's future. It's not time for his to jump into another belt quite yet.
Winner and STILL WWE United States Champion – Sheamus
Mike
The Miz is kind of entertaining. Take it for what it's worth, but I think he gets the job done. Loved his reaction to the end of the match on Monday night with the surprise win by Mizdow. Speaking of Mizdow, I'm glad that he's getting over a little; I just wish it wasn't at the expense of him playing second fiddle to The Miz. Sheamus loses the title, and hopefully, it can lead to a heel turn. His character is just getting too plain for my taste.
Winner and NEW WWE United States Champion – The Miz
Daniel
Another feud that I don't care for. Both guys can put on a good match but I'm just not looking forward to this one. When the only thing that's driving a feud is that the champ lost a non-title match then there is problems. I see Sheamus retaining.
Winner and STILL WWE United States Champion – Sheamus
Brie Bella vs. Nikki Bella – Singles Match, winner subjugates the loser for 1 month
Thomas
This is a match that should have taken place last PPV where it received a build and was relevant. Now that the feud has gotten stale, we are finally seeing a one-on-one between the sisters. I would love to be interested, but both of the Bellas can't act or wrestle. On top of that, the ridiculous stipulation gives away the ending. In the history of wrestling, no face (aka "good guy") has ever won a match with this stipulation. It's similar to how a heel (aka "bad guy") can never win a Hair vs Hair match. Easy call on this one.
Winner – Nikki Bella
Steve
I feel like this feud is in its twilight stages. For fans that watch Total Divas, seeing them make nice away from the ring and then cut promos on each other in the ring causes a fair amount of cognitive dissonance. At least it does for me. After tagging together for years, Brie and Nikki know each other's moves, so it would make sense to see a lot of move-counter, move-counter in the ring. I see Nikki going over and Brie refusing to bend knee to her sister. I don't see a month of the winner humiliating the loser on stage or backstage as having much merit. So, Brie will chose exile over servitude as a kayfabe reason to spend more time with a recovering Daniel Bryan.
Winner – Nikki Bella
Mike
One of the feuds that won't die. Honestly speaking, at one point, both of these ladies improved in the ring and minutely on the mic. Unfortunately, it wasn't enough for me to be excited about this. Maybe if Daniel Bryan was involved it could have been better, but I really hope this feud ends. I think creative has worked hard to establish "Brie Mode" and I don't see them stopping now.
Winner – Brie Bella
Daniel
Man, what a stinker match. Both are far from good wrestlers, and their acting segments are horrible, but we all know that. The "good" Bella will lose.
Winner – Nikki Bella
John Cena vs. Randy Orton – River Styx Cage #1 Contender Match
Thomas
At first I, too, was complaining about this match. How many times have we seen these two face each other in the ring? However, then I remember that many of their matches are classics and arguably 5-star bouts. The universal hate for this match is uncalled for, although the complaints about the build up are warranted. Let's just ignore storyline for this match and enjoy it. I am admittedly a Cena and Orton "hater", but I expect the best from the biggest names in wrestling today. They are at the top for good reasons.
Regardless of the outcome, Orton will turn his focus on Rollins after Rollins betrayed Orton on Raw last week. A win for Orton would lead to a more intriguing storyline, but I feel WWE is too scared at the moment to have anyone outside of their top star, Cena, face the "unstoppable" WWE Champion.
Winner – John Cena
Steve
Ah, yet another feud between two top guys with lackluster buildup. I highly doubt anyone is excited to see Cena/Orton for the umpteenth time, even if it is a Hell in a Cell match. To call this the second "main event" is insulting to not only the up-and-coming babyface Dean Ambrose, but to everyone defending or vying for a belt as well. I don't know what's going on at WWE creative. When you have to finagle a #1 contender match between your two biggest stars into a "double main event," and you have no compelling story to accompany it, it's time to reassess the talent roster. I honestly don't care who wins; in fact, I hope no one wins, because the simple fact that we have to watch these two work again for the millionth time means that we're all losers, figuratively speaking.
Winner – Nobody (Broadway)
Mike
You know, at first this match was pretty lame. Even though it's in the Cell, I didn't care about this. Then, HHH decided to let this be for the #1 Contender to face Brock Lesnar. It had me a little more intrigued, but in the end, I know John Cena is due a rematch, and he will beat Orton to get it. Expect some interference from Kane and Seth Rollins in this match.
Winner – John Cena
Daniel
This match is living embodiment of the problem with WWE creative. They don't want to take risks and rely on stale booking. Cena and Orton are two sides of the same coin. People are tired of Cena's schtick but Orton is exactly the same character 95% of the time. I would like to see Orton win, or a move towards a heel turn by Cena, but I think neither will happen. Super Cena wins again.
Winner – John Cena
Dean Amborse vs. Seth Rollins – Underworld Prison Match
Thomas
This WILL be match of the night. I feel confident in proclaiming that. I heard rumors that these two guys were actually talked to by WWE management to not "go all out" in this dangerous match. Both Rollins and Ambrose have been known to put their bodies on the line for the sake of a good match. This MUST be the main event or else I feel sorry for anyone who has to follow it.
This rivalry has been one of the better ones that we have seen in recent years. These guys are not even fighting for a championship and yet I care more about this match than I do for any other. I personally hate to draw comparisons, but Rollins is the new Triple H and Ambrose is the new Stone Cold.
My biggest complaint with Rollins is the overuse of the Curb Stomp. I feel that the move is great and looks incredibly dangerous, but I do not like how frequently it is shown. The Curb Stomp should be like Randy Orton's Punt Kick; a move "so dangerous" that it makes the audience feel bad that he uses it. It is something that I feel is best saved for PPV finishes or big events such as Rollins attacking Orton this past week on Raw. A minor complaint, I know.
In the end, I see one or both of these men taking a huge move either off the top of the cell or breaking through the cell itself. As to who will win, it can go either way. If this match is as good as I hope it will be, neither man will be hurt by a loss. I'll go with the unpopular opinion.
Winner – Seth Rollins
Steve
After a lumberjack match featuring the worst lumberjacks in history, Seth Rollins is finally in a situation from which there is no escape. By now, it is common knowledge that Seth Rollins wants nothing to do with Dean Ambrose in a 1-on-1 setting. Despite all the trash he talks, he's scared out of his wits at the notion of facing the berserker rage of the Lunatic Fringe. You can bet that Rollins will hedge his bets with a few dirty tricks to give himself an edge. You also cannot discount the possibility of Kane becoming somehow involved, since he doesn't have a match scheduled, and has been his fate of late to babysit Rollins and solve all of his problems. However, Ambrose will overcome the underhanded tactics of The Authority and finally wipe the smug grin off of Rollins' face.
Winner – Dean Ambrose
Mike
Hopefully this is the last match of the night… If it is, this will be a very, very, good match. These two can go. When you put them in this structure together, who knows what will happen? Dean Ambrose is so over right now. I think even if Roman Reigns didn't get hurt, he still would have been in a similar position that he is in right now. Rollins is also playing his heel character well. He's playing it so well that you can just see him causing Randy Orton to be the next one that beats him up. Yes, I'm saying that Randy Orton will be involved in this match somehow.
Winner – Dean Ambrose
Daniel
This match is why I will be watching. Both are great up and coming stars in their own right and are the future of the company. While it would be sweet to see Ambrose get over clean, I can't see him winning. I see Rollins winning due to some outside interference.
Winner – Seth Rollins
So there you have it! With my simple modifications, there is no way anyone could be offended by what should otherwise be a great PPV. Be sure to tune in to WWE HIAC on Sunday, October 26 at 8/7c on the WWE Network and select PPV providers.
All images belong to WWE and were taken from the official WWE.com website. I made edits to them but claim no ownership of the original images.