Storyline
Katniss is living in District 13, dealing with the effects of the Games, and Peeta is trapped in the Capitol. Rebellion is catching fire in the districts and President Coin of District 13 wants to fan flames of all out revolt, but she needs the wings of the Mockingjay to do so. After she's finally convinced, Katniss agrees to do a series of propaganda videos to bring hope to the districts and instill fear in the Capitol. But President Snow had the same idea in reverse—with Peeta. She must use her influence to free Peeta before it's too late.
Content Guide
The next Hunger Games movie is here! This is one of my favorite franchises and seeing this book finally getting its film excites me to no end. I've been a fan of these books since not long before Mockingjay was released, and I read them all in two weeks which is very fast for slow reader like me. I've been waiting for this film to come out since I saw the first one. I saw Mockingjay with a group of friends on opening night, and I was just blown away by this amazing film.
Positive Elements:
This move is extremely loyal to the film adaption. Very minor changes were made. Many of the scenes were just like in the book and gave me chills or made me cry. I cried three times total. I liked that they included the small details like playing with the flashlight with Prim's cat Buttercup and including Katniss's marble and Finnick's rope.
The characters are just fantastic in this film. Katniss shows her strength and compassion despite the horrors she's seen. She cares deeply for her few friends and has empathy for citizens of the districts and profoundly cares about them. Gale is caring and brave and loyal to Katniss despite her struggles and romantic love for Peeta. Many of the other characters were expanded on even more than they were in the book such as President Coin, President Snow and Effie Trinket. The acting was fantastic like in the other films. Jennifer Lawrence is just the perfect Katniss.
Director Francis Lawrence changed the look of the director of the propos Cressida by making her half bald instead of entirely bald, but I actually liked that better. The actress did very well at the part. A head of President Snow's staff named Egeria was added, but she didn't disrupt the plot of the film at all.
Costumes were equally fantastic. Katniss's Mockingjay warrior outfit is perfect with wings going down the back of her armor, the Capitol's costumes were superb as displayed in other films, the dull District 13 jumpsuits were exactly like I pictured them and even Effie took a little Capitol spin to her smoke gray outfit. *Minor Spoiler* The makeup and CGI on Peeta and Johanna after being tortured was so amazing it was frightening. *End of Spoiler*
The plot followed very closely to the book. You could read and watch the two side by side and there would only be minor almost unnoticeable differences. Some people have said "nothing really happened" in the story. As someone who read the books, a lot did and plus this is only one half of the book. The movie stopped at the midway climax when *SPOILER ALERT* Boggs and Gale rescue Peeta from the Capitol *END OF SPOILERS* which they drew out.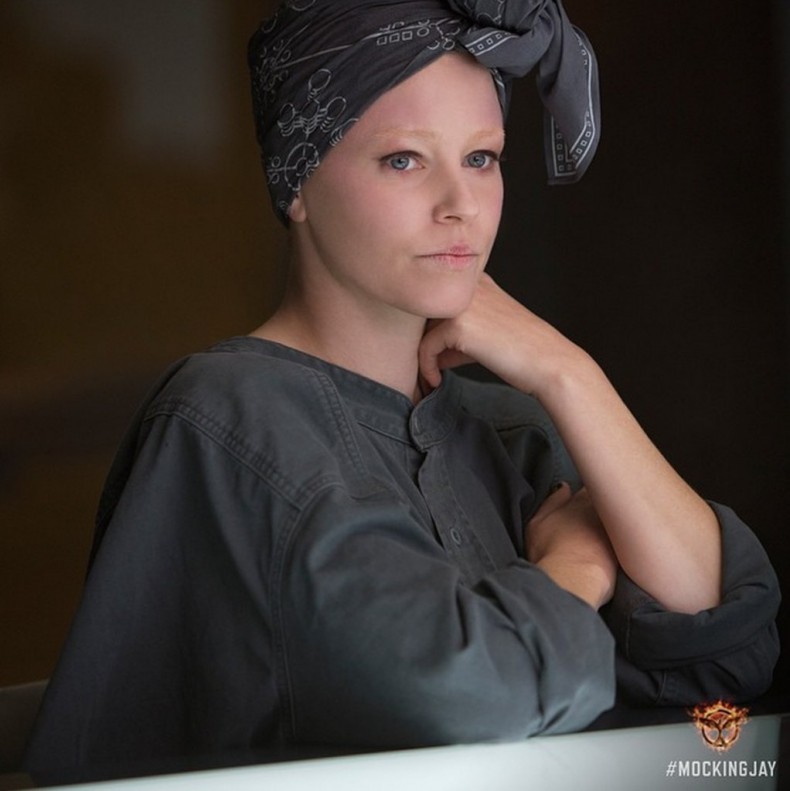 I liked that even better than how it was in the book. The director did well in peppering in a little humor to help break the tension in more dark parts of the film. He also made sure to keep the action well-paced, but still fast enough so you didn't lose interest.
The settings were excellent. It was neat to see more of other districts, and they were much like I pictured them. District 13 was just as dull and drab as I imagined. They didn't expand as much on the special tattoos as in the book, but that wasn't a big deal. The aftermath of the firebombs at District 12 was so sad and moving.
The soundtrack is fantastic. I'm buying it as soon as possible. "The Hanging Tree", a song adapted by Suzanne Collins for the book, was chilling and absolutely perfect. Jennifer Lawrence sang it spot on.
Lastly, there were many themes about the realities of war and how costly it is for both sides. The sacrifices Katniss, Peeta, Gale, Finnick and many of the district citizens were willing to make were very moving. What got to me personally was how Katniss had such a heart for the districts. I kept thinking of a line from a worship song "Break my heart for what breaks Yours".  Seeing that kind of deep care is something that prompted me to think about how we should feel for all people especially those who are in real warzones today, both soldiers and civilians.
Violence/Scary Images: Since this is essentially a war movie there is quite a bit of violence definitely not appropriate for young watchers. Though there are typical fighting scenes with casualties, a few scenes have the most violence and push the PG-13 rating a bit.
When Katniss goes to District 12, there is a mass of charred bodies and skeletons. Nothing is zoomed up on too closely, but it is disturbing. In another scene, Katniss goes to a hospital and sees a lot of wounded and dead people. Some of the wounds are considerably bloody.
*Minor Spoiler* Peeta is also tortured during the film off camera, but some bloody cloths are shown in a laboratory. Later, Peeta and Johanna are very gaunt and bruised from long-term torture. That could be scary to young viewers. Peeta is also traumatized from the torture so much he is violent with Katniss and shown thrashing around in a bed while restrained. *End of Spoiler*
Language/Crude Humor: I don't remember hearing any particular swear words. There may be some mild ones in the film though.
Sexual Content: There are two instances of this. Finnick and his true love Annie kiss at one point briefly. *Minor Spoiler* Then Finnick reveals during a propaganda video to distract the Capitol that Snow used him as a sex slave, but not in too much detail. That was verbally with no images. *End of Spoiler*
Drug/Alcohol Reference: Haymitch is getting sober in the book so he has some mild alcohol references, and at one points he asks Katniss if the doctors gave her any medication he could have.
Other Negative Content: This book has an overall dark tone. It is about a very realistically portrayed war and they weren't shy about showing what seeing such horrors will mentally do to someone. This was appropriate, but it did give a negative tone. There were some small divergences from the book. The largest to me was when Finnick confesses about something horrible President Snow made him do, and it was less emotional than it was while reading it.
Conclusion
This movie is a definite must-watch. I squeezed my friend's hand so hard in some parts it hurt, and the movie ended even better than I thought it would. This film moved me even more about the realities of war than any other war movie I've seen. If you're looking for a well-written, action-packed, deep, emotional story this is the film to see.
+ Very Loyal to the Book + Excellent Soundtrack + Fantastic Casting + Deep Themes About the Realities of War
- Minor deviations from the book - Scary but appropriate for the movie images
The Bottom Line
This is one of the best book adaptions I have seen. Both fans and pure movie-watchers will be excited to see what happens next in the Hunger Games series.